Fans were teased with the first glimpse of the Batman vs Superman batmobile this morning and now, a photo has emerged showing Ben Affleck in his batsuit staring down ominously at the iconic vehicle.
Director Zack Snyder followed up his initial picture with the dark image of Affleck as Batman in his forthcoming Man of Steel sequel (above).
Just yesterday, the 48-year-old US director tweeted a photo of the hero's car covered with a grey tarpaulin, along with a caption reading: "Could be time to pull the tarp...tomorrow?"
Not one to disappoint his followers, Snyder followed through with his promise, although the batmobile is still not visible in full.
Patrick Tatopoulos, known for his work on 300: Rise of an Empire, has designed the new car, Variety reports.
Actors who have played Batman
Actors who have played Batman
1/11 Ben Affleck...

Batfleck returns? Ben Affleck has been cast as the new Batman in Zack Snyder's Man of Steel sequel, Batman vs. Superman. The announcement was met with outrage from many fans who did not see Affleck as suitable for the role

Getty

2/11 ...and here he is as Batman

Ben Affleck as Batman with the batmobile in a Batman vs. Superman teaser photo tweeted by Snyder in May 2014

Zack Snyder

3/11 Christian Bale...

Christian Bale starred as the Caped Crusader in Christopher Nolan's The Dark Knight trilogy, which made Batman finally, well, dark. 'Bale has exactly the balance of darkness and light that we were looking for' said Nolan. Bale had also tackled the role for 2005's Batman Begins, to generally favourable reviews bar what some critics called his 'ridiculous' husky voice

Getty Images

4/11 ...and here he is as Batman

Christian Bale as Batman in a scene from 2012's The Dark Knight Rises

AP

5/11 George Clooney...

George Clooney was cast in 1997's Batman & Robin when his career was only just taking off. The film was a shocker, not least for the famous 'bat nipples' and general camp style - it is still laughed at today. Clooney has since called the movie 'a waste of money' but luckily, it did little to harm his chances as an actor.

Getty Images

6/11 ...and here he is as Batman

Those 'bat nipples' are bad, aren't they? Look at them...

Warner Bros

7/11 ...and here he is as Batman

Michael Keaton as Batman in 1992's Batman Returns

Rex

8/11 Adam West...

Adam West (L) and Burt Ward, who played Batman and Robin in the 1960s

Rex

9/11 ...and here he is as Batman

Adam West played Batman for a 1966 movie and several animated series. Many know him for his camp OTT portayal of the superhero but West was later offered the role of James Bond. He declined as he believed Bond should always be British. He now makes regular appearances on Family Guy.

Rex

10/11 Robert Lowrey

Robert Lowrey played Batman in 1949's Batman & Robin aged 36. He didn't star as the superhero in another movie but did guest-star in a 1956 episode of The Adventures of Superman - the first time a Batman actor and a Superman actor collaborated on-screen.

Rex

11/11 Lewis G Wilson

Lewis G Wilson was the first actor to play adult Batman in 1943 serial Batman. One critic meanly called the 23-year-old 'thick about the middle', not helped by the bizarre positioning of his utility belt. Wilson did not go on to enjoy a film career

Den of Geek
Both photos are gloomy and menacing in style - perhaps a hint at what moviegoers can expect when Batman vs Superman hits cinemas in May 2016.
The upcoming film also stars Henry Cavill as Superman, with Jesse Eisenberg playing arch nemesis Lex Luthor and Israeli actress Gal Gadot in the role of Wonder Woman.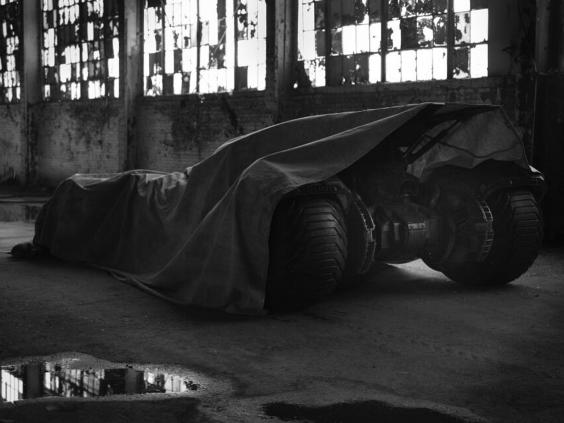 Last summer, Man of Steel was one of the biggest hits, grossing over $290 million at the US box office. But when the casting for Batman vs Superman was announced, fans were unimpressed.
Affleck was not a popular choice for Batman and the decision to select him as Christian Bale's successor garnered a great deal of criticism.
Snyder responded to the outrage in an effort to reassure comic book fans, telling Hero Complex: "I understand the canon, I'm not crazy. I know what these characters need from a mythological standpoint."
Reuse content