A movie called Zombeavers can only mean one thing - zombies, beavers and a gruesome storyline unashamedly targeted at adolescent boys, a bit like Piranha 3DD.
The producers of Cabin Fever, The Ring and American Pie have reunited to bring us this horror comedy "delight", which is currently debuting at the Berlin Film Festival.
A trio of American college girls set off on vacation to a riverside cabin for some fun, frolics and sexual exploration (of course), only to be greeted by a swarm of undead beavers determined to gobble them up.
"What is that?" one unsuspecting teen asks at the start of the trailer. "Looks like a beaver dam," her friend answers, before they swim off to take a peek, one of them topless (again, predictable).
Then they meet a 'beaver hunter' with a gun and don't seem remotely alarmed. "We're looking for beavers," they tell him, before the first, inevitable innuendo: "Well, hell, ain't we all."
Cue plenty of hitting cringy fake beavers a la 'Whack a Mole', ketchup 'blood', hipster hats and B-movie screams as teeth fall from the freshly-infected youngsters.
Jordan Rubin is at the helm in his first directorial role, with a script he wrote with Jon and Al Kaplin. Cortney Palm, Rachel Melvin and Hutch Dano also star.
"This may very well be the most important film you will ever see about zombie beavers," Rubin told Deadline.
Zombeavers is being presented to potential buyers at the Berlin Film Festival after generating a high level of social media buzz.
"You'll all be dammed," the tagline pun on the promotional poster reads. But in the words of one of the ill-fated teens: "I mean, really?"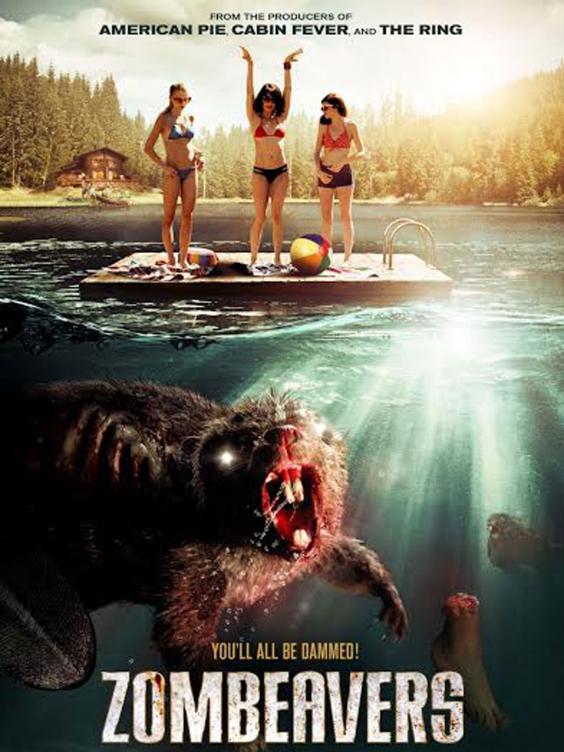 Reuse content