When Michael Moore protested against the war in Iraq in his 2003 acceptance speech, or when Marlon Brando sent a Native American rights activist to decline his Oscar for Best Actor in 1973, theirs were the lone dissenting voices in a chorus of celebrity self-congratulation.
But the winners at this year's Academy Awards were the most campaigning group in memory, delivering speeches that included heartfelt calls for women's rights, African-American civil rights, immigrant rights and gay rights.
During the ceremony at the Dolby Theatre in Hollywood on Sunday evening, the British Best Actor winner, Eddie Redmayne, dedicated his  win to amyotrophic lateral sclerosis (ALS) sufferers around the world – in particular Stephen Hawking, whom he portrayed in The Theory of Everything. Julianne Moore, who won Best Actress for her portrayal of a woman diagnosed with Alzheimer's in Still Alice, reserved particular thanks for her co-director Richard Glatzer, who also suffers from ALS.
Oscars 2015 winners
Oscars 2015 winners
1/15 Best Actor

Eddie Redmayne picks up his award for Best Actor (Robyn Beck AFP)

2/15 Best Actress

Julianne Moore picks up her award for Best Actress for her role in Still Alice (Robyn Beck AFP)

Getty Images

3/15 Best Picture

The cast and crew of Birdman accept their Best Picture Oscar on stage

Getty Images

4/15 Best Supporting Actress

JK Simmons

Getty Images

5/15 Best Supporting Actress

Patricia Arquette

Getty Images

6/15 Best Director

'Birdman': Director Alejandro Gonzalez Inarritu accepts the Best Director Award for Kevin Winter/Getty Images)

7/15 Best Screenplay

Birdman: Director Alejandro G. Irritu, Nicolas Giacobone, Alexander Dinelaris, Jr. & Armando Bo (ROBYN BECK/AFP/Getty Images)

8/15 Best Documentary Feature

CitizenFour: Laura Poitras (2nd L) embraces The Guardian journalist Glenn Greenwald (C), as Mathilde Bonnefoy (R) and Dirk Wilutzky (L) (ROBYN BECK/AFP/Getty Images)

9/15 Best Adapted Screenplay

The Imitation Game: Graham Moore (ROBYN BECK/AFP/Getty Images)

10/15 Best Production Design

The Grand Budapest Hotel: Adam Stockhausen (Production Design) and Anna Pinnock (Set Decoration) (ROBYN BECK/AFP/Getty Images)

ROBYN BECK/AFP/Getty Images

11/15 Best Visual Effects

Interstellar: Paul Franklin (2ndL) , Andrew Lockley (R) , Ian Hunter (L) and Scott Fisher (ROBYN BECK/AFP/Getty Images)

12/15 Best Animated Feature

Big Hero 6: Don Hall (C), Chris Williams (R) and Roy Conli (ROBYN BECK/AFP/Getty Images)

13/15 Best Cinematography

Birdman: Emmanuel Lubezki AFP PHOTO / Robyn BECK (ROBYN BECK/AFP/Getty Images)

14/15 Best Sound Editing

American Sniper: Alan Robert Murray (R) and Bub Asman (ROBYN BECK/AFP/Getty Images)

15/15 Best Foreign Language Film

Ida (Poland): Pawel Pawlikowski (ROBYN BECK/AFP/Getty Images)
Patricia Arquette, named Best Supporting Actress for her 12-years-in-the-making turn as a working mother in Boyhood, ended her acceptance speech with a demand for gender equality, cheered enthusiastically by her fellow nominee Meryl Streep. "It's our time to have wage equality once and for all and equal rights for women in the United States of America."
Her remarks came on a night when the hashtag #AskHerMore trended on Twitter, encouraging journalists to ask actresses better questions than which designer created their outfit.
"This is a movement to say we're more than just our dresses," Best Actress nominee Reese Witherspoon told one interviewer on the red carpet. "It's hard being a woman in Hollywood."
While the ceremony may have been political, the films it chose to honour largely were not. Birdman is the third Best Picture winner in four years whose subject – like Argo in 2013 and The Artist in 2012 – was show business. Alejandro Gonzalez Iñarritu's backstage black comedy won Oscars in four categories, a haul matched by Wes Anderson's The Grand Budapest Hotel. Boyhood, the early awards-season front-runner, garnered just one award.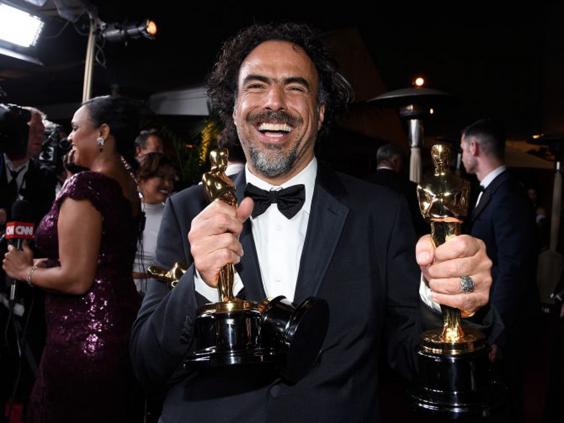 Despite the recent fuss about the Academy's lack of diversity, a Latin American film-maker has won the Oscar for Best Director two years in a row. In 2014 it was Alfonso Cuaron for Gravity; this year it was Iñarritu, who also shared the award for Best Original Screenplay. His film's Mexican cinematographer, Emmanuel Lubezki, took home his second Oscar in as many years – he also won last year for Gravity.
"I want to dedicate this award for my fellow Mexicans, the ones who live in Mexico," Iñarritu said as he accepted the Best Picture statuette. "And the ones that live in this country, who are part of the latest generation of immigrants, I just pray that they can be treated with the same dignity and respect as the ones who came before and built this incredible immigrant nation."
The Martin Luther King biopic Selma was thought to have received fewer nominations than it deserved, yet it provided the ceremony's emotional high point: Common and John Legend's rendition of "Glory", the civil-rights anthem they wrote for the film, moved audience members to tears and earned a lengthy standing ovation, and the Oscar for Best Original Song.
Legend addressed the continuing struggle for civil rights in his acceptance speech: "The Voting Rights Act that they fought for 50 years ago is being compromised right now, in this country, today. We know that right now, the struggle for freedom and justice is real… When people are marching with our song, we want to tell you we are with you."
Reuse content