It wasn't an Oscar-winning film or actor that most excited the Twittersphere last night, it was a pop-star.
On the 50th anniversary of The Sound of Music, Lady Gaga performed a medley of songs from the film to great internet acclaim, pipping Best Picture and Best Supporting Actress to become the event's most talked-about moment on Twitter.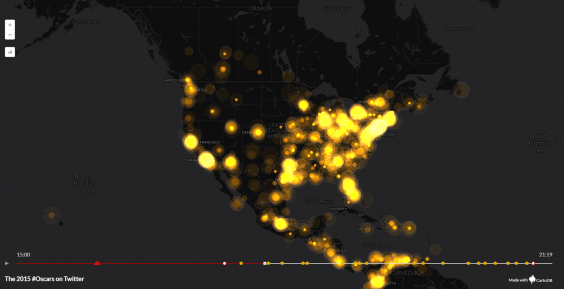 This has been visualised on an incredible-looking map from the Twitter Data team that shows how users of the social media platform reacted to Hollywood's biggest night of the year.
The battle for best film between Boyhood and Birdman was the second biggest topic of the evening, according to a Twitter blog post, and Patricia Arquette's speech - in which she called for equal pay for women - was the third.
As the two films that came away with the most awards, Birdman and The Grand Budapest Hotel were the most tweeted about, with Richard Linklater's 12-year meditation on Boyhood performing the next best.
Oscars 2015 winners
Oscars 2015 winners
1/15 Best Actor

Eddie Redmayne picks up his award for Best Actor (Robyn Beck AFP)

2/15 Best Actress

Julianne Moore picks up her award for Best Actress for her role in Still Alice (Robyn Beck AFP)

Getty Images

3/15 Best Picture

The cast and crew of Birdman accept their Best Picture Oscar on stage

Getty Images

4/15 Best Supporting Actress

JK Simmons

Getty Images

5/15 Best Supporting Actress

Patricia Arquette

Getty Images

6/15 Best Director

'Birdman': Director Alejandro Gonzalez Inarritu accepts the Best Director Award for Kevin Winter/Getty Images)

7/15 Best Screenplay

Birdman: Director Alejandro G. Irritu, Nicolas Giacobone, Alexander Dinelaris, Jr. & Armando Bo (ROBYN BECK/AFP/Getty Images)

8/15 Best Documentary Feature

CitizenFour: Laura Poitras (2nd L) embraces The Guardian journalist Glenn Greenwald (C), as Mathilde Bonnefoy (R) and Dirk Wilutzky (L) (ROBYN BECK/AFP/Getty Images)

9/15 Best Adapted Screenplay

The Imitation Game: Graham Moore (ROBYN BECK/AFP/Getty Images)

10/15 Best Production Design

The Grand Budapest Hotel: Adam Stockhausen (Production Design) and Anna Pinnock (Set Decoration) (ROBYN BECK/AFP/Getty Images)

ROBYN BECK/AFP/Getty Images

11/15 Best Visual Effects

Interstellar: Paul Franklin (2ndL) , Andrew Lockley (R) , Ian Hunter (L) and Scott Fisher (ROBYN BECK/AFP/Getty Images)

12/15 Best Animated Feature

Big Hero 6: Don Hall (C), Chris Williams (R) and Roy Conli (ROBYN BECK/AFP/Getty Images)

13/15 Best Cinematography

Birdman: Emmanuel Lubezki AFP PHOTO / Robyn BECK (ROBYN BECK/AFP/Getty Images)

14/15 Best Sound Editing

American Sniper: Alan Robert Murray (R) and Bub Asman (ROBYN BECK/AFP/Getty Images)

15/15 Best Foreign Language Film

Ida (Poland): Pawel Pawlikowski (ROBYN BECK/AFP/Getty Images)
The popularity of the Oscars around the world can be seen on this map, with a huge number of tweets from Europe and East Asia despite the significant time-difference.
Naturally the biggest response came from the Americas, with huge interaction from Mexico and South America, particularly in the wake of the big win for Mexican-American Alejandro González Iñárritu.
Despite the amount of attention this years' awards received, no moment approached Ellen Degeneres' star-studded selfie that became the most retweeted thing ever.
The closest this year's event came was Lady Gaga and her Sound of Music.
Reuse content