Last night saw Hollywood light up for the star-studded Oscars ceremony, with Birdman, Eddie Redmayne and Julianne Moore among the big winners.
But while the awards themselves matched most critics' predictions, it was all the other goings-on that most of us found most entertaining.
From Gaga's rendition of "The Hills Are Alive" to Patricia Arquette's call for equal pay and Benedict Cumberbatch swigging from a hipflask, here were some of our favourite Oscars moments:
Lady Gaga sings a Sound of Music medley
Julie Andrews herself led the praise for the usually eccentric singer after she stunned the audience with a soaring array of hits in a beautiful white gown. "Thank you Lady Gaga for that wonderful performance," said Andrews, who played Maria the singing nun in the 1965 film, as Hollywood gave her a standing ovation.

"Tonight we celebrate Hollywood's best and whitest...sorry brightest"
Dubbed "the whitest Oscars since 1998" after not a single black or Asian actor were nominated in the four acting categories, the hashtag #OscarsSoWhite was trending before the ceremony even began. Host Neil Patrick Harris was quick to mock the diversity issue.
Of the 6,000 people who get to vote in the Oscars judging panel, 93 per cent are white, 70 per cent are male and the average age is 63. Which goes some way to explaining things.
Funny pictures from the Oscars 2015
Funny pictures from the Oscars 2015
1/25 Oscars 2015

So relieved (apparently) at having got her name right, John Travolta decides he'll hold onto Idrina Menzel's chin. Charming

Getty

2/25 Oscars 2015

Emma Stone doesn't seem to be puckering up towards Julianne Moore quite as enthusiastically as her Crazy Stupid Love onscreen mum

Getty

3/25 The Oscars 2015

Neil Patrick Harris adjusting his underpants

Getty

4/25 The Oscars 2015

T.J. Miller getting a little over-excited

Getty

5/25 The Oscars 2015

Jessica Chastain appears to receive an accidental pat on the boob from Emmanuel Lubezki

Getty

6/25 The Oscars 2015

We're not sure what's going on here but Kevin Hart and Eniko Parrish don't look impressed

Getty

7/25 The Oscars 2015

Anna Faris gets a hand holding the weight of her dress from Chris Pratt

Getty

8/25 The Oscars 2015

John Legend looks composed as Chrissy Teigen pulls a funny face

Getty

9/25 The Oscars 2015

Neil Patrick Harris and Anna Kendrick are open-mouthed with awe at their opening number

Getty

10/25 The Oscars 2015

Ethan Hawks reveals that even the most handsome actors be seen from a bad angle

Getty

11/25 The Oscars 2015

Nicole Kidman and Keith Urban practise their best hair shakes for the cameras

Getty

12/25 The Oscars 2015

Something made you chortle, Julianne Moore?

Getty

13/25 The Oscars 2015

John Legend helps Chrissy Teigen with her dress - Oscar seems to have grabbed hold of it!

Getty

14/25 The Oscars 2015

It's not that bad Alejandro Gonzalez Inarritu...you won, right?

Getty

15/25 Oscars 2015

Rita Ora appears worried about her performance

Getty

16/25 Oscars 2015

Naomi Watts has a point

Getty

17/25 Oscars 2015

Eddie Redmayne is so happy to have won best actor he is damned if anyone is going to try and take it off him - he'll hug it to himself standing on one leg for extra protection

Getty

18/25 Oscars 2015

Michael Keaton seems to be telling David Oyelowo that he dropped his glasses - but David is too busy posing with his wife Jessica

Getty

19/25 Oscars 2015

Oh no, wait, they weren't David's glasses after all

Getty

20/25 Oscars 2015

Eddie Redmayne can't seem to fit his new gong in his pocket. Maybe stuffing it up his sleeve might work better?

Getty

21/25 Oscars 2015

Jared Leto wins the award for best beard at this year's ceremony

Getty Images

22/25 Oscars 2015

Rita Ora said she hired a bodyguard because she was borrowing so many diamonds - but it looks like she needed on to carry her skirts

Getty

23/25 Oscars 2015

Questlove tries to win the Oscars selfie of 2015 award

Getty

24/25 Oscars 2015

He gets a few friends involved

Getty

25/25 James Lucas

Getty
Eddie Redmayne couldn't contain himself
Eton boy Eddie took home Best Actor for his role as Stephen Hawking in The Theory of Everything. You know, the one so good Hawking said he felt as though he were watching himself?
But if you didn't watch the ceremony itself, you may have missed his charming acceptance speech, which culminated in a rather involuntary "WOW".
#AskHerMore dominates red carpet
The hashtag trended on Twitter, encouraging journalists to ask actresses more than "What are you wearing?". Reese Witherspoon summed it up nicely before the ceremony: "This is a movement to say we're more than just our dresses. It's hard being a woman in Hollywood."
Patricia Arquette rocks it for the sisterhood in acceptance speech...
The Boyhood actress used her Best Supporting Actress win to call for equal pay for women. "We talk about equal rights for women in other countries...we don't have equal rights for women in America because when they wrote the constitution, they didn't write it for women," she said to raucous applause.
Preach, @PattyArquette. #FeministOscars #Oscars2015 pic.twitter.com/rbmKd9tlni

— Femme International (@FemmeInt) February 23, 2015
Oh and earlier on the red carpet she rejected E!'s "mani-cam" and spoke about her charity work with an ecological sanitation project instead. Atta girl.
...and wins the support of Meryl Streep
Safe to say Arquette has the support of this Hollywood royalty and J-Lo to boot.
#feministOscars
The world loved Arquette's acceptance speech so much that #FeministOscars began trending on Twitter. It didn't stop many recognising that there is a long way to go before we can truly call it that, however.
Also, can all my ladies please just praise @PattyArquette right now? The BEST speech of the night. #Oscars #FeministOscars

— Alyssa McCord (@thislyss) February 23, 2015
I know much wants more but has enough ACTUALLY happened for this to be nicknamed #FeministOscars? I mean it's a start but...I want more.

— Laura Stanley (@LauraStans) February 23, 2015
David Oyelowo and Chris Pine weep during "Glory"
Shortly before winning the Best Original Song Oscar, John Legend and Common performed Selma song "Glory" complete with backing choir and imagery of the famous march. It certainly got to Pine and Oyelowo, anyway.  
John Legend gets all political
Legend drew upon the continuing civil rights struggle in his acceptance speech, emphasising that the "struggle for freedom and justice is real". "We live in the most incarcerated country in the world," he said.
"There are more black men under correctional control today then there were under slavery in 1850. When people are marching with our song, we want to tell you we are with you. We see you, we love you, and march on. God bless you."
Benedict Cumberbatch isn't content with the alcohol supply
The Imitation Game actor was caught shamelessly swigging from a hipflask at his seat and pulling...quite...the...face. Well he had to something after his U2 photobomb last year, didn't he?
#BenedictCumberbatch upgrades his photobomb to a hipflask and a sneer (what do they mean, 'posh'?) #Oscars2015 pic.twitter.com/d3w9z2Ubud

— Caroline Frost (@Frostalicus) February 23, 2015
Pawel Pawlikowski gets the boot...twice
The British-Polish filmmaker won Best Foreign Film for Ida but his acceptance speech went on too long for producers. Pawlikowski was ushered off stage mid-sentence but he ignored the over-zealous music and went on to dedicate his Oscar to his late wife. He was then played off again and ignored the signal...again.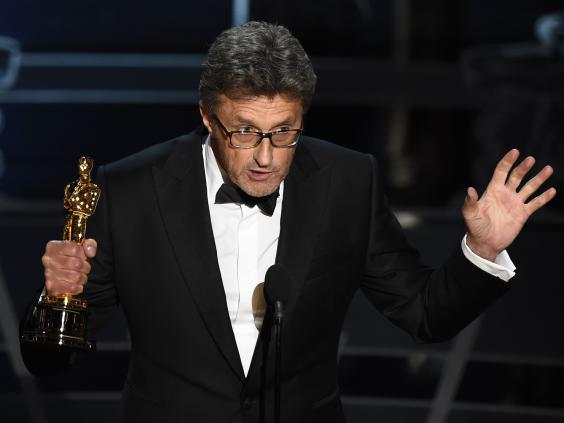 Joan Rivers left out of Oscars tribute
She was given a pre-Oscars tribute on E! but Joan Rivers was missed out of the annual ceremony honours. Twitter did not miss this - asking how the deaths of marketing executives were seemingly more important than those of Rivers.
Oscars wouldn't be as famous as they are without Joan Rivers. Yet they can't honor her with a 5 second video in the memoriam

— Kalee (@Lovatic4Eva13) February 23, 2015
Emma Stone clutches Lego statuette
She may have missed out on an Oscar to Patricia Arquette but Emma Stone was awarded her very own Lego statuette during the performance of "Everything Is Awesome". Here she is looking ever so slighted unimpressed by the substitute.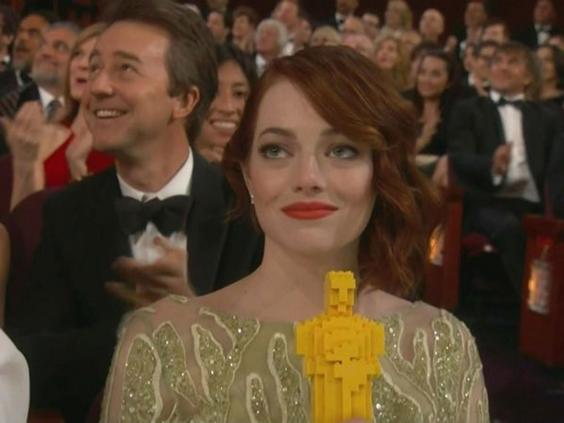 Reuse content