Best accessory: Benedict Cumberbatch's hipflask
Forget Cate Blanchett's statement Tiffany turquoise necklace; with the ceremony's running time of more than four hours, surely the finest accessory of the evening was the Best Actor nominee's hipflask which he flashed to the camera during Neal Patrick Harris's opening skit. You can't blame him for wanting to be drunk; after all, the evening included a performance from Adam Levine. Great shout, Sherlock.
Creepiest attendee: John Travolta
The oddest photos from the night must surely be of John Travolta man-handling Scarlett Johansson on the red carpet. The Pulp Fiction star rubbed her stomach and showered her with kisses while she froze and looked like she was not having much fun at all. Thank goodness, then, for Jennifer Aniston and Emma Stone who provided some sweeter red carpet poses when the Friends star picked up Stone off the floor in an affectionate embrace.
Biggest tearjerker: John Legend and Common
Forget the "In Memoriam" segment of the show, the part that had most of the audience reaching for the was John Legend and Common's surprisingly emotional performance of "Glory", the track from Selma that won Best Original Song. Once it was over, the camera dived into the audience for close-ups of tear-stained faces. David Oyelowo and Oprah looked like they were attending a funeral, while Star Trek actor Chris Pine appeared to have been told his dog had just died. Brilliant.
Funny pictures from the Oscars 2015
Funny pictures from the Oscars 2015
1/25 Oscars 2015

So relieved (apparently) at having got her name right, John Travolta decides he'll hold onto Idrina Menzel's chin. Charming

Getty

2/25 Oscars 2015

Emma Stone doesn't seem to be puckering up towards Julianne Moore quite as enthusiastically as her Crazy Stupid Love onscreen mum

Getty

3/25 The Oscars 2015

Neil Patrick Harris adjusting his underpants

Getty

4/25 The Oscars 2015

T.J. Miller getting a little over-excited

Getty

5/25 The Oscars 2015

Jessica Chastain appears to receive an accidental pat on the boob from Emmanuel Lubezki

Getty

6/25 The Oscars 2015

We're not sure what's going on here but Kevin Hart and Eniko Parrish don't look impressed

Getty

7/25 The Oscars 2015

Anna Faris gets a hand holding the weight of her dress from Chris Pratt

Getty

8/25 The Oscars 2015

John Legend looks composed as Chrissy Teigen pulls a funny face

Getty

9/25 The Oscars 2015

Neil Patrick Harris and Anna Kendrick are open-mouthed with awe at their opening number

Getty

10/25 The Oscars 2015

Ethan Hawks reveals that even the most handsome actors be seen from a bad angle

Getty

11/25 The Oscars 2015

Nicole Kidman and Keith Urban practise their best hair shakes for the cameras

Getty

12/25 The Oscars 2015

Something made you chortle, Julianne Moore?

Getty

13/25 The Oscars 2015

John Legend helps Chrissy Teigen with her dress - Oscar seems to have grabbed hold of it!

Getty

14/25 The Oscars 2015

It's not that bad Alejandro Gonzalez Inarritu...you won, right?

Getty

15/25 Oscars 2015

Rita Ora appears worried about her performance

Getty

16/25 Oscars 2015

Naomi Watts has a point

Getty

17/25 Oscars 2015

Eddie Redmayne is so happy to have won best actor he is damned if anyone is going to try and take it off him - he'll hug it to himself standing on one leg for extra protection

Getty

18/25 Oscars 2015

Michael Keaton seems to be telling David Oyelowo that he dropped his glasses - but David is too busy posing with his wife Jessica

Getty

19/25 Oscars 2015

Oh no, wait, they weren't David's glasses after all

Getty

20/25 Oscars 2015

Eddie Redmayne can't seem to fit his new gong in his pocket. Maybe stuffing it up his sleeve might work better?

Getty

21/25 Oscars 2015

Jared Leto wins the award for best beard at this year's ceremony

Getty Images

22/25 Oscars 2015

Rita Ora said she hired a bodyguard because she was borrowing so many diamonds - but it looks like she needed on to carry her skirts

Getty

23/25 Oscars 2015

Questlove tries to win the Oscars selfie of 2015 award

Getty

24/25 Oscars 2015

He gets a few friends involved

Getty

25/25 James Lucas

Getty
Best (non) supporting mother: Melanie Griffiths
Walking the red carpet with her daughter, 50 Shades of Grey star Dakota Johnson, Melanie Griffiths was inevitably asked the question: had she been to see her first born child be tied up, blindfolded and whipped in the erotic hit film? "I don't think I can. I think it would be strange," said Mum. When the presenter pushes her to watch it and Griffiths still resists, Dakota reacts in the best bratty daughter way possible: with a flounce, an eye roll, and a sulky, "ALL RIGHT, you don't have to see it. GOD!" It was hard to tell if Griffiths was embarrassed, annoyed or upset, because she can't really move her face any more.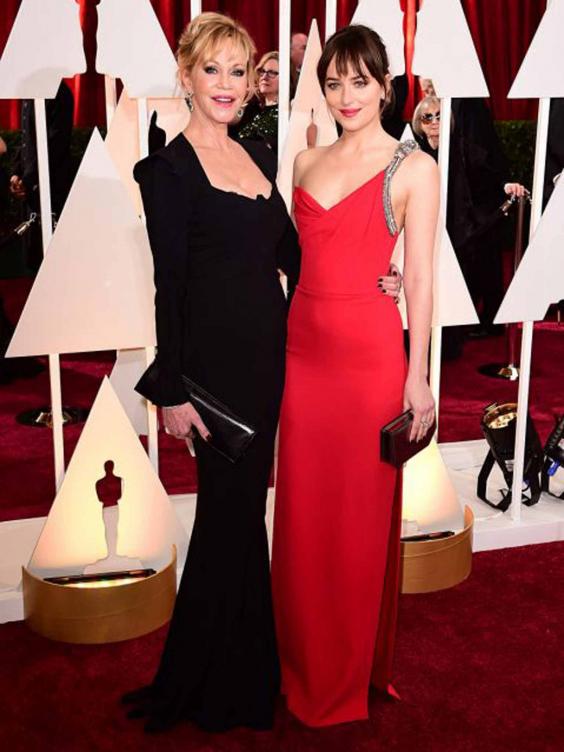 Most IDGAF guest: Anna Wintour
The Vogue editor sat through the entire ceremony without removing her sunglasses in a legendary show of disregard for the Academy. Sure, Jack Nicholson frequently wears shades to the Oscars – but he's the most nominated actor in history. Having been up for an award 12 times, he can do what he wants. Wintour works in fashion. A brave move.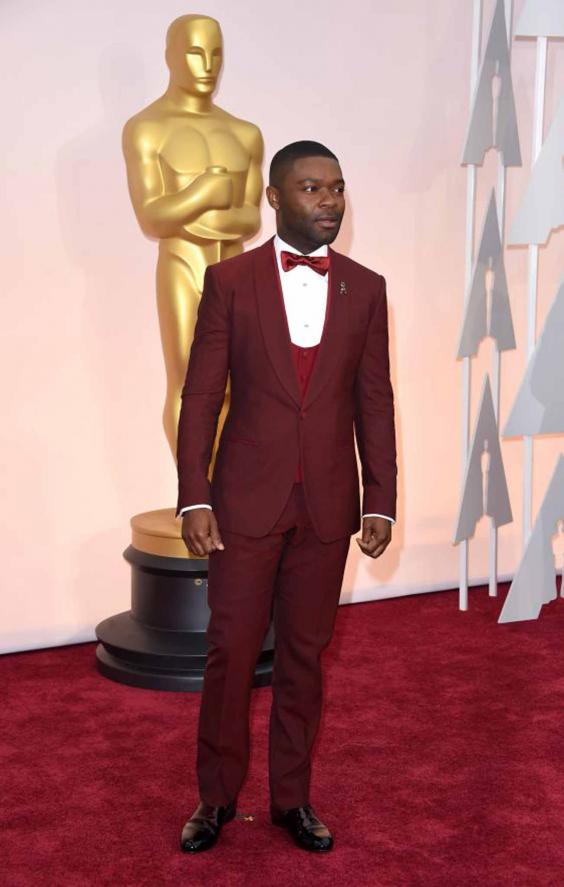 Best alternative to black tie: David Oyelowo
It's not much fun getting ready for the Oscars when you're a dude; it's pretty much black, black and more black. Not for Selma star David Oyelowo, however, who chose a fabulous claret Dolce and Gabbana tuxedo for the ceremony. He may have been snubbed for a Best Actor nomination, but he won in the fashion stakes.
Best ignoring of orchestra: Pawel Pawlikowski
When a winner has been babbling on too long, the dreaded orchestra starts up in a bid to get whoever-it-is off stage. It's always awkward and the violins usually win out. Until now. When Pawel Pawlikowski won Best Foreign Language Film for Ida, he raised his voice so much that the orchestra was actually forced to shut up. And they won't even usually stop for Meryl.
Most ready to do the washing up: Lady Gaga
The pop star was in attendance to perform a special 50th anniversary tribute to The Sound of Music. Earlier on, she hit the red carpet in a fairly conventional (at least for her) Azzedine Alaia gown. But it was the pair of red gloves, making her look like she was about to tackle the washing-up, that really created a buzz on the internet. Soon enough, she had been Photoshopped with brooms, Fairy Liquid, and even a toilet plunger. Maybe the newly engaged star was just trying to hide her ring?
Worst audition for new role in comedy: Neal Patrick Harris
Hopes were high for Harris after his triumphant hosting of the Tony and Emmy Awards, but after a decent start ("Tonight we honour Hollywood's best and whitest, sorry, brightest"), it was tumbleweed time. There was an ill-timed joke about a woman's dress after she had just dedicated her award to her son who committed suicide. And surely, surely, the worst gag of the evening was when he introduced Reese Witherspoon with "This next presenter is so lovely you could eat her up with her spoon." Refusing to go down alone, he also forced poor David Oyelowo to read out a terrible joke.
Most meme-friendly moment: Meryl Streep
After Patricia Arquette gave a badass acceptance speech to a room full of male power players, calling for equal pay and rights for women in America, the camera cut to Meryl Streep whooping with joy and getting all excited. It wasn't quite Angelina's leg, but it was the best from a pretty unmeme-orable night.
Reuse content