Birdman struck it lucky, Boyhood was robbed and Eddie Redmayne ran away with the Oscar for Best Actor, but what else went on at last night's 87th annual Academy Awards?
It was the most political Oscars ceremony for... ever?
Forget Michael Moore protesting the war in Iraq, or Marlon Brando sending a Native American rights activist up to accept his award for Best Actor. Last night's was the most campaigning crop of Oscar winners in memory. There were calls for women's rights, African-American civil rights, immigrant rights and gay rights. Did I miss anything?
Reese Witherspoon, Patricia Arquette and Julianne Moore lent their voices to a red carpet campaign to take women more seriously. The #AskHerMore campaign encourages journalists to ask Hollywood actresses more than just what they're wearing. As Witherspoon said: "It's hard being a woman in Hollywood."
Funny pictures from the Oscars 2015
Funny pictures from the Oscars 2015
1/25 Oscars 2015

So relieved (apparently) at having got her name right, John Travolta decides he'll hold onto Idrina Menzel's chin. Charming

Getty

2/25 Oscars 2015

Emma Stone doesn't seem to be puckering up towards Julianne Moore quite as enthusiastically as her Crazy Stupid Love onscreen mum

Getty

3/25 The Oscars 2015

Neil Patrick Harris adjusting his underpants

Getty

4/25 The Oscars 2015

T.J. Miller getting a little over-excited

Getty

5/25 The Oscars 2015

Jessica Chastain appears to receive an accidental pat on the boob from Emmanuel Lubezki

Getty

6/25 The Oscars 2015

We're not sure what's going on here but Kevin Hart and Eniko Parrish don't look impressed

Getty

7/25 The Oscars 2015

Anna Faris gets a hand holding the weight of her dress from Chris Pratt

Getty

8/25 The Oscars 2015

John Legend looks composed as Chrissy Teigen pulls a funny face

Getty

9/25 The Oscars 2015

Neil Patrick Harris and Anna Kendrick are open-mouthed with awe at their opening number

Getty

10/25 The Oscars 2015

Ethan Hawks reveals that even the most handsome actors be seen from a bad angle

Getty

11/25 The Oscars 2015

Nicole Kidman and Keith Urban practise their best hair shakes for the cameras

Getty

12/25 The Oscars 2015

Something made you chortle, Julianne Moore?

Getty

13/25 The Oscars 2015

John Legend helps Chrissy Teigen with her dress - Oscar seems to have grabbed hold of it!

Getty

14/25 The Oscars 2015

It's not that bad Alejandro Gonzalez Inarritu...you won, right?

Getty

15/25 Oscars 2015

Rita Ora appears worried about her performance

Getty

16/25 Oscars 2015

Naomi Watts has a point

Getty

17/25 Oscars 2015

Eddie Redmayne is so happy to have won best actor he is damned if anyone is going to try and take it off him - he'll hug it to himself standing on one leg for extra protection

Getty

18/25 Oscars 2015

Michael Keaton seems to be telling David Oyelowo that he dropped his glasses - but David is too busy posing with his wife Jessica

Getty

19/25 Oscars 2015

Oh no, wait, they weren't David's glasses after all

Getty

20/25 Oscars 2015

Eddie Redmayne can't seem to fit his new gong in his pocket. Maybe stuffing it up his sleeve might work better?

Getty

21/25 Oscars 2015

Jared Leto wins the award for best beard at this year's ceremony

Getty Images

22/25 Oscars 2015

Rita Ora said she hired a bodyguard because she was borrowing so many diamonds - but it looks like she needed on to carry her skirts

Getty

23/25 Oscars 2015

Questlove tries to win the Oscars selfie of 2015 award

Getty

24/25 Oscars 2015

He gets a few friends involved

Getty

25/25 James Lucas

Getty
Arquette also called for equal pay for women at the end of her acceptance speech for best supporting actress in Boyhood. She said: "To every woman who gave birth, to every taxpayer and citizen of this nation, we have fought for everybody else's equal rights. It's time to have wage equality once and for all. And equal rights for women in the United States of America."
Civil rights groups staged a protest outside the Dolby Theater intending to "send a message to Hollywood and the film industry" that this year's "white wash" (all 20 acting nominees were Caucasian) was not acceptable.
Alejandro Gonzalez Inarritu hailed Birdman's win as a triumph for Mexico and during his acceptance speech said he "he prayed and hoped [the country] can build the government that we deserve" and urged Americans to treat immigrants "with the respect they deserve".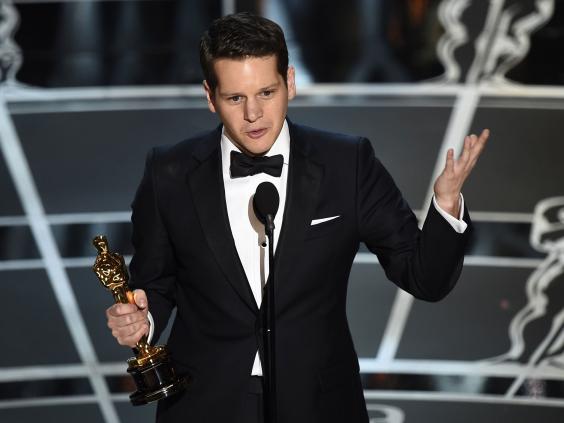 Dana Perry, the co-director of Best Documentary Short winner Crisis Hotline: Veterans Press 1, called for greater public awareness of suicide. Graham Moore, winner of Best Adapted Screenplay for The Imitation Game, revealed he had attempted suicide at 16 because he felt "weird". "This is for that kid who feels like they don't fit in," he said: "Stay weird, stay different."
Redmayne, meanwhile, dedicated his win to ALS sufferers around the world – specifically Stephen Hawking, whom he portrayed in The Theory of Everything. Julianne Moore, who won Best Actress for her portrayal of a woman diagnosed with Alzheimer's in Still Alice, reserved particular thanks for her co-director Richard Glatzer, who also suffers from ALS.
Does that mean it was boring?
The verdict on social media is that it was pretty average as the Academy Awards go. It didn't offend too many people, but the laughs weren't exactly abundant. This GIF of David Oyelowo sums things up nicely.
Everything went according to the script
It was a night of few surprises. Moore and Redmayne had both become the runaway favourites in their categories, while Patricia Arquette (Boyhood) and JK Simmons (Whiplash) were long-destined to win Best Supporting Actress and Actor respectively. While Boyhood led the field for Best Picture in the early days of awards season, by last night Birdman had the momentum.
Alejandro González Iñárritu's black backstage comedy won four awards including Best Picture and Best Director. That tally was matched by Wes Anderson's Grand Budapest Hotel, which won awards for its costumes; make-up and hairstyling; production design and original score.
The Mexicans are coming
Despite all the fuss about the Academy's lack of diversity, a Latin American filmmaker has now won the Oscar for Best Director two years in a row. In 2014 it was Alfonso Cuaron for Gravity; this year it was Iñárritu, who also shared the gong for Best Original Screenplay. Meanwhile, his fellow Mexican, Birdman cinematographer Emmanuel Lubezki, took home his second Oscar in as many years – he also won last year for Gravity.
"I want to dedicate this award for my fellow Mexicans, the ones who live in Mexico," Iñárritu said as he accepted the Best Picture statuette. "And the ones that live in this country, who are part of the latest generation of immigrants, I just pray that they can be treated with the same dignity and respect as the ones who came before and built this incredible immigrant nation."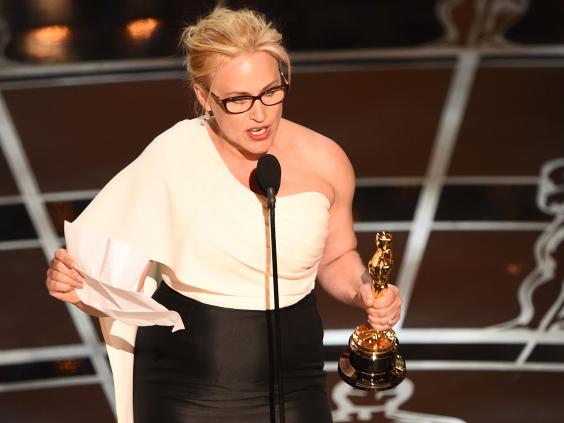 Who cares who wore who?
Patricia Arquette, named Best Supporting Actress for her 12-years-in-the-making turn as a working mother in Boyhood, ended her acceptance speech with a demand for gender equality, which was cheered enthusiastically by her fellow nominee Meryl Streep. "It's our time to have wage equality once and for all and equal rights for women in the United States of America," Arquette said.
Her remarks came on a night when the hashtag #AskHerMore trended on Twitter, encouraging journalists to ask actresses better questions than simply which designer created her outfit. "This is a movement to say we're more than just our dresses," Best Actress nominee Reese Witherspoon told one interviewer on the red carpet. "It's hard being a woman in Hollywood."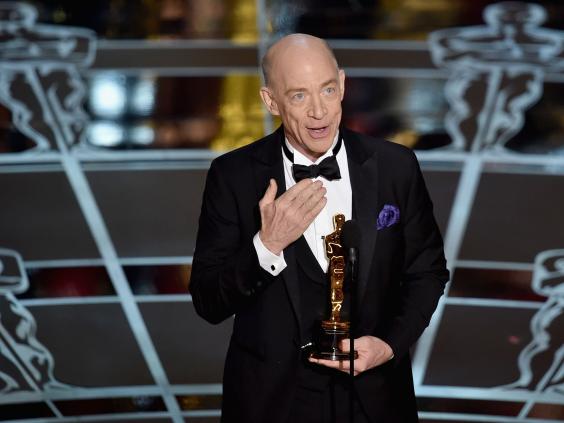 It's good to talk
The most touching acceptance speech of the night was the first: JK Simmons, named Best Supporting Actor for his performance as a terrifying music teacher in Whiplash, urged everyone in the crowd – everyone in the world, in fact – to call their parents. "Call your mom, call your dad," Simmons said. "If you're lucky enough to have a parent or two alive on this planet, call 'em. Don't text. Don't email. Call them on the phone. Tell 'em you love 'em, and thank them, and listen to them for as long as they want to talk to you."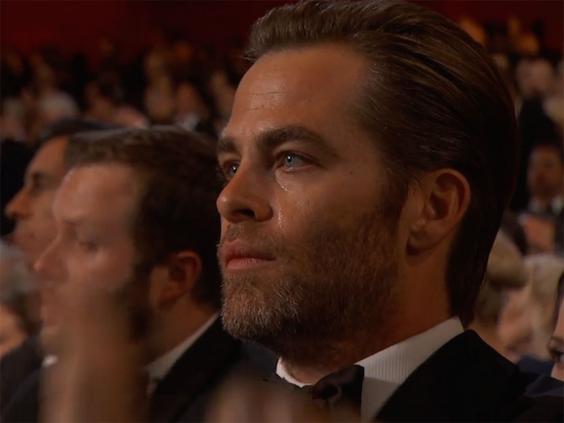 Consolation prize
It may have got fewer nominations than it deserved, but the Martin Luther King biopic Selma still provided the ceremony's emotional high point: Common and John Legend's rendition of "Glory", the civil rights anthem they composed for the film, which left several audience members in tears and earned a lengthy standing ovation – not to mention the Oscar for Best Original Song.
Legend noted the continuing struggle for civil rights in his acceptance speech, saying: "The Voting Rights Act that they fought for 50 years ago is being compromised right now, in this country, today. We know that right now, the struggle for freedom and justice is real. We live in the most incarcerated country in the world. There are more black men under correctional control today then there were under slavery in 1850. When people are marching with our song, we want to tell you we are with you. We see you, we love you, and march on. God bless you."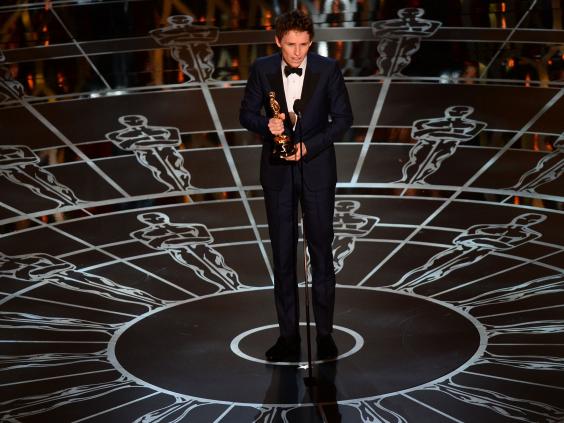 A fine night for British film
Redmayne isn't the only Brit who'll be flying home with an Oscar in his suitcase. British filmmakers Matt Kirkby and James Lucas triumphed in the Best Live Action Short category for their film Phone Call, starring Sally Hawkins. Anna Pinnock, the production designer for the next Bond film, won an Oscar for her work on The Grand Budapest Hotel. And the British team who created the deep space setting of Christopher Nolan's sci-fi epic Interstellar – Paul Franklin, Andrew Lockley, Ian Hunter and Scott Fisher – won the Oscar for Best Visual Effects.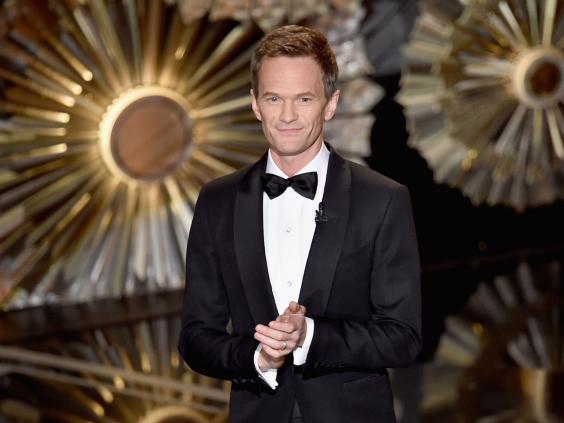 Neil Patrick Harris is no Hugh Jackman. Then again, he's no Seth MacFarlane either.
He's very hard to dislike, but after a strong opening number, host Neil Patrick Harris's jokes mostly fell flat. His best gag was his first – "Tonight we honour Hollywood's best and whitest – I mean, brightest..." – a dig at the Academy's diversity woes. Still, he was funnier than James Franco.
Reuse content