It's a long time since the 25-year-old Al Pacino turned up at the Actors Studio in New York so poor he couldn't pay his rent or even afford new shoes.
The actor, now 74, has long since assumed near legendary status. Each movie he makes is an event in its own right. That's why there was such anticipation when he arrived at the Venice Festival with two new features in which he stars – Barry Levinson's The Humbling and David Gordon Green's Manglehorn.
Neither film ranks with Pacino's very best work – all those classics from Dog Day Afternoon and Serpico to The Godfather Part II to Scarface and Heat – but they both remind us of why Pacino is such a unique screen presence.
In The Humbling, adapted from Philip Roth's 2009 novel, Pacino plays Simon Axler, an ageing stage actor who has lost "the trick of his craft".
He can't remember his lines. His "killer charisma" has all but vanished. After embarrassing himself by diving into the orchestra pit during a Broadway production of As You Like It, he solemnly vows that he will never go on stage again. Instead, he retreats to his Connecticut mansion and tries to lock out the world.
As in so many Pacino movies, his performance here is perched on an edge between brilliance and utter haminess. There are some moments that show his genius. In the scene in which Axler tries to commit suicide with a shotgun, he strikes the perfect balance between comedy and despair. "Hemingway must have had longer arms," Axler laments as he bungles the job.
What stops the actor drifting off into senile despair is his erotic infatuation with Pageen (Greta Gerwig), the daughter of old actor friends of his who has long had a crush on him. She is a lesbian but that doesn't stop them starting an unlikely affair.
At the beginning of the film, Pacino is shown kissing the masks of tragedy and comedy he keeps on his dressing table. The Humbling allows him both to recite Shakespearian soliloquies and to show his flair for farce.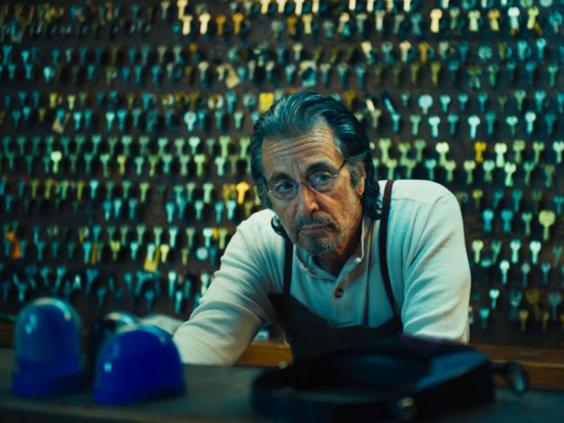 He brings an ironic detachment to his role. It's as if he is amused by his own ridiculousness – the absurdity of the character's relationship with a much younger woman, his inadequacy as a lover, his jealousy when she begins to look elsewhere for sexual satisfaction and his indignation when his agent suggests he act in a commercial for an anti-hair loss product.
There are also scenes in which he ramps up the volume and roars away in the manner to which we've become accustomed in his most self-consciously showy performances. Meanwhile, Pacino is also able to hint at the utter terror the actor feels as his faculties desert him.
Manglehorn is a film in a very different register. It's a dour and downbeat drama in which Pacino plays a misanthropic locksmith, living alone with his cat (the only creature in the world he seems to care about) and trying to keep the outside world at bay. Manglehorn is estranged from his son Jacob (Chris Messina), a ruthless but naive financier, and too grouchy to express his feelings for the equally lonely bank teller Dawn (Holly Hunter).
The director David Gordon Green opts for a low-key, naturalistic storytelling style, albeit with one or two incongruous formal flourishes. None of the characters apart from Manglehorn are developed in any depth. He is such a repressed and curmudgeonly figure that the film itself has a sourness at its core. Even so, there are several moments in which Pacino's brilliance flickers through, most notably a harrowing scene in which he confronts his son with some brutal home truths, combining fury, sarcasm and tenderness.
Pacino was mobbed in Venice. The press conferences for his two new films turned into mini-performances in their own right as he held forth about everything from how actors cope with the ageing process to how much he enjoyed taking his kids to Guardians of the Galaxy.
He made it clear that he retained the "appetite and desire" for acting but completely understood the desire of the character in The Humbling to escape his own fame. "I know that a lot of actors long for the feel and the taste of anonymity," he stated. "Once you're famous, anonymity goes up in value."
Reuse content