Creed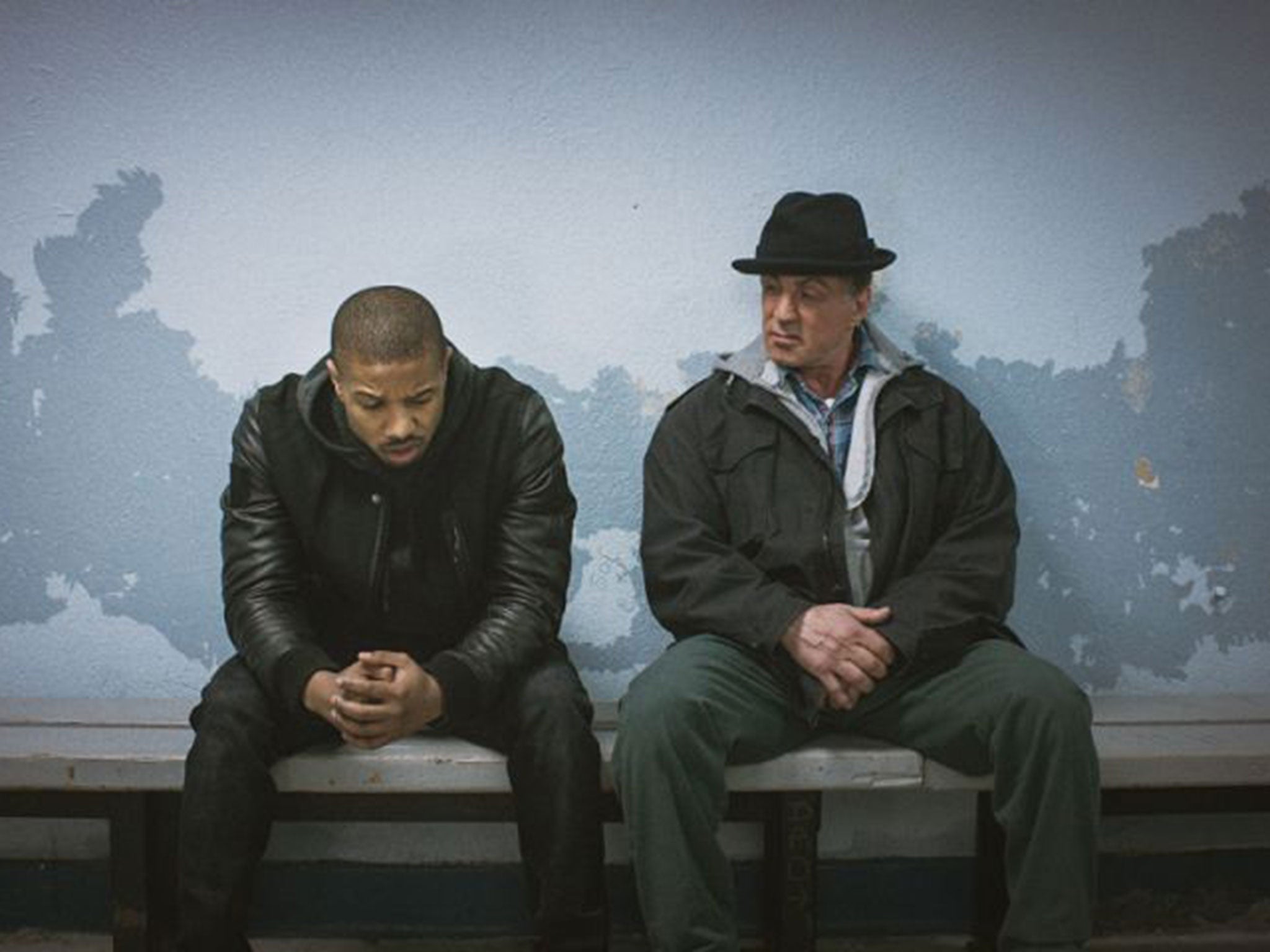 Creed, film review: Sylvester Stallone rises to the challenge of growing old
(12A) Ryan Coogler, 133 mins. Starring: Michael B Jordan, Sylvester Stallone, Tessa Thompson, Phylicia Rashad
3
Click to follow
The Independent Culture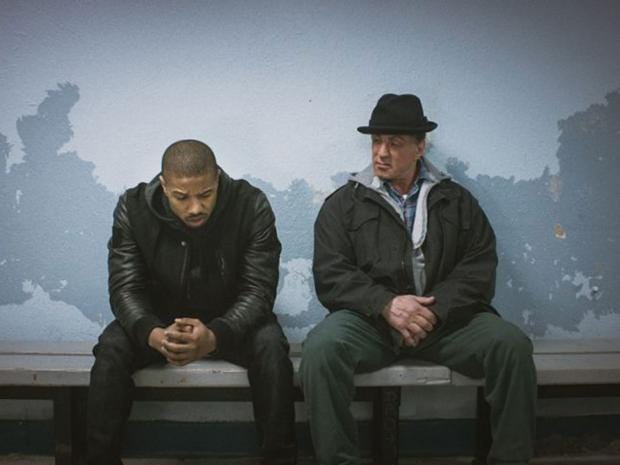 It's a battered old genre whose every possible new narrative move or feint has long since been exhausted, but, like a punch-drunk fighter who refuses to throw in the towel, the boxing movie just won't go away. Ryan Coogler's Creed, a follow-up to the Rocky series, is only the latest in a very long line of fight films. It's a rousing but thoroughly corny affair. This is a film steeped in nostalgia: one that, for all of its references to death, illness and brain-damage in the ring, turns out to be an old-fashioned exercise in Cinderella-like escapism. If you can stomach the schmaltz and suspend your disbelief in the face of the film's pounding predictability, you'll find plenty to enjoy.
The 69-year-old Sylvester Stallone is back again as Rocky Balboa. What makes his performance so moving and so unusual is that the Italian Stallion seems, finally, to be accepting his age. This isn't Stallone in OAP action mode, waving machine guns and running after baddies, as in the Expendables movies or Rambo sequels. Here, we really have the sense that his joints are creaking and he's out of breath. At times, it's as if Stallone has swapped roles with the old Hollywood actor Burgess Meredith, who played his coach, Mickey Goldmill, in the original Rocky movies. Stallone even gets to repeat Meredith's chauvinistic one-liner about boxers avoiding sex before bouts: "Women weaken legs." Stallone knows just how to eke out every last bit of pathos from his role and how to steal scenes from under the noses of the film's ostensible stars.
Culture news in pictures
Culture news in pictures
1/30 30 September 2016

An employee hangs works of art with "Grand Teatro" by Marino Marini (R) and bronze sculpture "Sfera N.3" by Arnaldo Pomodoro seen ahead of a Contemporary Art auction on 7 October, at Sotheby's in London

REUTERS

2/30 29 September 2016

Street art by Portuguese artist Odeith is seen in Dresden, during an exhibition "Magic City - art of the streets"

AFP/Getty Images

3/30 28 September 2016

Dancers attend a photocall for the new "THE ONE Grand Show" at Friedrichstadt-Palast in Berlin, Germany

REUTERS

4/30 28 September 2016

With an array of thrift store china, humorous souvenirs and handmade tile adorning its walls and floors, the Mosaic Tile House in Venice stands as a monument to two decades of artistic collaboration between Cheri Pann and husband Gonzalo Duran

REUTERS

5/30 27 September 2016

A gallery assistant poses amongst work by Anthea Hamilton from her nominated show "Lichen! Libido!(London!) Chastity!" at a preview of the Turner Prize in London

REUTERS

6/30 27 September 2016

A technician wearing virtual reality glasses checks his installation in three British public telephone booths, set up outside the Mauritshuis museum in The Hague, Netherlands. The installation allows visitors a 3-D look into the museum which has twenty-two paintings belonging to the British Royal Collection, on loan for an exhibit from 29 September 2016 till 8 January 2017

AP

7/30 26 September 2016

An Indian artist dressed as Hindu god Shiva performs on a chariot as he participates in a religious procession 'Ravan ki Barat' held to mark the forthcoming Dussehra festival in Allahabad

AFP/Getty Images

8/30 26 September 2016

Jean-Michel Basquiat's 'Air Power', 1984, is displayed at the Bowie/Collector media preview at Sotheby's in New York

AFP/Getty

9/30 25 September 2016

A woman looks at an untitled painting by Albert Oehlen during the opening of an exhibition of works by German artists Georg Baselitz and Albert Oehlen in Reutlingen, Germany. The exhibition runs at the Kunstverein (art society) Reutlingen until 15 January 2017

EPA

10/30 24 September 2016

Fan BingBing (C) attends the closing ceremony of the 64th San Sebastian Film Festival at Kursaal in San Sebastian, Spain

Getty Images

11/30 23 September 2016

A view of the artwork 'You Are Metamorphosing' (1964) as part of the exhibition 'Retrospektive' of Japanese artist Tetsumi Kudo at Fridericianum in Kassel, Germany. The exhibition runs from 25 September 2016 to 1 January 2017

EPA

12/30 22 September 2016

Jo Applin from the Courtauld Institute of Art looks at Green Tilework in Live Flesh by Adriana Vareja, which features in a new exhibition, Flesh, at York Art Gallery. The new exhibition features works by Degas, Chardin, Francis Bacon and Sarah Lucas, showing how flesh has been portrayed by artists over the last 600 years

PA

13/30 21 September 2016

Performers Sean Atkins and Sally Miller standing in for the characters played by Asa Butterfield and Ella Purnell during a photocall for Tim Burton's "Miss Peregrines Home For Peculiar Children" at Potters Field Park in London

Getty Images

14/30 20 September 2016

A detail from the blanket 'Alpine Cattle Drive' from 1926 by artist Ernst Ludwig Kirchner is displayed at the 'Hamburger Bahnhof - Museum for Contemporary Arts' in Berlin. The exhibition named 'Ernst Ludwig Kirchner - Hieroglyphen' showing the complete collection of Berlin's Nationalgallerie works of the German artist Ernst Ludwig Kirchner and will run from 23 September 2016 until 26 February 2017

AP

15/30 20 September 2016

A man looks at portrait photos by US photographer Bruce Gilden in the exhibition 'Masters of Photography' at the photokina in Cologne, Germany. The trade fair on photography, photokina, schowcases some 1,000 exhibitors from 40 countries and runs from 20 to 25 September. The event also features various photo exhibitions

EPA

16/30 20 September 2016

A woman looks at 'Blue Poles', 1952 by Jackson Pollock during a photocall at the Royal Academy of Arts, London

PA

17/30 19 September 2016

Art installation The Refusal of Time, a collaboration with Philip Miller, Catherine Meyburgh and Peter Galison, which features as part of the William Kentridge exhibition Thick Time, showing from 21 September to 15 January at the Whitechapel Gallery in London

PA

18/30 18 September 2016

Artists creating one off designs at the Mm6 Maison Margiela presentation during London Fashion Week Spring/Summer collections 2017 in London

Getty Images

19/30 18 September 2016

Bethenny Frankel attends the special screening of Disney's "Beauty and the Beast" to celebrate the 25th Anniversary Edition release on Blu-Ray and DVD in New York City

Getty Images for Walt Disney Stu

20/30 17 September 2016

Visitors attend the 2016 Oktoberfest beer festival at Theresienwiese in Munich, Germany

Getty Images

21/30 16 September 2016

Visitors looks at British artist Damien Hirst work of art 'The Incomplete Truth', during the 13th Yalta Annual Meeting entitled 'The World, Europe and Ukraine: storms of changes', organised by the Yalta European Strategy (YES) in partnership with the Victor Pinchuk Foundation at the Mystetsky Arsenal Art Center in Kiev

AP

22/30 16 September 2016

Tracey Emin's "My Bed" is exhibited at the Tate Liverpool as part of the exhibition Tracey Emin And William Blake In Focus, which highlights surprising links between the two artists

Getty Images

23/30 15 September 2016

Musician Dave Grohl (L) joins musician Tom Morello of Prophets of Rage onstage at the Forum in Inglewood, California

Getty Images

24/30 14 September 2016

Model feebee poses as part of art installation "Narcissism : Dazzle room" made by artist Shigeki Matsuyama at rooms33 fashion and design exhibition in Tokyo. Matsuyama's installation features a strong contrast of black and white, which he learned from dazzle camouflage used mainly in World War I

AP

25/30 13 September 2016

Visitors look at artworks by Chinese painter Cui Ruzhuo during the exhibition 'Glossiness of Uncarved Jade' held at the exhibition hall 'Manezh' in St. Petersburg, Russia. More than 200 paintings by the Chinese artist are presented until 25 September

EPA

26/30 12 September 2016

A visitor looks at Raphael's painting 'Extase de Sainte Cecile', 1515, from the Uffizi Gallery in Florence during the opening of a Raphael exhibition at the Pushkin State Museum of Fine Arts in Moscow, Russia. The first Russian exhibition of the works of the Italian Renaissance artist Raffaello Sanzio da Urbino includes eight paintings and three drawings which come from Italy. Th exhibit opens to the public from 13 September to 11 December

EPA

27/30 11 September 2016

Steve Cropper and Eddie Floyd perform during Otis Redding 75th Birthday Celebration - Rehearsals at the Macon City Auditorium in Macon, Georgia

Getty Images for Otis Redding 75

28/30 10 September 2016

Sakari Oramo conducting the BBC Symphony Orchestra, the BBC Symphony Chorus and the BBC Singers at the Last Night of the Proms 2016 at the Royal Albert Hall in London

PA

29/30 9 September 2016

A visitor walks past a piece entitled "Fruitcake" by Joana Vasconcelo, during the Beyond Limits selling exhibition at Chatsworth House near Bakewell

REUTERS

30/30 8 September 2016

A sculpture of a crescent standing on the 2,140 meters high mountain 'Freiheit' (German for 'freedom'), in the Alpstein region of the Appenzell alps, eastern Switzerland. The sculpture is lighted during the nights by means of solar panels. The 38-year-old Swiss artist and atheist Christian Meier set the crescent on the peak to start a debate on the meaning of religious symbols - as summit crosses - on mountains. 'Because so many peaks have crosses on them, it struck me as a great idea to put up an equally absurd contrast'. 'Naturally I wanted to provoke in a fun way. But it goes beyond that. The actions of an artist should be food for thought, both visually and in content'

EPA
The film opens in Los Angeles in 1998. Adonis Johnson (played as a young boy by Alex Henderson) is in juvenile detention. "He's a good kid. He just fights… all the time," it is said of him. Adonis never met his father, former world heavyweight champion Apollo Creed, Rocky's fiercest opponent and, eventually, close friend. Apollo's wife, Mary Anne (Phylicia Rashad), agrees to adopt Adonis. Flash-forward 17 years and Adonis (Michael B Jordan) is a young, white-collar professional with an affluent lifestyle. He's also a self-taught boxer who sneaks off to fight illicit bouts in Mexican gambling dens.
Director and co-writer Coogler's previous feature, Fruitvale Station, also starring Jordan, was based on the true story of a police shooting of a 22-year-old African-American man at a railway station in Oakland, California, on New Year's Day 2009. Coogler was dealing in frank and moving fashion with racism and random violence. Creed is a film in a very different register: a boy's own wish-fulfilment fantasy.
In most boxing movies, including Rocky, the fighters come from the streets. The twist here is that Adonis is from a privileged background. "Why would you pick a fighter's life if you don't have to?" he is asked. His own father died in the ring. He is told again and again that this is a brutal sport. Coogler emphasises the contrast between Adonis's LA home, where he lived in a gated mansion, with the blue-collar grittiness of Philadelphia, where he comes to try to make it as a boxer – and to persuade Rocky to be his trainer. Bizarrely, those close to Adonis who warn him to stay out of the ring end up becoming his biggest cheerleaders. The idea that he might end up with his brain bleeding or his faculties impaired no longer seems to occur to them as his chance of glory beckons.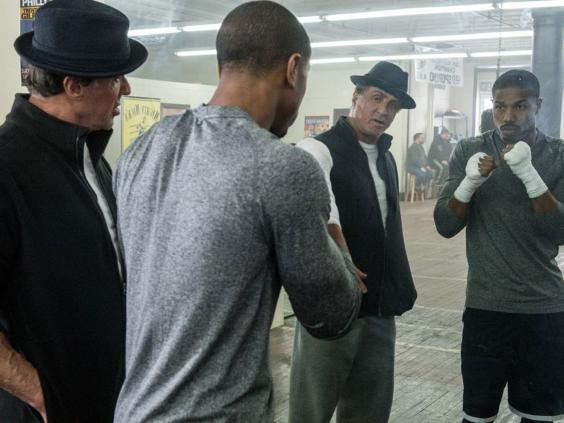 The film-makers go out of their way to give Creed at least a patina of realism. There's an emphasis on bodily functions. We see boxers and their trainers vomiting. Mouth guards come out. There is lots of blood and saliva flying about. In the changing room, minutes before his first big fight, Adonis has to have his gloves cut off so he can rush off to empty his bowels. The film-makers surround Jordan and Stallone with real-life boxers, among them Liverpudlian (and ardent Everton FC fan) Tony Bellew as "Pretty" Ricky Conlan and former world champ Andre Ward as Danny "Stuntman" Wheeler. There are lots of grizzled old-timers in the fighters' corners too, patching up their cuts.
For all the authenticity of the detail, the storyline is unashamedly far-fetched. A romantic sub-plot is engineered in tokenistic fashion. Adonis stays in a Philadelphia boarding house where his neighbour downstairs just happens to be beautiful singer-songwriter Bianca (Tessa Thompson). She has a career but is remarkably indulgent to the young boxer.
The fight scenes – especially the big bout at Goodison Park which marks the finale – combine sweaty close-ups and aerial shots with absurdly exaggerated sound editing. Every thwack of a glove registers like a heavy drum beat. The rousing score from composer Ludwig Göransson (echoing the original music) inevitably lends a triumphalist note to proceedings.
Jordan is likeable as the driven young boxer, trying to reconcile his feelings of reverence and resentment toward Apollo Creed, the father he never knew, and to "leave his own legacy". He is up, though, against an opponent he has no chance of bettering: Stallone himself. As Rocky, Sly gets the best moments. There is some comic schtick with hens and a lachrymose interlude in which he chats with his departed loved ones in the cemetery. We see him shuffling around the Italian restaurant he now owns, and staggering up the steps he used to ascend so easily when he was in training. In the Philadelphia gyms, he is treated with reverence. It isn't subtle acting but it is moving, especially for viewers who remember him from the first time round.
Creed looks set to spawn sequels. The original Rocky films grew more absurd with each instalment. Coogler isn't breaking new ground here. Then again, you don't look to boxing movies for originality. Creed isn't any more far-fetched or manipulative than the first Rocky film – and that film ended up beating Taxi Driver and All the President's Men to the Best Picture Oscar.
Reuse content
Comments