Dad's Army
Dad's Army, film review: Who do you think you are kidding with these puns?
(PG) Oliver Parker, 100 mins. Starring: Toby Jones, Bill Nighy, Michael Gambon
3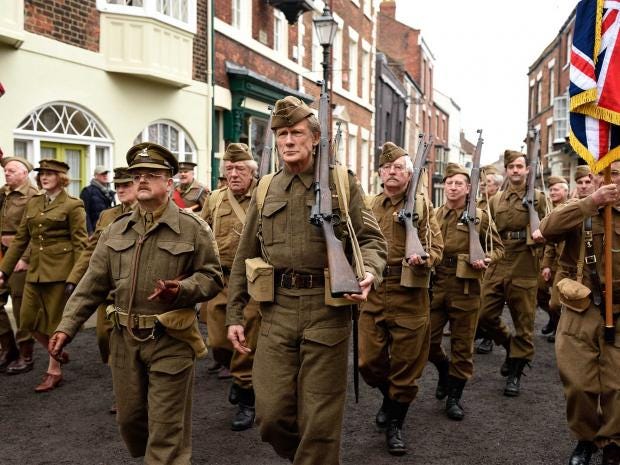 This is a double dip in khaki-clad nostalgia, a film looking back lovingly to the much-loved BBC sitcom (1968-1977), which itself was invoking the war years in fond fashion. At times here, the humour is as feeble and as simple-minded as the film's main characters – the doddery old-timers, flat-footed youths and spivs who make up Dad's Army.
Culture news in pictures
Culture news in pictures
1/30 23 September 2016

A view of the artwork 'You Are Metamorphosing' (1964) as part of the exhibition 'Retrospektive' of Japanese artist Tetsumi Kudo at Fridericianum in Kassel, Germany. The exhibition runs from 25 September 2016 to 1 January 2017

EPA

2/30 22 September 2016

Jo Applin from the Courtauld Institute of Art looks at Green Tilework in Live Flesh by Adriana Vareja, which features in a new exhibition, Flesh, at York Art Gallery. The new exhibition features works by Degas, Chardin, Francis Bacon and Sarah Lucas, showing how flesh has been portrayed by artists over the last 600 years

PA

3/30 21 September 2016

Performers Sean Atkins and Sally Miller standing in for the characters played by Asa Butterfield and Ella Purnell during a photocall for Tim Burton's "Miss Peregrines Home For Peculiar Children" at Potters Field Park in London

Getty Images

4/30 20 September 2016

A detail from the blanket 'Alpine Cattle Drive' from 1926 by artist Ernst Ludwig Kirchner is displayed at the 'Hamburger Bahnhof - Museum for Contemporary Arts' in Berlin. The exhibition named 'Ernst Ludwig Kirchner - Hieroglyphen' showing the complete collection of Berlin's Nationalgallerie works of the German artist Ernst Ludwig Kirchner and will run from 23 September 2016 until 26 February 2017

AP

5/30 20 September 2016

A man looks at portrait photos by US photographer Bruce Gilden in the exhibition 'Masters of Photography' at the photokina in Cologne, Germany. The trade fair on photography, photokina, schowcases some 1,000 exhibitors from 40 countries and runs from 20 to 25 September. The event also features various photo exhibitions

EPA

6/30 20 September 2016

A woman looks at 'Blue Poles', 1952 by Jackson Pollock during a photocall at the Royal Academy of Arts, London

PA

7/30 19 September 2016

Art installation The Refusal of Time, a collaboration with Philip Miller, Catherine Meyburgh and Peter Galison, which features as part of the William Kentridge exhibition Thick Time, showing from 21 September to 15 January at the Whitechapel Gallery in London

PA

8/30 18 September 2016

Artists creating one off designs at the Mm6 Maison Margiela presentation during London Fashion Week Spring/Summer collections 2017 in London

Getty Images

9/30 18 September 2016

Bethenny Frankel attends the special screening of Disney's "Beauty and the Beast" to celebrate the 25th Anniversary Edition release on Blu-Ray and DVD in New York City

Getty Images for Walt Disney Stu

10/30 17 September 2016

Visitors attend the 2016 Oktoberfest beer festival at Theresienwiese in Munich, Germany

Getty Images

11/30 16 September 2016

Visitors looks at British artist Damien Hirst work of art 'The Incomplete Truth', during the 13th Yalta Annual Meeting entitled 'The World, Europe and Ukraine: storms of changes', organised by the Yalta European Strategy (YES) in partnership with the Victor Pinchuk Foundation at the Mystetsky Arsenal Art Center in Kiev

AP

12/30 16 September 2016

Tracey Emin's "My Bed" is exhibited at the Tate Liverpool as part of the exhibition Tracey Emin And William Blake In Focus, which highlights surprising links between the two artists

Getty Images

13/30 15 September 2016

Musician Dave Grohl (L) joins musician Tom Morello of Prophets of Rage onstage at the Forum in Inglewood, California

Getty Images

14/30 14 September 2016

Model feebee poses as part of art installation "Narcissism : Dazzle room" made by artist Shigeki Matsuyama at rooms33 fashion and design exhibition in Tokyo. Matsuyama's installation features a strong contrast of black and white, which he learned from dazzle camouflage used mainly in World War I

AP

15/30 13 September 2016

Visitors look at artworks by Chinese painter Cui Ruzhuo during the exhibition 'Glossiness of Uncarved Jade' held at the exhibition hall 'Manezh' in St. Petersburg, Russia. More than 200 paintings by the Chinese artist are presented until 25 September

EPA

16/30 12 September 2016

A visitor looks at Raphael's painting 'Extase de Sainte Cecile', 1515, from the Uffizi Gallery in Florence during the opening of a Raphael exhibition at the Pushkin State Museum of Fine Arts in Moscow, Russia. The first Russian exhibition of the works of the Italian Renaissance artist Raffaello Sanzio da Urbino includes eight paintings and three drawings which come from Italy. Th exhibit opens to the public from 13 September to 11 December

EPA

17/30 11 September 2016

Steve Cropper and Eddie Floyd perform during Otis Redding 75th Birthday Celebration - Rehearsals at the Macon City Auditorium in Macon, Georgia

Getty Images for Otis Redding 75

18/30 10 September 2016

Sakari Oramo conducting the BBC Symphony Orchestra, the BBC Symphony Chorus and the BBC Singers at the Last Night of the Proms 2016 at the Royal Albert Hall in London

PA

19/30 9 September 2016

A visitor walks past a piece entitled "Fruitcake" by Joana Vasconcelo, during the Beyond Limits selling exhibition at Chatsworth House near Bakewell

REUTERS

20/30 8 September 2016

A sculpture of a crescent standing on the 2,140 meters high mountain 'Freiheit' (German for 'freedom'), in the Alpstein region of the Appenzell alps, eastern Switzerland. The sculpture is lighted during the nights by means of solar panels. The 38-year-old Swiss artist and atheist Christian Meier set the crescent on the peak to start a debate on the meaning of religious symbols - as summit crosses - on mountains. 'Because so many peaks have crosses on them, it struck me as a great idea to put up an equally absurd contrast'. 'Naturally I wanted to provoke in a fun way. But it goes beyond that. The actions of an artist should be food for thought, both visually and in content'

EPA

21/30 8 September 2016

A girl dressed as the Virgin Mary poses for a photo during the Lantern Festival celebrating the eve of the nativity of the Virgin Mary in Ahuchapan, El Salvador

REUTERS

22/30 7 September 2016

British artist Anthony Gormley poses for a photograph next to his artwork entitled 'Object, 199', a life-size cast-iron sculpture cast from the artist's body and hung from the ceiling of the National Portrait Gallery. The work is accompanied on 5 October by 'Fall, 1999', a selection of drawings also by Mr Gormley

Getty Images

23/30 7 September 2016

A dresser applies final touches to the exhibit items at the preview of 'You Say You Want a Revolution? Records and Rebels 1966 - 70' exhibition at Victoria and Albert Museum in London

Getty Images

24/30 6 September 2016

A series of eight large-scale photographs depicting GB para-athletes as ancient Greek gods and goddesses is on display at London's Canary Wharf. Created by Hackney-based artist Clare Newton, the free exhibition titled Spirit of Legends is on display at Crossrail Place Roof Garden until 2 October 2016

25/30 5 September 2016

A giant oil painting portrait of former Chinese Chairman Mao Zedong on display during an art exhibition at Beijing Exhibition Center

AFP/Getty Images

26/30 4 September 2016

Artists sit next to the exhibited paintings during the city festival in Vilnius, Lithuania

REUTERS

27/30 3 September 2016

Performers Morag and Jean, also known as The Tea Ladies, entertain visitors during the Vintage By The Sea Festival in Morecambe. Vintage By The Sea is a celebration of 20th century design, fashion and entertainment. Now in it's fourth year Vintage By The Sea is hosted in the seaside resort of Morecambe

Getty Images

28/30 2 September 2016

A "Fire Garden", designed by French fire masters Compagnie Carabosse, is performed outside of the Tate Modern in central London as part of the London's Burning festival of events commemorating the 350th anniversary of the Great Fire of London

AFP/Getty Images

29/30 1 September 2016

A visitor walking next to a reproduction of the 'The Creation of Adam' fresco painted by Italian Renaissance master Michelangelo at the exhibition 'Michelangelos Sixtinische Kapelle in Wien' (Michelangelo's Sistine Chapel in Vienna) at the Votive Church in Vienna, Austria. The exhibition running until 4 December presents full-scale reproductions of Michelangelo's Sistine Chapel ceiling frescos, photographed by Austrian photographer Erich Lessing

EPA

30/30 31 August 2016

Two people walk under spectral colored umbrellas of the art installation 'REGEN.WALD' (rain.forest) in Vienna, Austria. The installation is part of the annual cultural projects 'space and place' and 'Vienna lives'

EPA
The screenwriter Hamish McColl has come up with a serviceable storyline which sees the Home Guard trying to do their bit in the build up to D-Day. The script, though, is weighed down by excruciating puns and slapstick scenes. This is the kind of movie in which characters tell secrets "incontinence" rather than "in confidence". Some of the jokes about playing-a-round with women (golf, not sex) are so pathetic that even Dick Emery would probably have passed on them. The references to the TV series (the inevitable use of lines such as "we're doomed" and the Germans "don't like it up 'em") become a little wearisome.
Much as it makes you groan, the film's trump card it its amiability. From the beatific look on the face of Private Godfrey (Michael Gambon) as he urinates against a human tree to the scene-stealing old ladies (Julia Foster and Annette Crosbie), Dad's Army captures the cheeriness of the sitcom. Toby Jones is every bit as Pooterish a Captain Mainwaring as Arthur Lowe was.
Catherine Zeta-Jones makes a suitably glamorous femme fatale. The film also begins and ends with a wallop: the prelude has the flavour of a Hitchcock thriller while the finale is staged with an energy not all of the rest of the film possesses. There is plenty to relish for anyone who remembers the series but what younger audiences and those outside the UK will make of it is anyone's guess.
Reuse content
Comments