If Richard Curtis' British comedies are too saccharine for some, Matthew Warchus's important romcom about gay activists and striking miners is a heartwarming, faith-restoring antidote.
Pride is the unlikely but true story of a group of gays and lesbians in London who decide to raise money for striking miners because of their mutual hatred of Margaret Thatcher. The Lesbians and Gays Support the Miners (LGSM) are rejected by the miners union so instead they target their efforts on a remote mining village in Wales. Led by charismatic and determined campaigner Mark Ashton, the group head to Wales to meet with the recipients of their fundraising.
They are initially met with resistance and suspicion by the miners, although mining leader Dai slowly warms up the villagers who are eventually won over by LGSM's enthusiasm to their cause - and also through a Kinky Boots style dance-off from a flamboyant cabaret queen, played with humour and warmth by Dominic West.
The group take their efforts to the next level through hosting a large-scale Pits and Perverts music concert in London. They became one of the UK's biggest fundraising organisations of the period.
It's impossible not to smile or be moved during this film and it manages to mostly avoid schmaltzy cliches thanks to a series of sympathetic and entertaining performances from its cast.
Bill Nighy expertly plays a shy miner with a love of poetry; Imelda Staunton is a sharp-tongued mother hen intent on breaking the village's prejudices and Paddy Considine is impressive as intelligent open-minded Dai.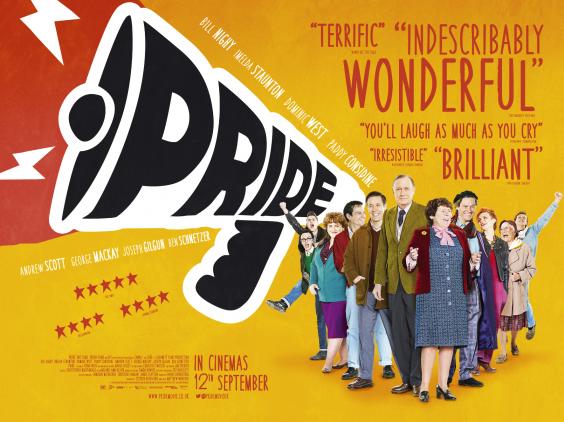 Pride is reminiscent of Billy Elliot and The Full Monty, two other heartfelt, sincere tales set against the miners strike. Warchus' film has added poignancy today as gay activism is more impassioned than ever before, with the recent civil rights victories.
Essentially, this an uplifting film about humanity and kindness and what can be achieved through a hearty dosage of passion, guts and empathy.
Pride is released in cinemas on 12 September.
Reuse content