The Big Short
The Big Short, film review: The financial crisis film it's OK to laugh at
(15) Adam McKay, 130 mins. Starring: Christian Bale, Steve Carell, Ryan Gosling, Brad Pitt, Marisa Tomei
4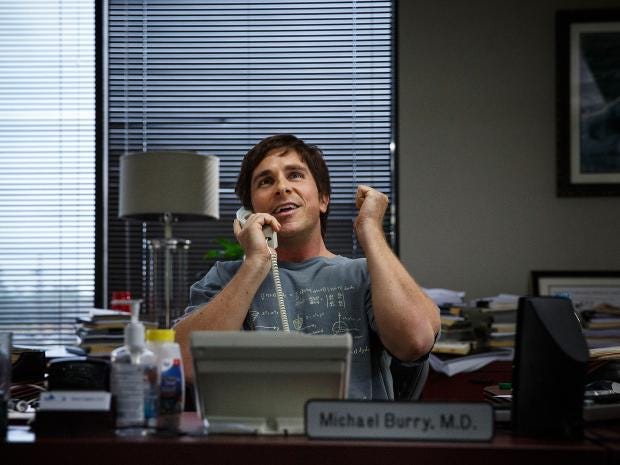 There is an economics festival in Kilkenny, Ireland, at which the idea is to mock banking and political figures while "waiting for answers". The trick at Kilkenomics is that the experts are interviewed not by specialists but by comedians. This encourages them to communicate in a way a general audience can understand. A similar thinking underpins Adam McKay's raucous comedy, which manages the unlikely feat of being wildly entertaining while telling a complex and ultimately depressing story.
The film, adapted from the Michael Lewis book The Big Short: Inside the Doomsday Machine, is about the events leading up to the US subprime mortgage crisis and the implosion of the global economy in 2008. This isn't really a subject for laughs but McKay treats it as the stuff of high farce.
Culture news in pictures
Culture news in pictures
1/30 27 May 2016

An image of an indigenous Australian man is projected onto the sails of the Sydney Opera House during the opening night of the annual Vivid Sydney light festival in Sydney

Reuters

2/30 26 May 2016

A woman walks on steps lined with plastic cups, an art project of four college students, in Wuhan, China

Reuters

3/30 25 May 2016

A view of the Pyramid of the Louvre museum covered with a gigantic black and white trompe l'oeil photo of the Louvre building by French artist JR in Paris. The exhibition 'Contemporary art JR at the Louvre' runs from 25 May to 27 June

EPA

4/30 24 May 2016

Artist paints a reproduction of one of the vincent Van gogh's painting for the 'Loving Vincent' film in Wroclaw, Poland. 'Loving Vincent', the world's first fully painted animation feature film, will be about the life and death of the Dutch famous painter Vincent van Gogh

EPA

5/30 23 May 2016

John Oliver, Jimmy Fallon and Jennifer Lawrence during a taping of "The Tonight Show Starring Jimmy Fallon" in New York City

Getty Images

6/30 22 May 2016

French Moroccan director Houda Benyamina (C) poses with the Camera d'Or next to actresses Jisca Kalvanda (L), Oulaya Amamra (2ndL) and Deborah Lukumuena (R) at the Palme D'Or Winner Photocall during the 69th annual Cannes Film Festival

Getty Images

7/30 21 May 2016

Swedish artist Andreas Englund signs one of his murals at the Urban Nation museum for urban contemporary art, in Berlin

Getty Images

8/30 20 May 2016

(L-R) Autor Tom Brokaw, Legion of Honor's Grand Chancellor General Jean-Louis Georgelin, Actor Tom Hanks, Ambassador of USA in France, Jane D. Hartley and Doctor Gordon "Nick" Mueller attend Tom Hanks, Tom Brokaw & Gordon "Nick" Mueller receive the Legion d'Honneur Medal at Palais de la Legion d'Honneur in Paris

Getty Images

9/30 19 May 2016

Visitors study work by Tod Papageorge in the gallery areas at the "Photo London 2016" event at Somerset House in central London. Featuring work from some of the world's most respected photographers, the event is aiming to put London on the map as the global city of photography

Getty Images

10/30 18 May 2016

A view of the building that will house planned Urban Nation - Museum for Urban Contemporary Art in Berlin. The street art museum is scheduled to open in 2017

EPA

11/30 17 May 2016

Kate Morais looks at the 'Colossal statues of a king and a queen' (283-246 BC) - which are reflected in a display cabinet glass - which stand over five meters tall during a preview of the 'Sunken Cities: Egypt's Lost Worlds' exhibition at the British Museum in London. This is the museum's first large scale exhibition of underwater archaeological finds and tells the story of two lost Egyptian cities and their recent discoveries beneath the Mediterranean, excavated off the coast of Egypt near Alexandria between 1996 and 2012

Getty Images

12/30 16 May 2016

Kurt Cobain's Univox electric guitar played and destroyed by Cobain at Nirvana's 13 July 1989 concert at Maxwell's in Hoboken, New Jersey is displayed during Julien's Auction Music Icons Press Exhibition at Hard Rock Cafe, Times Square in New York City

Getty Images

13/30 15 May 2016

Cast of the "From The Land Of The Moon (Mal De Pierres)" attend the premiere during the 69th annual Cannes Film Festival at the Palais des Festivals

Getty Images

14/30 14 May 2016

Jamala representing Ukraine with the song "1944" celebrates with the trophy after winning the final of the Eurovision Song Contest 2016 Grand Final in Stockholm

Getty Images

15/30 13 May 2016

A mural on a restaurant wall depicting US Presidential hopeful Donald Trump and Russian President Vladimir Putin greeting each other with a kiss in the Lithuanian capital Vilnius. Kestutis Girnius, associate professor of the Institute of International Relations and Political Science in Vilnius university, said: "This graffiti expresses the fear of some Lithuanians that Donald Trump is likely to kowtow to Vladimir Putin and be indifferent to Lithuanias security concerns. Trump has notoriously stated that Putin is a strong leader, and that NATO is obsolete and expensive"

Getty Images

16/30 12 May 2016

People visit the artwork titled Seven Magic Mountains by artist Ugo Rondinone, near Jean, Nevada. The artwork was recently completed in the desert south of Las Vegas

AP

17/30 11 May 2016

Justin Timberlake attends the "Trolls" Photocall during The 69th Annual Cannes Film Festival

Getty Images

18/30 10 May 2016

Curator Ben Russell poses with a 2.4 meter robot called Cygan, built in 1957, on display at the Science Museum before announcing a new robot exhibition for 2017

Getty Images

19/30 9 May 2016

A Palestinian artist paints a graffiti on a wall of the United Nations school of Beit Hanun, in the northern Gaza Strip

Getty Images

20/30 8 May 2016

Jon Snow collects the award for best news coverage on behalf of Channel 4 during the House of Fraser BAFTA TV Awards 2016 at the Royal Festival Hall in London

PA

21/30 7 May 2016

Illustration View of the 'Empires' exhibition of Huang Yong Ping as part of Monumenta 2016 to Grand Palais from 8 May till 18 June 2016

Getty Images

22/30 6 May 2016

People, including Russian servicemen, attend a concert of Mariinsky Theatre in the amphitheatre of the Syrian city of Palmyra, Syria

Reuters

23/30 5 May 2016

A child looks at an artwork titled 'Bi-lateral Relations' by Uruguay artists Fernando Foglino and Valentina Cardellino during the Latin America and Caribbean Art Festival Visual Art Exhibition 2016 at the World Art Museum of the China Millennium Monument in Beijing. The exhibition runs until 26 May, and is part of joint activities to mark the China-Latin America and Caribbean Cultural Exchange Year

EPA

24/30 4 May 2016

(L-R) David Furnish, Lady Gaga and Macy's CEO Terry J. Lundgren attend Love Bravery by Lady Gaga and Elton John Launch at Macy's Herald Square in New York City

Getty Images

25/30 3 May 2016

The Hofburg palace is illuminated by a projection of Viennese artist Viktoria Coeln for the project Dystopia Eutopia in Vienna, Austria

AP

26/30 2 May 2016

A visitor looks at paintings by Yemeni female artists displayed at a gallery during an exhibition entitled Women Creativity for Peace in the capital Sanaa

Getty Images

27/30 1 May 2016

A man looks at an art piece during the Oshtoora festival in an open desert north Fayoum, Egypt. Oshtoora festival, or "A temporary sate," is held only once a year in a different locations within Egypt. The festival is based on expression of music, arts, and cultures in an open natural environment

AP

28/30 30 April 2016

Actress Lupita Nyong'o attends "Eclipsed" To Launch A Dedications Series In Honor Of Abducted Chibok Girls Of Northern Nigeria at Golden Theatre in New York

Getty Images

29/30 29 April 2016

Kabuki actor Shido Nakamura (in red) performs in a final dress rehearsal for the kabuki theatre show 'Hanakurabe Senbonzakura' in Tokyo, Japan. The latest digital technology kabuki theatre piece 'Hanakurabe Senbonzakura' is part of the Niconico Chokaigi festival in Tokyo. The festival was organized by video website Niconico, combining Kabuki, a traditional Japanese theatre art and cutting edge animation technology, co-starring kabuki superstar Shidou Nakamura and the popular virtual idol Hatsune Miku

Getty Images

30/30 28 April 2016

Members of the Australian ballet perform in the scene from "Scent of the Love" during the dress rehearsal for the national premiere of Symphony in C that comprises of five short ballet works at the Opera House in Sydney

Getty Images
McKay (best known for his collaborations with the comedian Will Ferrell on Anchorman and Step Brothers) is dealing with material that many American economists and bankers themselves failed fully to understand. The film is full of references to credit default swaps and collaterised debt. McKay helps the audience understand such esoteric matters by taking a jaunty, tongue-in-cheek approach. Every time there is an especially complicated piece of information or financial jargon, he will throw in an interlude in which a celebrity (Selena Gomez or the chef Anthony Bourdain; or, fresh from The Wolf of Wall Street, Margot Robbie) will talk direct to camera to explain it. Sardonic voiceovers sketch in the background history of a system so warped that it eventually led to penniless Florida strippers "owning" (or at least having mortgages on) multiple properties. As the film points out, the language of high finance is deliberately obfuscating. The public isn't supposed to understand it. The irony is that, for a lot of the time, the bankers clearly didn't, either.
The "heroes" of the film are the outsiders who take the time do the maths. The paradox here – one the film can't quite resolve – is that most of them are motivated by the same basic instinct, namely extreme avarice, as the bankers who made such a mess of the American economy. They see an opportunity of cashing in when the housing bubble bursts. There are references here to foreclosures as well as an ominous shot in which we see an alligator in a condo swimming pool but this isn't a film that pays much attention to the suffering of "ordinary" Americans. To focus too closely on that would be to risk undermining the comedy.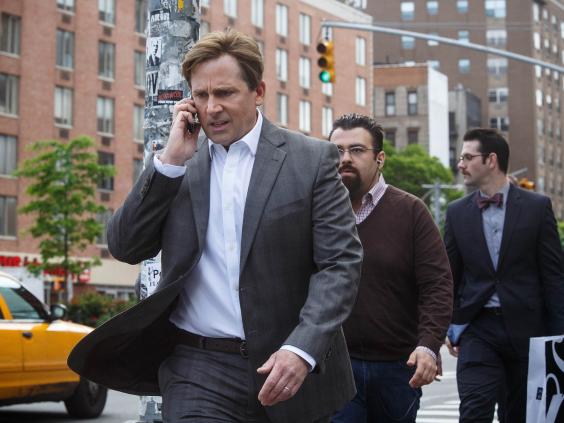 You can't help but suspect the film-makers are compromised. This is a movie made by a Hollywood studio owned by a company on whose board have sat some of the bankers the film is trying to harpoon. Even so, the contradictions are part of the appeal. The protagonists are very different from the masters of the universe in The Bonfire of the Vanities or Oliver Stone's Wall Street films. They're eccentric, querulous and sometimes foul-mouthed oddballs, most of them played by Hollywood A-List stars slumming it. There are no Gordon Gekkos here and greed most certainly isn't good.
In a brilliant character performance, Christian Bale takes the tortured loner routine he developed playing Bruce Wayne to new extremes. He plays Michael Burry, a California-based hedge-fund manager. Burry is a T-shirt-wearing beatnik-type with minimum social graces who spots before almost anyone that the housing market is "propped up on bad loans". By the laws of economic gravity, it is bound eventually to tumble down. His own investors dismiss him as a crackpot but he is dogged in his determination to short the market.
Steve Carell is equally distinctive as hedge-fund manager Mark Baum, a pessimistic and "p****d off" figure who sees a chance to avenge the indignities the American people have endured at the hands of the banks. He is the one character for whom this is a moral crusade rather than a chance to make money. His attitude is different from that of the shamelessly opportunistic Wall Street trader and city slicker Jared Vennett (Ryan Gosling in Mephistophelian mode). Then, there's the bespectacled and reclusive former banker Ben Rickert (Brad Pitt, who co-produced) acting as mentor to two small-time traders who've also spotted the impending calamity in the housing market. As the world's economy is about to collapse, Pitt's character sits in an English country pub, using his laptop to facilitate trades worth millions as the locals curse him.
McKay combines goofy comedy with moments of caustic satire. There is a tremendous scene in which many of Wall Street's most senior, self-important figures are in a conference theatre, waiting for a debate about the housing market. When their Blackberries start buzzing, they realise their banks are in trouble and scurry for the exits, dignity in shreds. Equally striking is a surreal interlude in which Baum and his staff head to Florida to do their research on the housing bubble. They encounter a Sunshine State in which no one has money and unemployment is rife – and yet everyone seems to own strings of properties and can borrow money at will to buy more. Toxic loans are bundled into packages, sold on, re-classified and given triple-A ratings by credit agencies.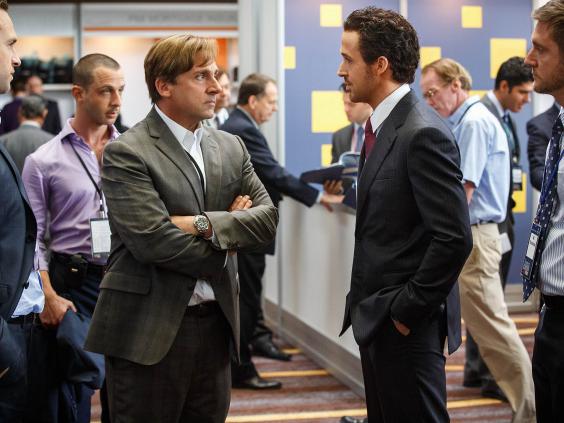 What makes the collapse, when it happens, so startling is the collision between the bankers' abstract formulations and the hard reality of families losing their homes. The film-makers play with our sense of expectation. We want the heroes to be vindicated, yet we realise their success will mean disaster for the economy.
The film ends in witty but downbeat fashion. It's hardly a spoiler to point out that little has changed since the 2008 housing crash and financial crisis. On the basis that the story would be simply too depressing otherwise, McKay accentuates the comedy that goes hand in hand with the incompetence and corruption – and that's why The Big Short is one disaster movie in which it is always safe to laugh.
Comments