The Finest Hours
The Finest Hours, film review: There's a typhoon of schmaltz brewing
(12A) Craig Gillespie, 118 mins. Starring: Chris Pine, Holliday Grainger, Eric Bana, Ben Foster, Casey Affleck, Graham McTavish
4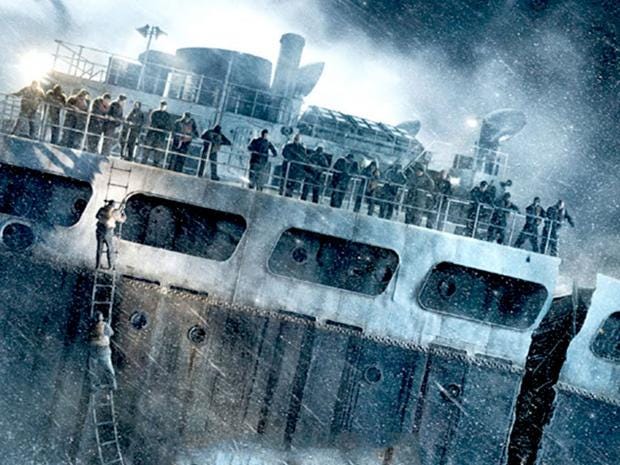 The Finest Hours is a throwback: a movie that is not only set in the early 1950s but that has a very old-fashioned sensibility. It's as if the filmmakers themselves have returned in time to a more innocent age. The spirit here is similar to that found in Ernie Pyle's folksy wartime journalism, celebrating the self-deprecating heroism of ordinary Americans caught in extreme circumstances.
The heroes here aren't soldiers but small town coastguards on Cape Cod who embark on a seemingly suicidal mission to rescue the crew of a stricken tanker during a ferocious storm.
At times, the film makes you feel like a sock in a washing machine during a heavy rinse cycle. When the wind is howling and the crew's tiny lifeboat is being spun around on the waves, you are every bit as buffeted as the sailors themselves. As an audience member, it is not just the elements you have to deal with but a typhoon of schmaltz as well. Carter Burwell's melodramatic music and some very manipulative plotting set out to engulf us in emotion. As the title itself (which is a slight spoiler) suggests, most of the characters here are doing their very best. This is a Disney-made feature with improbably wholesome values and in which there is never any cursing on deck. What keeps the film afloat and finally makes it so moving is its painstaking craftsmanship.
Culture news in pictures
Culture news in pictures
1/30 23 September 2016

A view of the artwork 'You Are Metamorphosing' (1964) as part of the exhibition 'Retrospektive' of Japanese artist Tetsumi Kudo at Fridericianum in Kassel, Germany. The exhibition runs from 25 September 2016 to 1 January 2017

EPA

2/30 22 September 2016

Jo Applin from the Courtauld Institute of Art looks at Green Tilework in Live Flesh by Adriana Vareja, which features in a new exhibition, Flesh, at York Art Gallery. The new exhibition features works by Degas, Chardin, Francis Bacon and Sarah Lucas, showing how flesh has been portrayed by artists over the last 600 years

PA

3/30 21 September 2016

Performers Sean Atkins and Sally Miller standing in for the characters played by Asa Butterfield and Ella Purnell during a photocall for Tim Burton's "Miss Peregrines Home For Peculiar Children" at Potters Field Park in London

Getty Images

4/30 20 September 2016

A detail from the blanket 'Alpine Cattle Drive' from 1926 by artist Ernst Ludwig Kirchner is displayed at the 'Hamburger Bahnhof - Museum for Contemporary Arts' in Berlin. The exhibition named 'Ernst Ludwig Kirchner - Hieroglyphen' showing the complete collection of Berlin's Nationalgallerie works of the German artist Ernst Ludwig Kirchner and will run from 23 September 2016 until 26 February 2017

AP

5/30 20 September 2016

A man looks at portrait photos by US photographer Bruce Gilden in the exhibition 'Masters of Photography' at the photokina in Cologne, Germany. The trade fair on photography, photokina, schowcases some 1,000 exhibitors from 40 countries and runs from 20 to 25 September. The event also features various photo exhibitions

EPA

6/30 20 September 2016

A woman looks at 'Blue Poles', 1952 by Jackson Pollock during a photocall at the Royal Academy of Arts, London

PA

7/30 19 September 2016

Art installation The Refusal of Time, a collaboration with Philip Miller, Catherine Meyburgh and Peter Galison, which features as part of the William Kentridge exhibition Thick Time, showing from 21 September to 15 January at the Whitechapel Gallery in London

PA

8/30 18 September 2016

Artists creating one off designs at the Mm6 Maison Margiela presentation during London Fashion Week Spring/Summer collections 2017 in London

Getty Images

9/30 18 September 2016

Bethenny Frankel attends the special screening of Disney's "Beauty and the Beast" to celebrate the 25th Anniversary Edition release on Blu-Ray and DVD in New York City

Getty Images for Walt Disney Stu

10/30 17 September 2016

Visitors attend the 2016 Oktoberfest beer festival at Theresienwiese in Munich, Germany

Getty Images

11/30 16 September 2016

Visitors looks at British artist Damien Hirst work of art 'The Incomplete Truth', during the 13th Yalta Annual Meeting entitled 'The World, Europe and Ukraine: storms of changes', organised by the Yalta European Strategy (YES) in partnership with the Victor Pinchuk Foundation at the Mystetsky Arsenal Art Center in Kiev

AP

12/30 16 September 2016

Tracey Emin's "My Bed" is exhibited at the Tate Liverpool as part of the exhibition Tracey Emin And William Blake In Focus, which highlights surprising links between the two artists

Getty Images

13/30 15 September 2016

Musician Dave Grohl (L) joins musician Tom Morello of Prophets of Rage onstage at the Forum in Inglewood, California

Getty Images

14/30 14 September 2016

Model feebee poses as part of art installation "Narcissism : Dazzle room" made by artist Shigeki Matsuyama at rooms33 fashion and design exhibition in Tokyo. Matsuyama's installation features a strong contrast of black and white, which he learned from dazzle camouflage used mainly in World War I

AP

15/30 13 September 2016

Visitors look at artworks by Chinese painter Cui Ruzhuo during the exhibition 'Glossiness of Uncarved Jade' held at the exhibition hall 'Manezh' in St. Petersburg, Russia. More than 200 paintings by the Chinese artist are presented until 25 September

EPA

16/30 12 September 2016

A visitor looks at Raphael's painting 'Extase de Sainte Cecile', 1515, from the Uffizi Gallery in Florence during the opening of a Raphael exhibition at the Pushkin State Museum of Fine Arts in Moscow, Russia. The first Russian exhibition of the works of the Italian Renaissance artist Raffaello Sanzio da Urbino includes eight paintings and three drawings which come from Italy. Th exhibit opens to the public from 13 September to 11 December

EPA

17/30 11 September 2016

Steve Cropper and Eddie Floyd perform during Otis Redding 75th Birthday Celebration - Rehearsals at the Macon City Auditorium in Macon, Georgia

Getty Images for Otis Redding 75

18/30 10 September 2016

Sakari Oramo conducting the BBC Symphony Orchestra, the BBC Symphony Chorus and the BBC Singers at the Last Night of the Proms 2016 at the Royal Albert Hall in London

PA

19/30 9 September 2016

A visitor walks past a piece entitled "Fruitcake" by Joana Vasconcelo, during the Beyond Limits selling exhibition at Chatsworth House near Bakewell

REUTERS

20/30 8 September 2016

A sculpture of a crescent standing on the 2,140 meters high mountain 'Freiheit' (German for 'freedom'), in the Alpstein region of the Appenzell alps, eastern Switzerland. The sculpture is lighted during the nights by means of solar panels. The 38-year-old Swiss artist and atheist Christian Meier set the crescent on the peak to start a debate on the meaning of religious symbols - as summit crosses - on mountains. 'Because so many peaks have crosses on them, it struck me as a great idea to put up an equally absurd contrast'. 'Naturally I wanted to provoke in a fun way. But it goes beyond that. The actions of an artist should be food for thought, both visually and in content'

EPA

21/30 8 September 2016

A girl dressed as the Virgin Mary poses for a photo during the Lantern Festival celebrating the eve of the nativity of the Virgin Mary in Ahuchapan, El Salvador

REUTERS

22/30 7 September 2016

British artist Anthony Gormley poses for a photograph next to his artwork entitled 'Object, 199', a life-size cast-iron sculpture cast from the artist's body and hung from the ceiling of the National Portrait Gallery. The work is accompanied on 5 October by 'Fall, 1999', a selection of drawings also by Mr Gormley

Getty Images

23/30 7 September 2016

A dresser applies final touches to the exhibit items at the preview of 'You Say You Want a Revolution? Records and Rebels 1966 - 70' exhibition at Victoria and Albert Museum in London

Getty Images

24/30 6 September 2016

A series of eight large-scale photographs depicting GB para-athletes as ancient Greek gods and goddesses is on display at London's Canary Wharf. Created by Hackney-based artist Clare Newton, the free exhibition titled Spirit of Legends is on display at Crossrail Place Roof Garden until 2 October 2016

25/30 5 September 2016

A giant oil painting portrait of former Chinese Chairman Mao Zedong on display during an art exhibition at Beijing Exhibition Center

AFP/Getty Images

26/30 4 September 2016

Artists sit next to the exhibited paintings during the city festival in Vilnius, Lithuania

REUTERS

27/30 3 September 2016

Performers Morag and Jean, also known as The Tea Ladies, entertain visitors during the Vintage By The Sea Festival in Morecambe. Vintage By The Sea is a celebration of 20th century design, fashion and entertainment. Now in it's fourth year Vintage By The Sea is hosted in the seaside resort of Morecambe

Getty Images

28/30 2 September 2016

A "Fire Garden", designed by French fire masters Compagnie Carabosse, is performed outside of the Tate Modern in central London as part of the London's Burning festival of events commemorating the 350th anniversary of the Great Fire of London

AFP/Getty Images

29/30 1 September 2016

A visitor walking next to a reproduction of the 'The Creation of Adam' fresco painted by Italian Renaissance master Michelangelo at the exhibition 'Michelangelos Sixtinische Kapelle in Wien' (Michelangelo's Sistine Chapel in Vienna) at the Votive Church in Vienna, Austria. The exhibition running until 4 December presents full-scale reproductions of Michelangelo's Sistine Chapel ceiling frescos, photographed by Austrian photographer Erich Lessing

EPA

30/30 31 August 2016

Two people walk under spectral colored umbrellas of the art installation 'REGEN.WALD' (rain.forest) in Vienna, Austria. The installation is part of the annual cultural projects 'space and place' and 'Vienna lives'

EPA
The film's main character, Bernie Webber (Chris Pine), is a shy young coastguard. First seen going for a double date, he looks like a character from an old Levi's ad or from an episode of The Waltons – the quintessential all-American boy. He may be handsome but he is diffident. "Shoulda' worn the other shirt," he nervously tells himself as he walks into the bar where he first sets sight on the beautiful and opinionated Miriam Pentinen (Holliday Grainger).
Australian director Craig Gillespie, whose most notable credit before this was surrealistic romantic comedy Lars and the Real Girl, can't resist egging up the first encounter between Bernie and Miriam. Their eyes meet across the bar when she turns to face him after making a telephone call. The cameras itself seems as agitated as the young couple. There is a lot of furious focus pulling and zooming in and out.
As Bernie and Miriam begin their courtship, she's the one calling the shots. They dance awkwardly and she talks of marriage. It helps that Grainger, who gives a wonderful performance, looks as if she has just stepped out of some 1940s Hollywood melodrama starring Greer Garson. As she and Chris Pine make moony eyes at each other, someone mentions that, oh, by the way, there might be a storm on the way.
Gillespie cross-cuts between events on land and what is happening below decks on the SS Pendleton, a gigantic oil tanker. Early on, as we see the grimy, sweat-covered sailors in the bowels of the ship, operating the heavy machinery, you could be forgiven for thinking you're watching a Soviet-style propaganda film, celebrating the heroic worker. This impression is reinforced by the presence of Scottish actor Graham McTavish as bearded old sea dog, Frank, who looks as if he has stepped out of Sergei Eisenstein's Battleship Potemkin.
The slow build up is deliberate. On board the ship, as characters slap each other on the back, sing songs or rest on their bunk beds below their pin-ups of Hollywood stars, nothing seems remotely amiss. Then the winds pick up and the storm begins in earnest.
The cinematographer Javier Aguirresarobe throws in some remarkable sequences in which the camera prowls through the ship, along its claustrophobic corridors and vast, maze-like interior.
There are two love affairs in The Finest Hours. One is between Bernie and Miriam. The other is between Ray Sybert (Casey Affleck), the ship engineer, and the SS Pendleton. He knows the boat better than anybody and is described as being "practically married" to it. Ray is regarded with grave suspicion by the rest of the crew because he is a loner. Nonetheless, when the Pendleton springs a leak, he is the one the other sailors must rely on to stop the vessel sinking. But it is not only the ship that is taking on water. The screenplay has its soggy edges too. One of the problems is the lack of a clear-cut villain.
The Finest Hours is very dependent on special effects. Much of it was clearly shot in water tanks and there is copious use of CGI. Even so, as Bernie and his skeleton crew leave the harbour and attempt to cross the treacherous "bar" that will allow them to reach the open sea, we really do have the sensation of huge waves beating down on us. Given the sound of the storm (and the unrelenting din of Carter Burwell's soundtrack), there isn't much scope for dialogue. Characters communicate by shouting. Looks and gestures take on an added importance. Ben Foster, recently seen as Lance Armstrong in Stephen Frears's biopic of the disgraced cyclist, registers very strongly as Seaman Livesey, who stands by Bernie's side on the lifeboat's tiny deck as they venture through the massive waves.
We can guess what is going to happen at every step. Bernie is defying orders and proving that he is a "good man" (the ultimate compliment in the close-knit seafaring community). Miriam is on shore, pining for her husband-to-be but still finding a way to be useful to him during a blackout. Ray is tinkering in the innards of the ship, using his specialist knowledge to keep it afloat even as the water level rises. At one key moment, a character loses his compass. The film itself, though, always knows exactly where it is going.
American audiences have cold shouldered The Finest Hours and it came close to sinking at the US box office. It deserves a better reception here. This is rousing, well-crafted fare. Its naïve idealism is quaint, its plotting entirely predictable; but it still has a surprising emotional kick.
Reuse content
Comments