Trumbo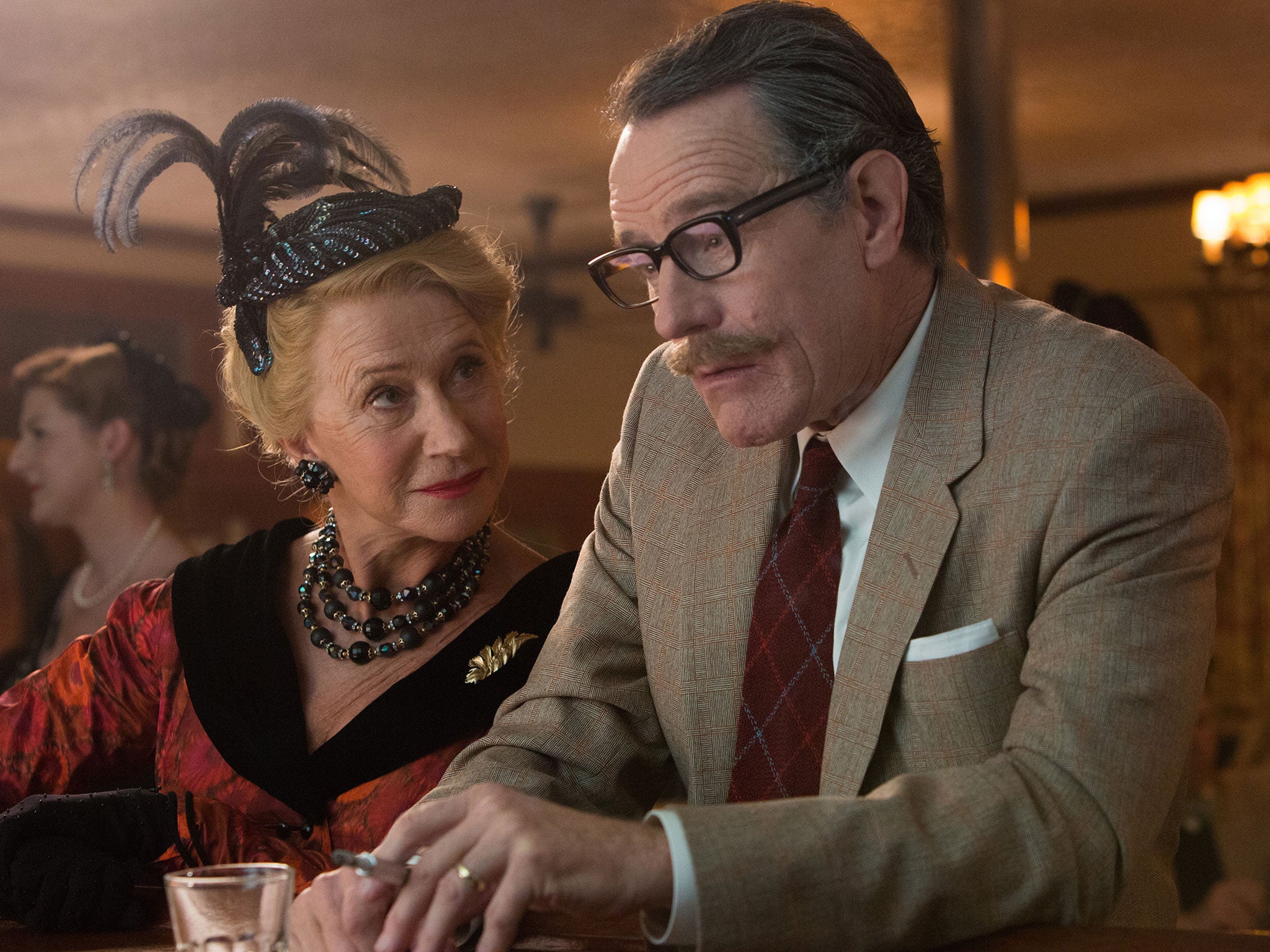 Trumbo, film review: Bryan Cranston triumphs over the biopic clichés
(15) Jay Roach, 124 mins. Starring: Bryan Cranston, Diane Lane, Helen Mirren, Alan Tudyk, John Goodman, Elle Fanning
3
Click to follow
The Independent Culture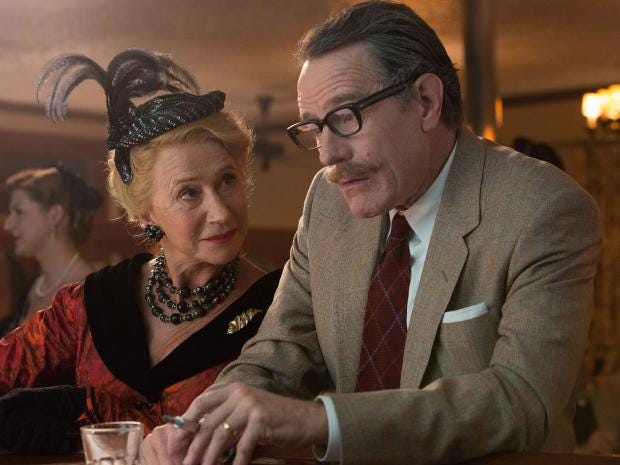 Jay Roach's Trumbo is one of a pair of "commies in Hollywood" films released in British cinemas over the next month. The other is the Coen brothers' Hail, Caesar! For all their surface similarities, the two films couldn't be more different. The Coens' effort is a blithely light-hearted and playful farce in which the communists (who kidnap a Victor Mature-like movie star played by George Clooney) are portrayed as benign and bumbling idealists. Trumbo is altogether darker. Roach may be best known for comedies such as Meet the Parents and Austin Powers but he is in deadly earnest in his portrayal of the anti-communist witch hunts in Hollywood after the Second World War.
The film is a biopic of the author Dalton Trumbo, who won a National Book Award for his 1939 anti-war novel Johnny Got His Gun and then went on to become a highly successful screenwriter. After the war, though, as anti-Soviet hysteria mounted, Trumbo was forced to testify to the House Un-American Activities Committee (HUAC) about his communist sympathies. He refused to give evidence, and was blacklisted and jailed for 10 months.
Culture news in pictures
Culture news in pictures
1/30 30 September 2016

An employee hangs works of art with "Grand Teatro" by Marino Marini (R) and bronze sculpture "Sfera N.3" by Arnaldo Pomodoro seen ahead of a Contemporary Art auction on 7 October, at Sotheby's in London

REUTERS

2/30 29 September 2016

Street art by Portuguese artist Odeith is seen in Dresden, during an exhibition "Magic City - art of the streets"

AFP/Getty Images

3/30 28 September 2016

Dancers attend a photocall for the new "THE ONE Grand Show" at Friedrichstadt-Palast in Berlin, Germany

REUTERS

4/30 28 September 2016

With an array of thrift store china, humorous souvenirs and handmade tile adorning its walls and floors, the Mosaic Tile House in Venice stands as a monument to two decades of artistic collaboration between Cheri Pann and husband Gonzalo Duran

REUTERS

5/30 27 September 2016

A gallery assistant poses amongst work by Anthea Hamilton from her nominated show "Lichen! Libido!(London!) Chastity!" at a preview of the Turner Prize in London

REUTERS

6/30 27 September 2016

A technician wearing virtual reality glasses checks his installation in three British public telephone booths, set up outside the Mauritshuis museum in The Hague, Netherlands. The installation allows visitors a 3-D look into the museum which has twenty-two paintings belonging to the British Royal Collection, on loan for an exhibit from 29 September 2016 till 8 January 2017

AP

7/30 26 September 2016

An Indian artist dressed as Hindu god Shiva performs on a chariot as he participates in a religious procession 'Ravan ki Barat' held to mark the forthcoming Dussehra festival in Allahabad

AFP/Getty Images

8/30 26 September 2016

Jean-Michel Basquiat's 'Air Power', 1984, is displayed at the Bowie/Collector media preview at Sotheby's in New York

AFP/Getty

9/30 25 September 2016

A woman looks at an untitled painting by Albert Oehlen during the opening of an exhibition of works by German artists Georg Baselitz and Albert Oehlen in Reutlingen, Germany. The exhibition runs at the Kunstverein (art society) Reutlingen until 15 January 2017

EPA

10/30 24 September 2016

Fan BingBing (C) attends the closing ceremony of the 64th San Sebastian Film Festival at Kursaal in San Sebastian, Spain

Getty Images

11/30 23 September 2016

A view of the artwork 'You Are Metamorphosing' (1964) as part of the exhibition 'Retrospektive' of Japanese artist Tetsumi Kudo at Fridericianum in Kassel, Germany. The exhibition runs from 25 September 2016 to 1 January 2017

EPA

12/30 22 September 2016

Jo Applin from the Courtauld Institute of Art looks at Green Tilework in Live Flesh by Adriana Vareja, which features in a new exhibition, Flesh, at York Art Gallery. The new exhibition features works by Degas, Chardin, Francis Bacon and Sarah Lucas, showing how flesh has been portrayed by artists over the last 600 years

PA

13/30 21 September 2016

Performers Sean Atkins and Sally Miller standing in for the characters played by Asa Butterfield and Ella Purnell during a photocall for Tim Burton's "Miss Peregrines Home For Peculiar Children" at Potters Field Park in London

Getty Images

14/30 20 September 2016

A detail from the blanket 'Alpine Cattle Drive' from 1926 by artist Ernst Ludwig Kirchner is displayed at the 'Hamburger Bahnhof - Museum for Contemporary Arts' in Berlin. The exhibition named 'Ernst Ludwig Kirchner - Hieroglyphen' showing the complete collection of Berlin's Nationalgallerie works of the German artist Ernst Ludwig Kirchner and will run from 23 September 2016 until 26 February 2017

AP

15/30 20 September 2016

A man looks at portrait photos by US photographer Bruce Gilden in the exhibition 'Masters of Photography' at the photokina in Cologne, Germany. The trade fair on photography, photokina, schowcases some 1,000 exhibitors from 40 countries and runs from 20 to 25 September. The event also features various photo exhibitions

EPA

16/30 20 September 2016

A woman looks at 'Blue Poles', 1952 by Jackson Pollock during a photocall at the Royal Academy of Arts, London

PA

17/30 19 September 2016

Art installation The Refusal of Time, a collaboration with Philip Miller, Catherine Meyburgh and Peter Galison, which features as part of the William Kentridge exhibition Thick Time, showing from 21 September to 15 January at the Whitechapel Gallery in London

PA

18/30 18 September 2016

Artists creating one off designs at the Mm6 Maison Margiela presentation during London Fashion Week Spring/Summer collections 2017 in London

Getty Images

19/30 18 September 2016

Bethenny Frankel attends the special screening of Disney's "Beauty and the Beast" to celebrate the 25th Anniversary Edition release on Blu-Ray and DVD in New York City

Getty Images for Walt Disney Stu

20/30 17 September 2016

Visitors attend the 2016 Oktoberfest beer festival at Theresienwiese in Munich, Germany

Getty Images

21/30 16 September 2016

Visitors looks at British artist Damien Hirst work of art 'The Incomplete Truth', during the 13th Yalta Annual Meeting entitled 'The World, Europe and Ukraine: storms of changes', organised by the Yalta European Strategy (YES) in partnership with the Victor Pinchuk Foundation at the Mystetsky Arsenal Art Center in Kiev

AP

22/30 16 September 2016

Tracey Emin's "My Bed" is exhibited at the Tate Liverpool as part of the exhibition Tracey Emin And William Blake In Focus, which highlights surprising links between the two artists

Getty Images

23/30 15 September 2016

Musician Dave Grohl (L) joins musician Tom Morello of Prophets of Rage onstage at the Forum in Inglewood, California

Getty Images

24/30 14 September 2016

Model feebee poses as part of art installation "Narcissism : Dazzle room" made by artist Shigeki Matsuyama at rooms33 fashion and design exhibition in Tokyo. Matsuyama's installation features a strong contrast of black and white, which he learned from dazzle camouflage used mainly in World War I

AP

25/30 13 September 2016

Visitors look at artworks by Chinese painter Cui Ruzhuo during the exhibition 'Glossiness of Uncarved Jade' held at the exhibition hall 'Manezh' in St. Petersburg, Russia. More than 200 paintings by the Chinese artist are presented until 25 September

EPA

26/30 12 September 2016

A visitor looks at Raphael's painting 'Extase de Sainte Cecile', 1515, from the Uffizi Gallery in Florence during the opening of a Raphael exhibition at the Pushkin State Museum of Fine Arts in Moscow, Russia. The first Russian exhibition of the works of the Italian Renaissance artist Raffaello Sanzio da Urbino includes eight paintings and three drawings which come from Italy. Th exhibit opens to the public from 13 September to 11 December

EPA

27/30 11 September 2016

Steve Cropper and Eddie Floyd perform during Otis Redding 75th Birthday Celebration - Rehearsals at the Macon City Auditorium in Macon, Georgia

Getty Images for Otis Redding 75

28/30 10 September 2016

Sakari Oramo conducting the BBC Symphony Orchestra, the BBC Symphony Chorus and the BBC Singers at the Last Night of the Proms 2016 at the Royal Albert Hall in London

PA

29/30 9 September 2016

A visitor walks past a piece entitled "Fruitcake" by Joana Vasconcelo, during the Beyond Limits selling exhibition at Chatsworth House near Bakewell

REUTERS

30/30 8 September 2016

A sculpture of a crescent standing on the 2,140 meters high mountain 'Freiheit' (German for 'freedom'), in the Alpstein region of the Appenzell alps, eastern Switzerland. The sculpture is lighted during the nights by means of solar panels. The 38-year-old Swiss artist and atheist Christian Meier set the crescent on the peak to start a debate on the meaning of religious symbols - as summit crosses - on mountains. 'Because so many peaks have crosses on them, it struck me as a great idea to put up an equally absurd contrast'. 'Naturally I wanted to provoke in a fun way. But it goes beyond that. The actions of an artist should be food for thought, both visually and in content'

EPA
For years afterward, he was forced to work anonymously. His later scripts included Roman Holiday (1953) and The Brave One (1956), which both won Oscars, but he wasn't credited. The Oscar-nominated Bryan Cranston gives a wonderful performance as Trumbo, an elegant, witty figure, both courageous and fond of his creature comforts. He is dapper and particular in his habits, smoking a cigarette through a holder and working on screenplays in the bath with his whisky beside him. He "talks like a radical" but lives like a "rich guy". With his spectacles and moustache, he looks a little like Groucho Marx and shares his flair for one-liners. He is also a contradictory figure whose selflessness is combined with a strong streak of egotism. He's the family man who is always so busy working that he has little time either for his wife and children or, indeed, for his politics.
Trumbo's nemesis is the gossip columnist Hedda Hopper, who speaks of "registered communists" as if they are child molesters. As played by Helen Mirren, she is a comic figure who dresses absurdly – she is seen in a succession of ever gaudier floral hats and dresses. She has a veneer of charm but you don't have to scrape hard to find the malevolence and viciousness beneath. In a chilling scene, she blackmails and harangues the MGM boss, Louis B Mayer, and calls Jewish people "kikes". At times, her anti-communism appears simply as a mask for her anti-Semitism.
As the House Un-American Activities Committee cranks up, Trumbo and fellow communist sympathisers (most of them screenwriters) try to fight back against the bullying. When they are subpoenaed, they respond by refusing to name names or to confirm or deny that they are, or ever have been, members of the Communist Party. Their hope is to invoke their First Amendment rights and to rely on the Supreme Court. Trumbo was one of the so-called "Hollywood 10," fired, blacklisted and slung in jail.
A problem with the film is that it is so focused on its main protagonist that it risks losing sight of everyone else. Roach makes excellent use of archive footage, some of it real and some of it shot for the film, and at times seems to try to broaden the canvas – but we always end up back with the camera trained on Trumbo, usually with him pounding away at his typewriter in the bath. The other characters are strictly there in a supporting capacity. The political issues (explained succinctly in opening intertitles) are largely skimmed over as Trumbo tries to revive his career and shatter the blacklist by writing scripts under other people's names.
Diane Lane has a thankless time as Trumbo's long-suffering wife, Cleo. We're given no sense of her background. In an early scene, she is shown juggling glasses (Cleo grew up in a vaudeville family) but that is the one time in the movie in which she is not reacting to or worrying about her husband. It is perverse to give such a fine actor such a sketchily drawn role.
The film stumbles into familiar biopic potholes. The actors don't always look or sound like the Hollywood figures they are playing. As commie-bashing John Wayne, David James Elliott has the right physique and drawl but you wouldn't choose him as Wayne in an identity parade. Dean O'Gorman's Kirk Douglas bears an uncanny resemblance to the star of Spartacus, but doesn't have his voice or his presence. As Otto Preminger, Christian Berkel is bald and imperious but his acting feels caricatured. Michael Stuhlbarg gives a moving performance as conscience-torn movie star Edward G Robinson, even if he doesn't remotely look like the actor he is playing. Louis CK's blue-collar turn as communist screenwriter Arlen Hird (a composite figure) isn't developed in much depth. There is an enjoyable cameo from John Goodman as film company boss Frank King – a baseball bat-wielding but honest hustler in Hollywood for the "money and the pussy" – but these characters are ciphers. The main action revolves almost entirely around Trumbo.
Roach makes us painfully aware of the humiliation Trumbo endured during the blacklist period. In one of the grimmest scenes, this cultured intellectual is made to strip by a prison guard: "Spread your cheeks!" Trumbo is stoical in the face of indignity. He has a formidable work ethic, aided by popping amphetamines. He writes some of his most celebrated scripts behind the backs of Hooper and studio bosses, working on The Brave One and Spartacus while he turns out potboilers for Frank King.
Like Walter White, the teacher-turned-drug dealer Cranston played in Breaking Bad, his Trumbo blossoms in adversity. He combines heroism and charm with a big measure of self-obsession and conceit, too. The film itself is very uneven. Any texture, depth and pathos here resides in the central performance.
Reuse content
Comments