Trumbo
Trumbo, film review: Bryan Cranston triumphs over the biopic clichés
(15) Jay Roach, 124 mins. Starring: Bryan Cranston, Diane Lane, Helen Mirren, Alan Tudyk, John Goodman, Elle Fanning
3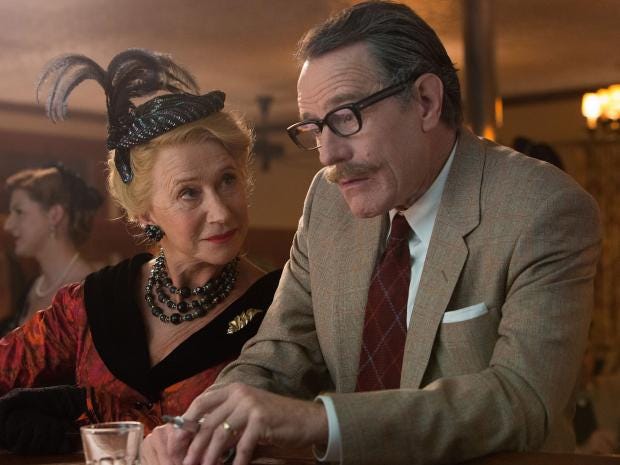 Jay Roach's Trumbo is one of a pair of "commies in Hollywood" films released in British cinemas over the next month. The other is the Coen brothers' Hail, Caesar! For all their surface similarities, the two films couldn't be more different. The Coens' effort is a blithely light-hearted and playful farce in which the communists (who kidnap a Victor Mature-like movie star played by George Clooney) are portrayed as benign and bumbling idealists. Trumbo is altogether darker. Roach may be best known for comedies such as Meet the Parents and Austin Powers but he is in deadly earnest in his portrayal of the anti-communist witch hunts in Hollywood after the Second World War.
The film is a biopic of the author Dalton Trumbo, who won a National Book Award for his 1939 anti-war novel Johnny Got His Gun and then went on to become a highly successful screenwriter. After the war, though, as anti-Soviet hysteria mounted, Trumbo was forced to testify to the House Un-American Activities Committee (HUAC) about his communist sympathies. He refused to give evidence, and was blacklisted and jailed for 10 months.
Culture news in pictures
Culture news in pictures
1/30

(L-R) Chris Warner Drake as Fred, Charlie Bull as Daphne, Joe Goldie as Scooby-Doo, Charlie Haskins as Shaggy and Rebecca Withers as Velma appear on stage in Scooby-Doo Live! at London Palladium

Getty Images

2/30 16 August 2016

Stone collector Luigi Lineri, 79, walks through his stone collection found along Adige river, at his home workshop in Zevio, near Verona, Italy. The stones resemble animal heads, human faces and other forms, and the artist and poet believes may have been shaped by prehistoric humans. Lineri has built his vast collection over the last 50 years. "I haven't counted them and don't intend to do so but the quantity is significant," Lineri said. "At first I thought that a few stones for each different shape would be enough and then I understood that in their thousands, they give a sense of community... For me the quantity is sacred: it takes a lot to build a cathedral." Lineri says there has been no independent verification of whether the stones are indeed prehistoric sculpture and has not sought one, being more interested in them as "a work of art"

REUTERS

3/30 15 August 2016

Iraqi dancers, from the Folk Arts group, perform on the stage of the National Theatre, to mark the 61 anniversary of the founding of the cinema of Iraq

AFP/Getty Images

4/30 14 August 2016

British rapper Tinie Tempah performs at the 24th Sziget (Island) Festival on Shipyard Island, northern Budapest, Hungary

EPA

5/30 14 August 2016

Auctioneers Lyon & Turnbull are to sell an iconic image of Brigitte Bardot valued at £3,000-£5,000 by the legendary artist Gerald Laing in a sale at the auction house in Edinburgh

PA

6/30 14 August 2016

Claudette Mukasakindi of Rwanda runs by the Puffed Star by Frank Stella during the Women's Marathon on Day 9 of the Rio 2016 Olympic Games at the Sambodromo

Getty Images South America

7/30 13 August 2016

Festivalgoers enjoy the colour party, when participants throw colored powder at each other, on the Obudai-sziget (Old Buda Island), the venue of the 24th Sziget Festival, in Northern Budapest, Hungary

EPA

8/30 12 August 2016

A general view of the 20th giant flower carpet at the Grand Place, in Brussels, Belgium. This year the theme of the flower carpet is celebrating 150 years of Belgian-Japanese friendship

EPA

9/30 11 August 2016

Members of the public look at an artwork entitled 'Museum of the Moon', a 7 metre diameter inflatable moon covered with imagery of the lunar surface, on the opening day of the Bristol International Balloon Fiesta in Bristol

AFP/Getty Images

10/30 11 August 2016

Visitors look at tapestries by Jean Lurcat on display at a preview at the gallery of the Talstrasse art association in Halle/Saale, Germany. The show dedicated to the French artist runs from 11 August to 20 November

EPA

11/30 10 August 2016

"Carmen High" cast performs at Spotlites Theatre during a recital of Stephanie Vlahos' "Carmen High" at the Edinburgh Fringe Festival

Getty Images

12/30 9 August 2016

Sia performs during Byblos International Art Festival, north of the Lebanese capital Beirut

AFP/Getty Images

13/30 19 July 2016

People apply wax on 'Le Penseur' (The Thinker), a sculpture by late French sculptor Auguste Rodin, to protect it from weather damages and pollution at the Rodin museum in Paris

AFP/Getty Images

14/30 18 July 2016

The painting 'Venus in Furs' hangs in the Picture Gallery in Park Sansouci in Potsdam, Germany. After having been missing for 70 years, the painting fom 1640 by a Flemish master was returned from private hands. The Foundation Prussian Palaces and Gardens Berlin-Brandenburg has been missing around 2,000 objects since the Second World War

EPA

15/30 17 July 2016

Artists of the French pyrotechnic company "Groupe F" perform during the show "A fleur de peau" (On edge) at the Venaria Reale Palace, in Venaria, near Turin

AFP/Getty Images

16/30 16 July 2016

Dancers of the British dance company Balletboyz perform in "Rabbit", choreographed by Pontus Lidberg, during the Malta Arts Festival in Valletta, Malta

REUTERS

17/30 15 July 2016

Singer Gwen Stefani performs on NBC's "Today" Show at Rockefeller Plaza in New York City

Getty Images

18/30 14 July 2016

People sit under illuminated giant raindrop-shapes at an interactive art installation to raise awareness of autism, in Shanghai

Rex Features

19/30 13 July 2016

An installation 'A wall of life jackets and their stories' by Andrew Wakeford and Fred George is on display at Johanneskirche in Saarbruecken, Germany. The installation is made of original life jackets found on the beaches of Greece and barbed wires, along with interviews and portraits of who have fled from the conflict in the Middle East to Europe. The exhibition runs from 15 July to 26 August

EPA

20/30 12 July 2016

Chinese artist Ai Weiwei poses next to a sculpture that is part of his installation "Circle of Animals/Zodiac Heads" in front of the Upper Belvedere palace in Vienna, Austria. From 14 July to 20 November 2016, the 21er Haus museum presents Ai Weiwei's solo show "translocation - transformation", with the central exhibit of a tea merchant family's ancestral temple from the Ming Dynasty, whose main hall will be reconstructed in the 21er Haus

AFP/Getty Images

21/30 11 July 2016

"Mediterranean Body", a monumental sculpture by COSKUN is seen at the 11th Taehwa River Eco Art Festival in Ulsan, South Korea. The artist, with his wooden monumental sculpture pays tribute to refugees who lose their lives at sea

Rex Features

22/30 10 July 2016

A festival-goer paints a mandala during the 2nd Samsara Yoga and Music Festival in the Toreki neighbourhood of Siofok, 102 kms southwest of Budapest, Hungary. Visitors can enjoy music performed on three stages and attend workshops, lectures and conversations with yoga trainers, instructors, therapeutists, psychologists, doctors and healers between 6 and 11 July

EPA

23/30 9 July 2016

Naked volunteers, painted in blue to reflect the colours found in Marine paintings in Hull's Ferens Art Gallery, participate in US artist, Spencer Tunick's "Sea of Hull" installation in Kingston upon Hull

AFP/Getty Images

24/30 8 July 2016

Mark Rylance (L) is returning to the West End stage in Nice Fish - and fans will be able to see him for free if they dress up as fish. Nice Fish, the critically acclaimed comedy by Rylance and prose poet Louis Jenkins, will have a limited run from November at London's Harold Pinter Theatre after a successful season in New York

PA

25/30 7 July 2016

Women wearing summer kimonos, called yukatas, look at goldfish during the 2016 EDO Nihonbashi Art Aquarium exhibition in Tokyo. The 10th anniversary of the festival will start on 8 July and will continue until 25 September, displaying some 8,000 goldfish in various special art exhibits

AFP/Getty Images

26/30 6 July 2016

Musician Tim Lopez (L) and Tom Higgenson of the Plain White T's perform at the Grove's Summer Concert Series in Los Angeles, California

Getty Images

27/30 5 July 2016

Tourists walk through a lantern installation in Zhangjiakou, Hebei Province, China

REUTERS

28/30 4 July 2016

One of London's most iconic venues has sent a pair of show tickets into space to celebrate the world premiere of Independence Day Live – a new film-and-orchestra event being held in September. The Royal Albert Hall has marked the occasion by blasting the tickets into the stratosphere on Independence Day itself

29/30 3 July 2016

People walk on the installation 'The Floating Piers' by Bulgarian-born artist Christo Vladimirov Yavachev, known as Christo, northern Italy

REUTERS

30/30 2 July 2016

Performers dressed as angels take part in the Place des Anges spectacle in Hull, part of UK City of Culture 2017 and the Yorkshire Festival. Up to 10,000 people have descended on Hull to watch Place des Anges. The aerial show sees white-clad angels appear on rooftops before taking off on suspended wires across the city. The event culminates with thousands of white feathers cascading onto the crowds below

PA
For years afterward, he was forced to work anonymously. His later scripts included Roman Holiday (1953) and The Brave One (1956), which both won Oscars, but he wasn't credited. The Oscar-nominated Bryan Cranston gives a wonderful performance as Trumbo, an elegant, witty figure, both courageous and fond of his creature comforts. He is dapper and particular in his habits, smoking a cigarette through a holder and working on screenplays in the bath with his whisky beside him. He "talks like a radical" but lives like a "rich guy". With his spectacles and moustache, he looks a little like Groucho Marx and shares his flair for one-liners. He is also a contradictory figure whose selflessness is combined with a strong streak of egotism. He's the family man who is always so busy working that he has little time either for his wife and children or, indeed, for his politics.
Trumbo's nemesis is the gossip columnist Hedda Hopper, who speaks of "registered communists" as if they are child molesters. As played by Helen Mirren, she is a comic figure who dresses absurdly – she is seen in a succession of ever gaudier floral hats and dresses. She has a veneer of charm but you don't have to scrape hard to find the malevolence and viciousness beneath. In a chilling scene, she blackmails and harangues the MGM boss, Louis B Mayer, and calls Jewish people "kikes". At times, her anti-communism appears simply as a mask for her anti-Semitism.
As the House Un-American Activities Committee cranks up, Trumbo and fellow communist sympathisers (most of them screenwriters) try to fight back against the bullying. When they are subpoenaed, they respond by refusing to name names or to confirm or deny that they are, or ever have been, members of the Communist Party. Their hope is to invoke their First Amendment rights and to rely on the Supreme Court. Trumbo was one of the so-called "Hollywood 10," fired, blacklisted and slung in jail.
A problem with the film is that it is so focused on its main protagonist that it risks losing sight of everyone else. Roach makes excellent use of archive footage, some of it real and some of it shot for the film, and at times seems to try to broaden the canvas – but we always end up back with the camera trained on Trumbo, usually with him pounding away at his typewriter in the bath. The other characters are strictly there in a supporting capacity. The political issues (explained succinctly in opening intertitles) are largely skimmed over as Trumbo tries to revive his career and shatter the blacklist by writing scripts under other people's names.
Diane Lane has a thankless time as Trumbo's long-suffering wife, Cleo. We're given no sense of her background. In an early scene, she is shown juggling glasses (Cleo grew up in a vaudeville family) but that is the one time in the movie in which she is not reacting to or worrying about her husband. It is perverse to give such a fine actor such a sketchily drawn role.
The film stumbles into familiar biopic potholes. The actors don't always look or sound like the Hollywood figures they are playing. As commie-bashing John Wayne, David James Elliott has the right physique and drawl but you wouldn't choose him as Wayne in an identity parade. Dean O'Gorman's Kirk Douglas bears an uncanny resemblance to the star of Spartacus, but doesn't have his voice or his presence. As Otto Preminger, Christian Berkel is bald and imperious but his acting feels caricatured. Michael Stuhlbarg gives a moving performance as conscience-torn movie star Edward G Robinson, even if he doesn't remotely look like the actor he is playing. Louis CK's blue-collar turn as communist screenwriter Arlen Hird (a composite figure) isn't developed in much depth. There is an enjoyable cameo from John Goodman as film company boss Frank King – a baseball bat-wielding but honest hustler in Hollywood for the "money and the pussy" – but these characters are ciphers. The main action revolves almost entirely around Trumbo.
Roach makes us painfully aware of the humiliation Trumbo endured during the blacklist period. In one of the grimmest scenes, this cultured intellectual is made to strip by a prison guard: "Spread your cheeks!" Trumbo is stoical in the face of indignity. He has a formidable work ethic, aided by popping amphetamines. He writes some of his most celebrated scripts behind the backs of Hooper and studio bosses, working on The Brave One and Spartacus while he turns out potboilers for Frank King.
Like Walter White, the teacher-turned-drug dealer Cranston played in Breaking Bad, his Trumbo blossoms in adversity. He combines heroism and charm with a big measure of self-obsession and conceit, too. The film itself is very uneven. Any texture, depth and pathos here resides in the central performance.
Reuse content
Comments