It is hard to work out whether Starred Up is an Oedipal drama posing as a prison movie – or vice versa. Whatever the case, there is so much testosterone-fuelled intensity flying around here that you hardly notice the creaks in the plotting. This is in-your-face film-making: raw, uncomfortable, and boasting tremendous performances from its leads, Jack O'Connell, Ben Mendelsohn and Rupert Friend.
As such other recent films as A Prophet, Cell 211 and R have shown, the prison drama is a genre that allows film-makers to probe far more deeply into the psyches of their protagonists than they could in films set in the outside world. Each prison is its own self-enclosed world with its own hierarchy, rituals and approach to violence.
Starred Up is set in an English prison, but was shot in Crumlin Road Gaol, Belfast and Maze Long Kesh, Lisburn. Director David Mackenzie makes excellent use of his locations. The early scenes, in which we see 19-year-old Eric Love (O'Connell) being transferred into a Victorian-era adult jail, are shot in verité style. His clothes are taken away. He is strip-searched by prison officers who treat him as if he is a piece of livestock. There is no music. The main sound we hear is the slamming of the door behind him.
Eric is aggressive in the extreme. Close cropped and muscular, he regards his body as his weapon. He comes across like a younger version of Jimmy Boyle, "Scotland's most violent man", in the film of A Sense of Freedom; or of Iain Glen's equally combustible Larry Winters in Silent Scream. Attacking the guards and defying authority is his only way of asserting any individuality. We are made aware that he is resourceful and intelligent by an early scene in which we see him fashioning a weapon out of an old toothbrush and then finding an ingenious way of hiding it. He takes pride in his capacity to hurt others.
One problem that the film-makers face is that the prison settings are achingly familiar from countless other dramas and documentaries, from Robert Bresson's existentialist A Man Escaped to the BBC sitcom Porridge. It's hard to come up with a fresh angle.
Here, there are the mandatory scenes set in the prison exercise yard, where inmates walk around in circles. (Mackenzie films these as if taking inspiration from Gustave Dore or Van Gogh drawings of Newgate.) When Eric queues up for his first meal, we can guess in advance that the chef will sneer at him and use his hands to dunk the food on his plate. And, yes, there is a Mr Big on the upper wing who is in cahoots with a sadistic and corrupt Governor.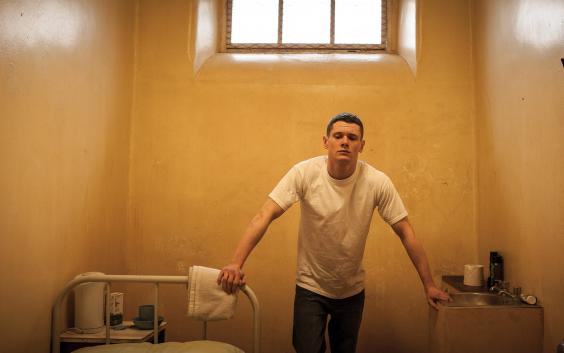 The screenplay was written by Jonathan Asser, who spent several years as a prison therapist. The twist on the traditional prison drama is not simply that a long separated father and son are inmates together. It's that the prisoners confront their inner demons in therapy sessions like the ones Asser once ran. These sessions, administered by a well-meaning therapist (Rupert Friend), allow them to explore the roots of their own violence.
Just as the inmates are fearful of ever showing their own vulnerability, the film-makers seem wary of acknowledging the sentimental side of the story. That is one reason why the violence is so foregrounded and the storytelling style so austere. The expletive-filled language sounds exaggerated. At times, it sounds as if it has been taken from an old Peter Cook and Dudley Moore "Derek and Clive" sketch.
O'Connell's character here is very different to his naive young squaddie adrift in Belfast at the height of the Troubles in Yann Demange's '71 (which will be released later this year). In Starred Up he is vicious in the extreme, terrified of showing any weakness. Nonetheless, O'Connell is able to hint at Eric's yearning and confusion. Australian actor Ben Mendelsohn is equally impressive as Eric's father, Neville. 
A tall and imposing Bill Sikes-like figure with a permanent hangdog expression, he is as ferociously violent as his son – and yet he too has a capacity for tenderness. "I am his fucking parent and I am here now," he yells of the son he belatedly wants to take in hand.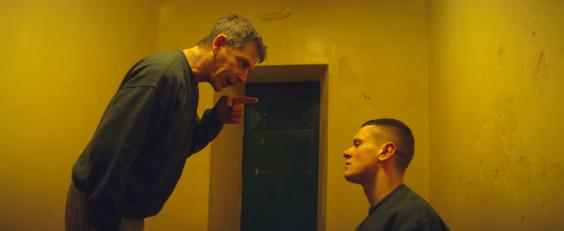 Just occasionally, mawkishness creeps in. For example, alongside the pictures of naked women, Neville keeps one of his son's childhood drawings in his cell. It shows stick figures of a man, woman and child and has "I love you daddy" written on it.
You can't help but wonder about the inept way in which the prison is run and the remarkable ease with which various inmates are able to slash or beat up one another. (Fulton Mackay's prison warder in Porridge would never have stood for such nonsense.)
The therapy sessions are among the film's strongest elements. Eric attends reluctantly and doesn't hide his contempt for Friend's  middle-class therapist, who tries to ingratiate himself by comparing his own boarding school experiences to life in prison. There is an edge to the discussions between the members of the group (which also includes David Ajala's Tyrone and Anthony Welsh's Hassan), a sense that they can turn violent at any moment. At the same time, the talking cure seems to work. It helps Eric to open up about his own feelings and thereby develop a sense of what the others may be enduring.
Some elements here – the fights, the taunts, the scenes of crooked prison guards up to mischief – would fit in a Roger Corman-style exploitation pic. At the same time, the treatment of the father/son relationship lurches toward Victorian melodrama. It's the sheer voltage of the performances and of Mackenzie's directorial style that gives such energy to a film that might otherwise have seemed very stilted indeed.