Protesters have taken advantage of the premiere of the Suffragette premiere to draw attention to domestic violence and cuts to women's services.
Demonstrators waved banners at the sides of the the Leicester Square premiere of the film in depicting the movement for women's suffrage at the turn of the 20th century, with one sign reading "dead women can't vote".
In an apparent homage to the characters in the historical film, demonstrators also let off smoke in the purple and green colours adopted by the suffragette's Women's Social and Political Union (WSPU).
Around 15 protesters dressed in black shouting "it is our duty to fight for our freedom" broke away from the main crowd, and laid down on the red carpet. 
An image from the protest should activists wearing sweaters pinned with statements including: "2 women killed everyone week," and "domestic violence cuts kill." 
One protester, who did not give her name, told The Independent: "We aren't going to move, we're the modern suffragettes and domestic violence cuts are demonstrating that little has changed for us 97 years later"
An eye-witness told The Mirror that a horn rang out around 4 times as the woman laid on the carpet.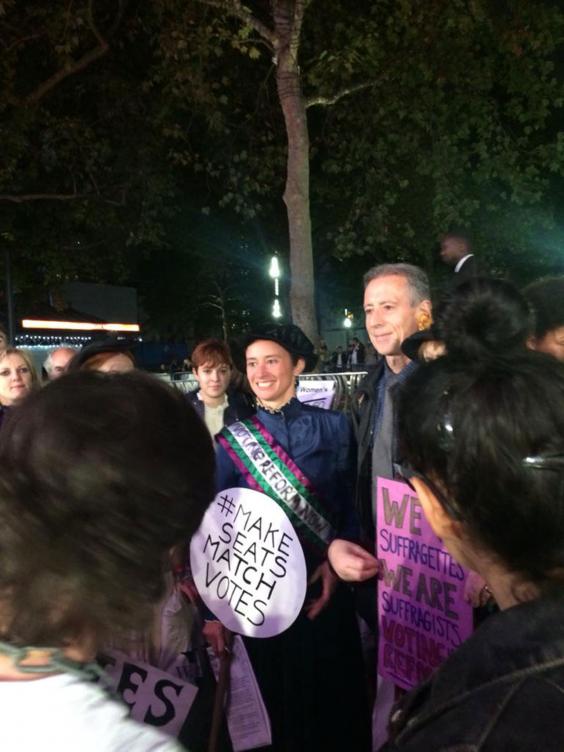 "About a dozen women jumped over the barrier, laid down on the red carpet and linked arms and started shouting, 'David Cameron take note, dead women can't vote'."
Footage from the scene in central London showed security guards gathering around the protesters.
The feminist group Sisters Uncut tweeted to confirm that it was at the premiere. 
We invaded the red carpet to protest cuts to domestic violence services.Austerity´s killing women.#deadwomencantvote https://t.co/mCx0puz3me

— Sisters Uncut (@SistersUncut) October 7, 2015
The film starring Meryl Streep, Carey Mulligan and Helena Bonham Carter is set to be realised on 12 October. 
Ms Bonham Carter said at the premiere that the protesters had the "perfect response".
"If you feel strongly enough about something and there's an injustice there you can speak out and try to get something changed," she told Sky News.
Agreeing with her co-star, Ms Mulligan called the protest "awesome" and said she was sad she had missed it. 
Carey Mulligan and Helena Bonham-Carter say protests at premiere of 'Suffragette' is the 'perfect response' https://t.co/HkSvVP8qVX

— Sky News (@SkyNews) October 7, 2015
Sisters Uncut encouraged organised the event using a Facebook page. 
"The film depicts a struggle for women's rights that took place nearly 100 years ago, but we know that the struggle isn't over," the event page read.
Reuse content