Fans' frenzied anticipation erupted as US singer Justin Timberlake reunited with his 'N Sync bandmates to perform at Sunday night's MTV Video Music Awards.
The "one night only" reunion performance of the chart-topping boyband, whose career spanned almost a decade from the mid-1990s, was the seen as the highlight of the annual awards show.
The five-piece performed a medley of their most famous hits, including 'Girlfriend', 'Gone' and 'Bye Bye Bye'.
Timberlake, who has become a highly successful solo artist and actor was honoured during the show with the Michael Jackson Video Vanguard Award.
After receiving the distinctive moonman trophy, the 32-year-old told viewers, "I don't deserve the award, but I'm not going to give it back. I'm taking this home."
"Half of the moonmen I've ever won, I won with those four guys right there," he added, referring to his 'N Sync bandmates.
"So above all else, I'm going to share this - we can keep it at my house - but I'm going to share this award with them."
At the peak of their fame, the group were well known for their highly choreographed dance routines.
Timberlake earlier took to the stage to perform a series of his solo hits before the four other 'N Sync members joined him to perform the medley.
The 'Cry Me a River' star was nominated for six awards on Sunday, including Video of the Year, for his single 'Mirrors'; Best Male Video; Best Pop Video; Best Editing (for 'Mirrors'); Best Collaboration,  for 'Suit & Tie' with rapper Jay-Z; and Best Direction.
He picked up four awards: Best Video, Best Direction, Best Editing as well as the Vanguard award.
Other highlights of the night included Miley Cyrus's provocative performance of 'Blurred Lines', with singer Robin Thicke. During her performance she appeared in a 'nude' skin-coloured bikini.
Flamboyant performer Lady Gaga changed costumes four times during her first return to the stage since hip surgery as she performed her new single "Applause" at the top of the show.
It was a predictably unpredictable appearance for Gaga, who pumped in boos over the sound system as she opened the song in a white nun's habit and square headdress.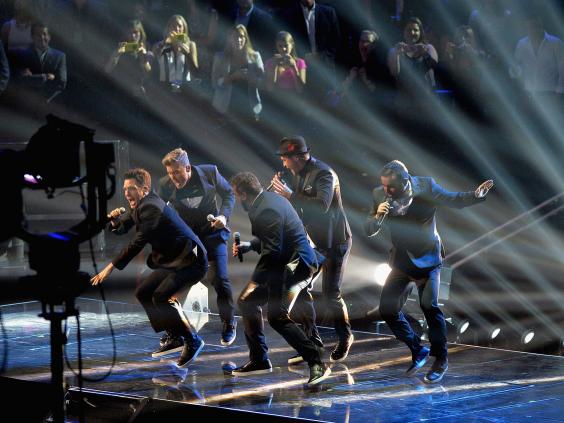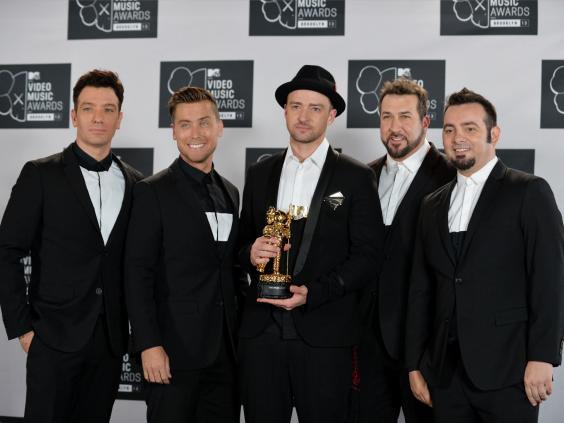 Reuse content