Era Istrefi is a fascinating artist who's already managed to pick up comparisons to the likes of Sia and Rihanna (listen and you'll hear why).
The 22-year-old Kosovar singer signed to Sony this year and she's set to do big things in 2017.
Her video for single 'Bonbon' racked up almost 180 million views on YouTube and she's clearly got the makings of a bonafide pop star, with attitude and talent to spare.
Watch her video for 'Bonbon' below:
Q&A with Era Istrefi
What are you listening to at the moment?
The one I've been waiting for. Frank Oceans new album. I love it! Sound experimental, spiritual & fresh.
How do you feel about the comparisons you're drawing to Rihanna and Sia?
First off, it is a lovely compliment to be compared to Rihanna & Sia. I am told that we have "too much" similarities in between and I have been described as "their love child" all over internet lol. But then.. it's a big challenge! Because it takes levels to achieve what they did with their careers. But it motivates me to work harder & harder everyday!!
Apparently people have different personalities when they speak (or sing) in different languages – do you feel that at all?
Yeeaaah! I'm really glad about that! Other languages sound beautiful and we should embrace them all through music & art. It wasn't hard for me to combine my Albanian language with English because it's my mother tongue & English is my second.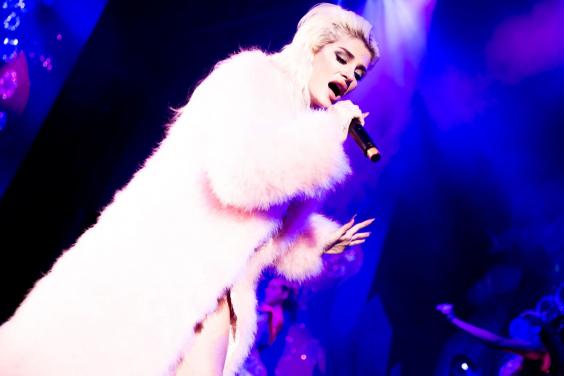 Everybody in Albania mixes English with their own. I guess because it sounds so good to the younger generation but also swaggy & complete also (smile). It's like adding new words to our vocabularies. I guess that does give it the feel of having two different personalities in different languages. I find myself more positive when I communicate in english. Maybe it's the tone of the voice, or I just inherit  the behaviour of english speaking people? 
It's the persona that changes, but the character always remains the same.
When "bonbon" went viral, that definitely gave me a lot of confidence. Everybody freaked out! (in a good way). That's the story.
Why do you think this tune has caused a stir over all the others? 
I would say it is because first of all: I really believe that the right things happen at the right time.
Second of all it's my combination of genres that was missing in the music industry but i am very happy to be living this moment. 
How do you feel about the current crop of Albanian girl pop stars? 
They're all great! They're all unique. I'm glad many Albanian talents are blowing up in 2016. Who thought this would happen... especially we Albanians that always thought we're not "good enough" for the world. Sad isn't it? But so happy now! So happy to be one of the limit breakers, especially to go viral with an Albanian language song. I don't believe this has ever happened in our history. I might be the first to do it (feels shy) lol.
What was the first gig you played, and what's been the best so far?
The first gig, I love this word "gig" , was at New Year 2016. It was live with a band. (I am not considering the playback ones cause they never felt 100% real to me). The only thing I would change in the Albanian music industry is the Playback stage performances. I think i would redo them live.
So that one for New Year's was my favourite one, because I had the time to practice and make it "perfect"! But the sad part is that we forgot to film it. Arghh I can't forgive myself for that. Now the good part is that more gigs are coming, and not only gigs but new music too, so I'm really excited about it.
Reuse content