As I enter the studio where Arcane Roots are busy beavering away on the follow up to 2013's Blood & Chemistry, the first thing that strikes me is hooks. Gigantic ear worms that wrap themselves around your auditory cortex and simply refuse to let go. It's no exaggeration to say that these songs are some of the catchiest tunes the band have penned to date.
"The grand plan is to get these songs stuck in people's heads for days," says vocalist/guitarist Andrew Groves. 'It's that fight between the melodies and the heavier side of our music and trying to get those two elements to marry together. The problem is when you start sticking loads of riffs together without melody, then it just sounds like a bunch of riffs that have been shoved together rather than a song that's actually going somewhere."
The band have returned to Stakeout Studios, the very same studio that bore witness to the recording of their debut mini-album Left Fire, partly because it's local and partly because, as Andrew enthuses "Reuben recorded Racecar is Racecar Backwards here!" They're here to record a new EP, Heaven & Earth, five gloriously anthemic songs that are amongst the most joyful the band have written to date. The main focus of the two days I spend in the studio is on recording Andrew's guitar parts and vocal lines, the bass and drum tracks having been laid down a few days before.
If the melodies I hear cascading out of the vocal booth are anything to go by, it's clear that they have been refined and finessed into succinct infectious vocal lines that are begging to be sung back to the band en masse in a live environment. Andrew has pushed himself as a vocalist, utilizing his voice in ways that we've not heard from him before. (He mentions singing along to White Christmas at home to reach the low notes of one particularly deep vocal line). "I'm putting myself out on the line as a frontman really and I think this is the first record where I've really thought about my role as a frontman. (When the band started) I didn't want to sing, I just wanted to play guitar. Now I sing and play guitar and I thought, 'if I'm gonna do both I'm gonna do both well!'"
That's not to say those colossal heavy kinetic riffs the band's fan base are so familiar with have been neglected though. It's clear that Andrew's first musical love is guitar (the glee with which he receives some new pick-ups from Fender is akin to the joy of a child on Christmas morning) and there are riffs on these songs which bedroom guitarists will be picking apart and attempting to recreate for years to come.
In pictures: Arcane Roots in the studio recording Heaven & Earth
In pictures: Arcane Roots in the studio recording Heaven & Earth
1/8 Arcane Roots - Heaven & Earth

Andrew Groves recording vocals (and soothing his voice)

Carla Mundy

2/8 Arcane Roots - Heaven & Earth

Adam Burton wielding bass, Daryl Atkins wielding laptop

Carla Mundy

3/8 Arcane Roots - Heaven & Earth

Daryl Atkins' final drum performance for Arcane Roots is captured on Heaven & Earth. He still remains an integral part of the band behind the scenes

Carla Mundy

4/8 Arcane Roots - Heaven & Earth

Andrew Groves, left, and Daryl Atkins

Carla Mundy

5/8 Arcane Roots - Heaven & Earth

Five tracks are set to appear on Heaven & Earth

Carla Mundy

6/8 Arcane Roots - Heaven & Earth

Adam Burton, left, and Andrew Groves

Carla Mundy

7/8 Arcane Roots - Heaven & Earth

Adam takes a break from recording

Carla Mundy

8/8 Arcane Roots - Heaven & Earth

Daryl Atkins

Carla Mundy
Many of these songs take their time to build, until they reach the sort of absolutely cataclysmic climaxes that have come to define Arcane Roots' sound, a sound which the band hit on more by accident than design. "As a kid, I hated down-tuning (my guitar), it would annoy me" Andrew explains. "When I first got into guitar music like Korn and Limp Bizkit and I realised those bands were down tuned, I was like, 'Oh, for f*** sake, it's impossible to play those songs now!' So I started finding Octave pedals and other effects to make my guitar sound heavier. It's always a lot harder (to make stuff sound heavy in standard tuning), it doesn't breed tonality very well."
It was Andrew's defiant stubbornness not to detune his guitar that eventually led to the band discovering their own unique blend of jagged driving riffs with sombre beautiful lilting passages. It's this approach that makes the band stand out from a lot of identi-kit rock bands of the moment, his willingness to experiment with strange phrasings and unusual chords. "My guitar teacher always said you should just make music sound how you want it to! Don't worry about whether you're using the 'right' chord… that really inspired me. He was really into Allan Holdsworth, so he taught me lots of jazz chords and voicings. I used to just sit with my guitar and try to make up chords, which made me realise I can make a chord sound heavier by making it augmented and coming up with these big stretches for example. It's satisfying as a guitar player to come up with all these strange chords, it's a long learning curve."
Andrew has been re-assessing his approach to lyrics as well, a process that first started on their 2014 single Over and Over which saw Andrew take a more sincere, less metaphorical approach. "Over and Over was my attempt to be literal, it's literally about getting married. 'Out in the cold I'll go down on one knee and make you mine.' I hadn't done that yet and I thought, 'well, if I can't be honest with myself and connect with it, then no-one else will.' So I've brought that more transparent approach into the new material. There's a line obviously, you don't have to be too blatant or hurtful but you can still say something that actually means something to you."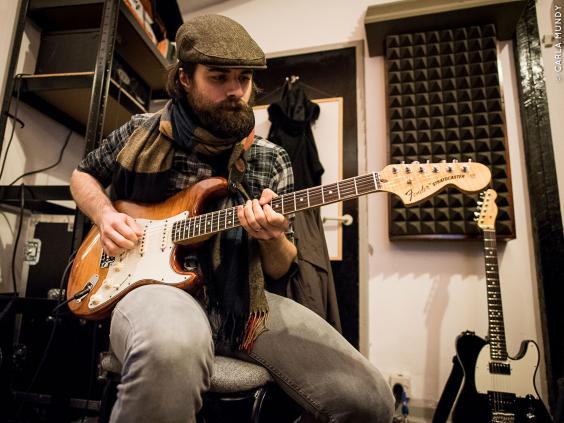 There's a strange tradition in rock of initially shy reluctant frontmen eventually blossoming into all-conquering, rock-god behemoths, able to command the world's largest stadiums with fearsome precision. Metallica's James Hetfield only stepped up to the microphone when nobody else in the band was willing to. Muse's Matt Bellamy was painfully shy on their first few tours, often hiding himself under his fringe and a beanie. The Gaslight Anthem's Brian Fallon once said of fronting a band, "if you want to put yourself out in front of people like this, there must be something wrong with you!"
The initial stages of this blossoming transformation are apparent in Andrew Groves, even if he is too bashful to see these qualities in himself. "I was more than happy just playing guitar, writing songs, being the guy at the back, but I kind of had to step up to this incredibly uncomfortable position. I still wanted to play intricate technical details on guitar (whilst singing), so it's something I've had to persevere with." Whilst he's not at the level of Messers Hetfield, Bellamy and Fallon just yet, it's surely only a matter of time before he's able to command stages with the aplomb and charisma of some of rock's greatest frontmen.
With even more extensive touring planned in the near future and a second full-length album of material already in the works, it's an intensely busy time for Arcane Roots, one that should see their profile soar. With my two days at Stakeout Studios drawing to an end, Andrew sums up his feelings on the new material. "I'm really proud of what we're doing and the musicians we're becoming. These songs feel really great, I definitely think we're getting better as songwriters. The secret, I think, is to enjoy playing your music. And luckily, we really do!"
The new EP from Arcane Roots, Heaven & Earth is released via Easy Life / Sony Red on October 16 on Vinyl and Download. A very special thank you to Carla Mundy whose photographs are used with permission.
Reuse content