I enter a very grand apartment in South Kensington. It has a Burberry trench coat hanging from a coat-stand and a big Persian rug in the entrance hall. I walk through the tall archways, into the sprawling living room, the kitchen, study and bedroom. Down the corridor there are some keys on the antique sideboard and a jumper thrown over a chair – even a bucket to catch leaking water from a yellow-stained patch on the high ceiling. There are some butlers and maids standing around the apartment – three at a time – but they are actually gallery assistants. I am in fact in the V&A Textile Galleries, which have been transformed into the former family home of a fictional and wildly eccentric retired gay architect called Norman Swann.
The installation titled Tomorrow, which opens next week, is by Danish-Norweigan duo Elmgreen and Dragset. The pair have written a script set in the apartment for visitors to read, which plays out like a dysfunctional soap opera. Swann, 74, has sold his family home, along with all the antiques and paintings collected by his ancestors, due to bankruptcy, but he is refusing to move out. He has done very little in terms of packing when the new owner, celebrity interior designer, Daniel Wilder, 45, lets himself in with a waitress he has picked up at a bar. Conflict arises and the barbed comments in the script between Swann and Wilder are reminiscent of a mild version of Who's Afraid of Virginia Woolf?.
I then stumble upon some boxes of Swann's possessions which sit in the modern kitchen, which has just been put in by Wilder, who has already started renovations. As you enter the mindset of Swann through snooping around his apartment it is easy to forget you are in the V&A at all.
The gallery assistants at the V&A, who volunteered for this project to wear butler and maid outfits, do far more than oversee the five lofty galleries that have been filled with more than 100 works from the V&A collection, as well as the artists' own works. They welcome visitors, "who will be treated as guests in a private home", insists Michael Elmgreen.
According to V&A gallery assistant Neide Gentelini (above), who will be dressed all day in a black-and-white maid outfit in the installation, the artists have talked through their roles in depth with them. "I was happy to volunteer. The artists told us what the job entails. I am now part of a play – I am Mr Swann's employee," says Gentelini. "We can answer questions based on the storyline. If it's a private question we can say something like: "I'm not in a position to answer that, you can talk to Mr Norman after his shower. We encourage guests to play the piano, read the newspaper and browse through his paperwork – but not to get into his bed."
"It is a story about failure and the wide gap that can occur between one's hopes, day dreams and visions," says Elmgreen. "It is also the story about the burden of cultural heritage, the burden of family traditions and how we can often feel repressed by our own backgrounds and history."
'Tomorrow', V&A, London SW7 (www.vam.ac.uk), from 1 October to 2 January 2014
Yet another side of Bob Dylan
By Charlotte Cripps
Bob Dylan is not generally associated with making iron works. But in a show at London's Halcyon Gallery in November, he will show, for the first time ever, seven giant iron gates, welded out of vintage iron and metal parts.
His paintings and drawings are widely known but Dylan who created the iron gates in his studio in Santa Monica, LA, has always worked with welding and metalwork.
He was "born and raised in iron ore country" in Duluth, Minnesota – where, he says, "you could breathe it and smell it every day". Dylan said: "Gates appeal to me because of the negative space they allow. They can be closed but at the same time they allow the seasons and breezes to enter and flow. They can shut you out or shut you in. And in some ways there is no difference."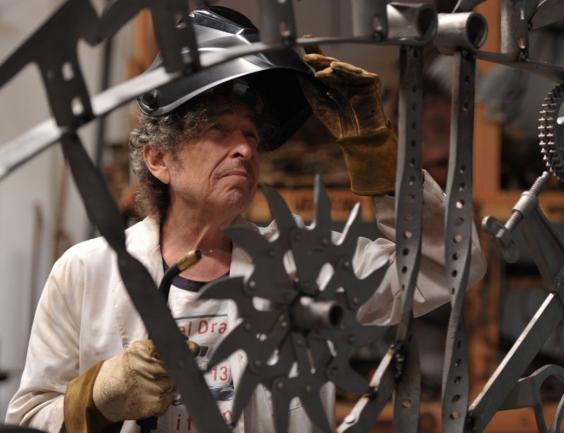 Bob Dylan Mood Swings, Halcyon Gallery, London W1 (www.halcyongallery.com) from 16 November to 25 January
Deep encounters with British cinema
By Geoffrey Macnab
Picture the scene – a small arthouse cinema in Montparnasse not long after the end of the Second World War. Sitting in the audience watching David Lean's Brief Encounter (1945) are two heavyweight French intellectuals, the existentialist and future Nobel Prize winner Jean-Paul Sartre and the journalist Claude Lanzmann, later to direct the Holocaust documentary Shoah (1985).
Sartre and Lanzmann struggle to contain their emotions."We both left the cinema in tears. We were both hopeless romantics," Lanzmann writes in his autobiography The Patagonian Hare.
It's a surprising anecdote. Somehow, you don't expect Sartre and Lanzmann, both of whom were lovers of Simone de Beauvoir, to be spending their days at screenings of British home counties melodramas of the 1940s.
Then again, British cinema has always had its share of unlikely admirers. Earlier this summer, deep in Finnish Lapland at the Midnight Sun Festival in Sodankylä, international film critics and film-makers gathered together to watch John Mills sweating his way through the desert in Ice Cold In Alex (1958), Dirk Bogarde on deck in Hornblower mode in HMS Defiant (1962) and John Guillermin's They Were Not Divided (1950). These are not films that British critics pay much attention to today but, it seems, north of the Arctic Circle they are much cherished.
Any Brit visiting the Festival du Film Britannique in Dinard in the autumn can't help but be surprised by the immense queues outside cinemas showing British films that have been playing to near empty houses on the other side of the Channel.
It's striking, too, how enthusiastic American directors such as Martin Scorsese, Steven Spielberg and Brian De Palma are about the works of Powell and Pressburger and David Lean.
Scorsese has talked often about watching Powell and Pressburger films such as The Red Shoes and Black Narcissus when he was growing up in New York. Spielberg cites Lean's Lawrence of Arabia (1962) as one of his favourite films of all time.
Lean and Powell and Pressburger represent the prestige, artistic side of post-war British cinema. It's no surprise that their work is feted abroad. What you don't expect is Scorsese's enthusiasm for an obscure Hammer horror director, John Gilling. Nor do you expect to find British short films (all but ignored back at home) with their very own festival in... Berlin.
(www.festivaldufilm-dinard.com) from Wed to 6 October
One to watch: Lolo, singer, 25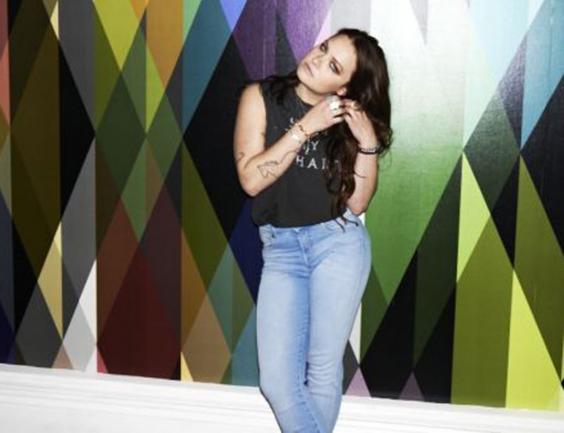 This Brooklyn-based singer/songwriter's rock r&b is not for the faint-hearted. Her style is biker chic and she wears rings on most fingers. Born in Tennessee, Lolo, whose real name is Lauren Pritchard, releases her first single, "Year Round Summer of Love", next month. She also features on Panic! at the Disco's song "Miss Jackson". What's next? She releases her debut album. "It is an uplifting girl-power record," she says. "A reminder it's OK to be strong."