The Kent seaside town of Margate has undergone such a hipster transformation in recent years that its newly renovated theme park Dreamland, with its retro fairground attractions, hosts the type of boutique weddings beloved of those decrying tradition. "Happy ever after at Dreamland" advertises its website, adorned with pictures of joyous newlyweds atop the Big Wheel and taking their first dance at the venue's roller disco.
It makes for a peculiarly apt setting to meet Natasha Khan, the artistic spirit behind Bat For Lashes. Khan is at Dreamland to perform at the funfair's charmingly ramshackle festival By the Sea. In the room where couples are married for real, she will take to the stage wearing a scarlet wedding gown and black veil, assuming the alias of the eponymous protagonist of her fourth album The Bride. But in the album's daring, intricate plotline, disaster strikes: the bride's fiancé dies in a car crash on his way to the wedding. The tragic heroine, bereft, goes on honeymoon alone, as Khan describes "propelled on a journey of self-discovery" that sees her grapple with anger, grief, guilt, solitude and, by the album's conclusion, acceptance, resolving it possible to love again. 
Khan is no foreigner to character construct: her second album, 2009's Two Suns, featured her split personality, blonde haired hedonist Pearl, while her hitherto unseen voodoo psych rocker pervaded last year's Sexwitch album, a side project with producer Dan Carey and Brighton band Toy. "It all comes from my heart," Khan says. "It's like method acting in a way. If I didn't have those emotions in me I don't think I could find a natural way to describe them. So they all come from my emotional landscape." 
But with its accompanying literature (a prologue story, letters between bride and groom, newspaper cuttings reporting the crash), Lynchian promo videos and pre-release series of church concerts, The Bride makes for an engrossing, fully realised concept, challenging perceptions of marriage, happiness and femininity. "A woman's need to get married is so deeply ingrained in our society," Khan says regretfully when we chat in her makeshift dressing room shortly before her performance. "I wonder how relevant it is to have a marriage that lasts 40 years because we change so much over time. Some of my best relationships, or when I've learned the most, haven't been particularly long, but they've really evolved me as a person. My biggest relationship was eight years long, which is like a marriage, isn't it?"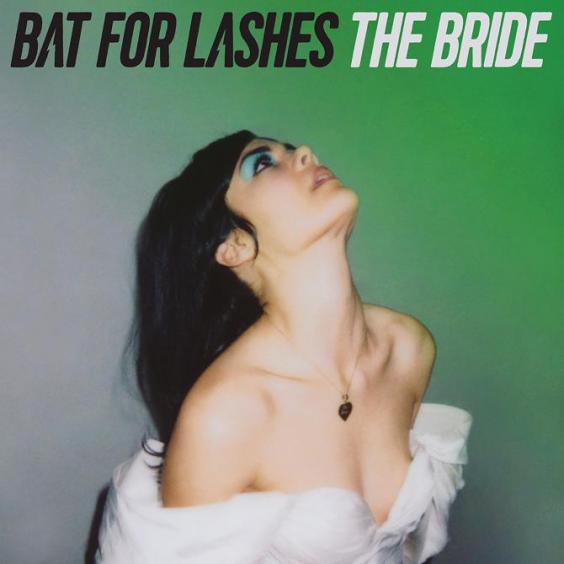 Originally conceived as a feature film with collaborator, artist and filmmaker Neil Krug, The Bride's 12 tracks – inspired by The Wizard of Oz, desert noir scenery and Kenneth Anger, and loosely based on her short film I Do – once again invite you into Khan's disturbed dream-pop realm first seen on her harp-heavy 2006 debut Fur and Gold. Boasting a subtle cinematic feel, The Bride is full of ethereal soundscapes, dissonant ballads, Krautrock undercurrents, emotive slow burners and sumptuous melodies. The electro-tinged "Sunday Love" apart, there is nothing so immediate as to match her biggest hit, the Ivor Novello-winning "Daniel" – that song put her under pressure from her record company, she says, to "become the new Florence, and I'm just not that kind of artist" – but the album nonetheless scored Khan her third Mercury Prize nomination (having failed to win on each occasion, she could conceivably claim to be the bridesmaid as well as The Bride).
"I wanted it be like watching a really cool film develop in front of your eyes," she says. "I've been watching Stranger Things, and the way you get immersed in that world, I wanted the same with the record." 
The Bride might proffer an extreme example, but Khan believes grief is commonplace in relationships. "If someone leaves you, you grieve, questioning it if you were relying on them to complete you. But within a relationship there are cycles of death and rebirth. After the first couple of years that heady romantic phase has to die down in order to move into something more real. And I think there is a grieving process there for that person you put on a pedestal when reality hits. Do you want to love this person unconditionally, or is it based on conditions of romance you need to keep alive? And if so, it can be quite destructive."
One of the album's bravest elements is to question what exactly constitutes a happy ending for a woman. "At the beginning the bride thinks 'happily ever after' is her success at being able to fulfil this ritual, for everyone else to see she's accomplished it. There's a valid 'happily ever after' in that, but she can't fulfil that, and by the end it's much more about coming to another stage of maturity and realising that it doesn't really matter what happens externally, unless you love yourself and feel some sense of self and grounding and connection to what makes you happy internally."
Despite its themes and content, Khan says the album is not overtly feminist. "I'm not really into the feminist statement thing. The future is female and all that stuff does worry me slightly. There was a place for the feminist movement because we did need to be more equal, but I don't think one gender should surpass another." Would she not call herself a feminist?  "I wouldn't label myself as anything, actually. For me, I find that quite black and white. It's like saying would you call yourself brown or black or white, nobody would ever ask me that, but people ask me if I'm a feminist. There's a real heavy history behind that word. I just have my own personal feelings. I enjoy being an empowered woman, I like having the freedom to do what I do, but I also like empowered strong men who help me do what I do."
Khan's performance later is spellbinding, her ceremonial throwing of the wedding bouquet adding to the theatricality. "When I perform everything is heightened, I feel like a high priestess leading ceremonies, stepping into a more mystical place. It's quite deep and spiritual for me."
Yet much like The Bride, Khan is mourning the end of a relationship: to her record company. Khan's contract with Parlophone runs out in January. "It's been an emotional roller-coaster. I'm proud of what we've achieved given I don't speak their language and they don't speak mine, and it's almost like I'm grieving for that decade. It's the end of something."
What comes next is unclear. "I'm quite a homebody and I love gardening and cooking and just being normal Natasha. I have lots of art projects to come, but with music I'm not sure what form anything will take. It's a case of grounding myself and putting stuff back in the well."
Who knows, she says – that might even include tying the knot.
"Making The Bride made me realise that if I want to get married, going through some journey to come home to myself is essential before I commit to anyone else. But I suppose I would love to get married at some point. The romantic part of me still wants that."
'The Bride' is out now
Reuse content