"There's a lot of deja vus going on at the moment," sighs Jez Williams, picking a grape from the fruit bowl on the table and looking around the compact but homely dressing room upstairs in Glasgow's King Tut's Wah Wah Hut. His eyes alight on the fridge. "Look, they've got some drinks in for us, isn't that nice?"
For Williams, playing a venue which fits only a few hundred at a push and where a modest rider isn't guaranteed must be something of a culture shock. For a decade, between the turn of the millennium and the end of its first decade, he, his twin brother, Andy, and singer Jimi Goodwin resided near the top of the UK charts as Doves, a dependably thoughtful British indie-rock group who hit No 1 in the charts with two of their four albums – 2002's The Last Broadcast and 2005's Some Cities.
Today's downsizing has nothing to do with their old group falling on hard times: their final album to date, Kingdom of Rust, missed the top spot by only one place in 2009, before the trio embarked on an open-ended hiatus. Rather, it's because this is one of the very earliest dates for his and Andy's new band, Black Rivers – whose debut single , "Voyager 1", with its swirling, upbeat melodies, has been earning them substantial levels of attention.
"When were we here first?" Jez asks Andy when his brother joins us. "Was it 1999 or 2000? I think we did it once when it was pretty empty, then the second time it was rammed." Andy doesn't have the answer, but he's found a clue. "I've just seen our name on the steps next to 1999," he says. For a recent anniversary, King Tut's had the names of some of the most esteemed bands to have played here printed on their stairs, along with when they appeared. Oasis, Manic Street Preachers, Coldplay, Doves, and so on. "It's on the steps, innit?" laughs Andy. "We must have been here."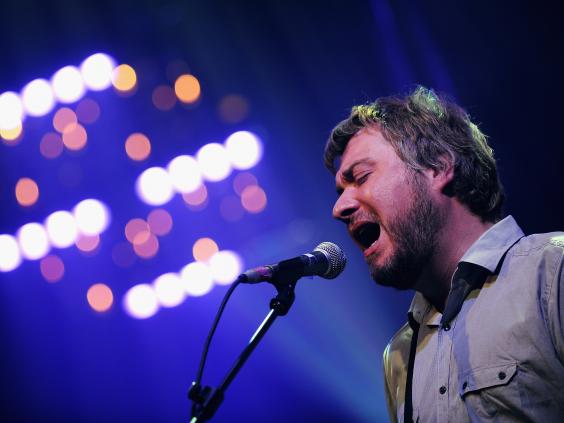 The pair appear to be taking to this next phase in their careers with the nostalgic contentment of middle-aged men being shown around their old high school after decades away (in the Williams' case that school was Wilmslow High in Cheshire, where they met and befriended Goodwin at 15), happily dropping reference to the fact that they now help load their own gear with the other members of the band, a quartet. How did they come to be here, though? Why, if they want to make and play music together, are they not doing it with Doves?
"There's never been a falling out or anything," says Andy, with reference to their relationship with Goodwin. "It was just kind of understood. Between Sub Sub [the trio's post-house, commercial dance incarnation, whose sole hit was 1993's "Ain't No Love (Ain't No Use)"] and Doves it's been 24 years or something, working together. We just reached that point. The last record was tricky to make, so there was this unspoken thing after we did the Best Of [The Places Between: The Best of Doves] in 2010. It just felt like a good time for everyone to..."
He tails off and Jez jumps in: the pair tend to tennis bat answers like this. "We got off the tour bus and what we used to do was reconvene the very next week, but this time no one reconvened and no one went back. It went unsaid. It was just an understood thing that we were going to put it on ice."
The break was exactly what the pair needed to rediscover their love for music, they agree. Andy took time out when his daughter was born and built a home studio ("it's a proper posh man-shed," marvels Jez, clearly jealous, eventually dabbling in music which he describes as more psychedelic than Doves. Jez, who also has a family, branched out into club DJing and electronic production with a couple of mates, releasing tracks to club DJs only. It was around 18 months after putting Doves "on ice" that the pair started working together again.
Rock and pop highlights of 2015
Rock and pop highlights of 2015
1/5 Mark Lanegan Band - touring from 20 January

The most intriguing performance prospect of a fairly docile January is the arrival of the Mark Lanegan Band for a clutch of shows in support of the recent masterly album Phantom Radio. Expect soul-ravaged blues fatalism as Lanegan confronts dark memories and apocalyptic visions with apparent sangfroid, his baritone croon traversing soundscapes of chugging electropop, spiralling guitars and courtly pop melancholy.

Kevin Nixon/Future Publishing/REX

2/5 Bob Dylan - Shadows in the Night released 2 February

An album on which Dylan sings Sinatra, a performer in whose voice he claimed to hear "death, God, the universe, everything". He's eschewing the usual swaddling orchestrations in favour of relaxed small-combo versions, recorded with his own band. They're not cover versions, he explains: "They've been covered enough. Buried, as a matter of fact. What me and my band are basically doing is uncovering them. Lifting them out of the grave and bringing them into the light of day."

Getty Images

3/5 The War on Drugs - touring from 16 February

2014's breakout US indie band will arrive for a string of British dates. Songwriter/frontman Adam Granduciel's blending of Dylanesque vocals, stadium-pop melodies and guitar drones should appeal to fans of Neil Young and My Bloody Valentine alike, and these shows offer the perfect opportunity to check whether they're as loud and overbearing as Sun Kil Moon's Mark Kozelek claims in his amusing song "War on Drugs: Suck My Cock". Thankfully, music is big enough to accommodate both.

Rex Features

4/5 The Jesus and Mary Chain - touring from 16 February

Having bowed to the demand to perform their debut Psychocandy in its entirety – a move that places them firmly in the rock-heritage classicist ranks, rather than the punk-nihilist cadre of their original 1980s inception – the re-formed Mary Chain take their sweet white whine around the country. Expect: great tunes; loud feedback. Don't expect: a revolution.

5/5 Nicki Minaj - touring from 28 March

Initial reaction to Nicki Minaj's new album The Pinkprint is mixed, but however its more assertively autobiographical songs transfer to the live arena, bangers like "Want Some More" and "Anaconda" suggest that her upcoming shows should pack some punch. And the flamboyant diva can surely be relied on to put on a show. But what will be the colour-scheme? Think pink.

Getty Images
"Jez had a spare few days, I had a spare few days, we just started meeting up and playing each other a few ideas," says Andy. The pair have made music together since they were 11, coming up through the late-Eighties Hacienda and Factory Records scene in Manchester as fans – and there was never any question that they wouldn't return to collaboration. The ties here are the automatic ones of family, it seems, and their decision to initially mess around in the studio was no reflection on Goodwin, who produced his solo record earlier this year.
Influenced as much by MGMT's waywardly inventive second record as the British rock lineage they fall within, the pair's as yet untitled debut album was written and recorded between Andy's studio, Jez's studio at Islington Mill in Salford and a cottage on Anglesey, then mixed in New York. It cost two to three thousand pounds, they estimate, because "you have to do it cheaply, as no one buys music now." A Doves record might cost a hundred and fifty thousand.
"Even though we'd retired to this coastal cottage on Anglesey," says Andy, "we weren't putting logs on the fire and getting our pipes out. We just wanted to have energy and to make a modern record – and listening back to it now, there's this definite feel of escapism."
"It's almost like every song is about immigrants, about yearning for a better life," says Jez, referring in particular to "The Ship" and "Voyager 1" itself. "Sometimes you write this stuff and you don't know. This is a new band and that's how it feels. It doesn't feel like, oh, it's a nice little side project.  It's a whole new thing for us." They have no need to prove themselves – they're just content to see where the ship takes them.
Black Rivers' debut single, "Voyager 1", is out  now on Ignition. The debut album will be  released in the spring
Reuse content