There's just no pleasing some people. Eighty-four-year-old Omara Portuondo is the grande dame of Cuban music, with a new album about to be released, a world tour starting, fans begging to take photos with her in the hotel where we meet, a state apartment on the ocean-front Malecon, a hulking new Land Cruiser with driver, and all she can do is moan about the loss of her old Russian jalopy. What happened to the nice burgundy Lada? I ask. "Oh!" sighs Omara, "if only I could have that Lada back! I can't drive this, it's too big..."
Omara's enviably rich twilight years are due essentially to one of the great global successes of the world music movement of the 1990s, the Buena Vista Social Club. In 1996, Omara – one of four original members still touring with the band – like her compatriots, was struggling under the great penury known in Cuba as the "special period", occasioned by the collapse of Soviet economic support. With the sugar industry in ruins, Cuban music, once the most influential in the Latin world, offered one glimmer of hope.
In 1996 the guitarist Ry Cooder followed a trickle of mainly Spanish record producers to Havana and booked into the state record company Egrem's decaying downtown studio. Along with the Cuban band-leader Juan de Marcos González and Nick Gold, proprietor of a small London record company called World Circuit, Cooder's aim was to record new versions of the great pre-revolutionary "golden age" Cuban classics, if possible using the original artists. The results – an initial CD, an award-winning 1998 documentary film by Wim Wenders, a world tour – grew into a virtual industry, with nearly two decades' worth of further records and concerts. International stars were made of forgotten old-timers such as guitarist Compay Segundo, the honey-voiced crooner Ibrahim Ferrer and Rubén González, once pianist for the seminal 1950s conjunto of Arsenio Rodriguez. The stories of these picturesque old characters – Rubén González's termite-destroyed piano, Ferrer's rescue from shoe-shining – fuelled the myth. And as these and four more of the original cast – singers Manuel Licea, Pio Leyva, guitarist Manuel Galbán and bass-playing legend Cachaíto Lopez – died over the following decade, a changing 20-strong pool of new talent filled the gaps.
Portuondo scraped into the cast of Buena Vista. A one-time staple of the great Tropicana cabaret, where she accompanied Nat King Cole, she was eking out her tiny state salary touring surviving socialist outposts. About to leave for Vietnam, she happened to be in the Egrem studio complex when destiny, in the shape of Cooder, called.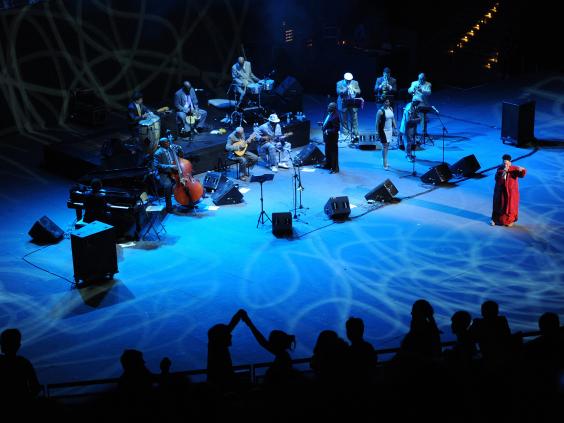 So is Omara looking forward to a bit of well-earned rest when the Adios Buena Vista tour finally rolls to a halt? No she says, touring is her life, and she doesn't find it hard, though a doctor is now part of her touring entourage. "We keep doing Adios tours! It's Adios, then here we are again!" As for the details, she's completely devolved such minutiae to her son and manager. "Ariel", she calls, "where and when is this tour?" "Next month, Mexico, Australia, back home, Europe, South America…" starts the answer.  
And the new Buena Vista album, the one with all sorts of unreleased tracks from the original sessions? "Ariel, what's this about a new BVSC record?" says Omara. "You remember" says Ariel." "You've got two tracks on it, 'Tiene Sabor', with the female chorus, and 'Lagrimas Negras', the one with Eliades Ochoa on guitar and Barbarito Torres on laud".
"Ah" says Omara, "'Lagrimas Negras'… do you want me to sing it to you?"
And she does, ending on a long note of surprising power, at least for an elderly lady in a hotel lobby at 11am. How many times have you recorded that number I ask. "Oh, I've lost count" says Omara, "and I hope to record it many more times. That and 'Veinte Anos'…  My father taught me that song when I was six. You know he was a great baseball player; his father was Spanish, and when he married my grandmother, who was from African slave descent, his family never spoke to him again."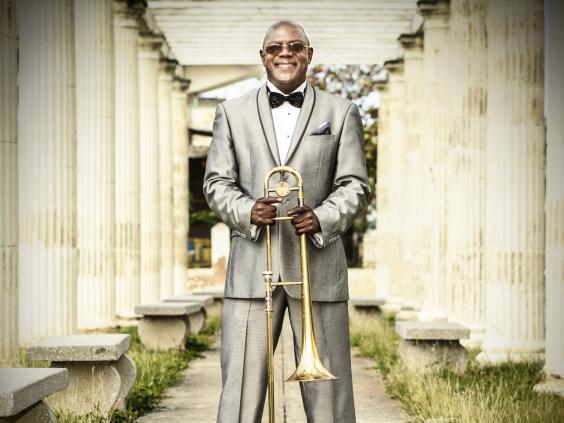 So when, sorry if, Buena Vista Social Club ceases to exist, what will be its legacy, I ask. "It's part of the legacy of Cuba. Just like the Perez Prado and the mambo…"  he says.
BVSC may not be cutting-edge entertainment in Cuba – there's scant evidence of the records among the downloads on offer in the countless pirate music booths. But the brand, albeit essentially an export product, has become a part of the Cuban cultural establishment. The day I meet Omara, the BVSC is due to play a private New Year concert for invited guests of the Communist party, in other words the state. "I wouldn't say BVSC was musically of major significance in the sense that some new style creators have been, for example Arsenio Rodriguez or Beny More", says the musicologist Marina Rodriguez, "but as an outstanding exercise in the creation of very good music under excellent conditions for the artists it's been of national importance for Cuba".
Certainly Havana, blossoming with new private businesses funded by Cuban American exile money, still considers the Buena Vista brand a blue-chip tourist experience. There's a range of dinner and music deals on offer featuring self-styled stars of the Buena Vista Social Club, sometimes with a tenuous connection to the band, often not. The two latest occupy examples of the vast old Spanish colonial palaces which abound in magnificent collapsing Havana. Both verge on the fraudulent, but given the endless supply of excellent entertainers the island is blessed with, both actually provide a good night out.     
"We've discussed taking legal action against the imposters", says Aguaje Ramos, "but there's no support from the government." Trombonist Ramos is the current Buena Vista leader, and, whatever happens après Buena Vista, he's looking forward to easier work conditions post-US thaw, as Cuban musicians will soon be able to receive fees legally from the US.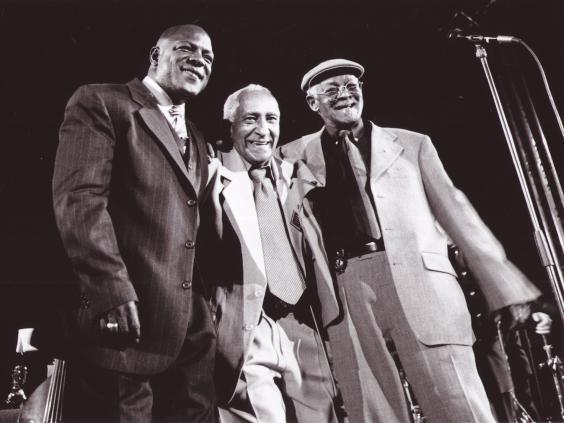 Ramos and two of the three other surviving members of the original 1996 cast have come to the hotel to talk: Barbarito Torres, the laud player whose metal-stringed country instrument was the inspiration for Cooder first's musicological quest to Cuba almost 40 years ago, and Guajiro Mirabal, the quiet avuncular trumpet ace whose career has ranged from the great Tropicana orchestra and the state military band to conservatory professorship. What do they feel BV achieved?  "Well, we brought new life to one of the most important musical traditions of Latin America… and introduced it to a new global audience."          
All three have as yet unpublished tracks from solo Buena Vista brand albums included on the new record. From London, Nick Gold describes the treasure trove he's dipped into. "We were producing new projects non-stop from 1997 and never had time to reflect on everything we had. We knew there were jewels: a beautiful version of 'Macusa' by Compay Segundo, solos recorded late at night by Eliades Ochoa, unheard tracks from Ibrahim Ferrer's Banda Gigante big band project… and loads more". And is this the last BV album? "Well… The band's saying these are the last live shows, but I haven't made any decisions."
In the meantime, the old Egrem studio 101 is soldiering on, looking worse than ever, with half the roof missing. The minuscule rental fee for such an interesting vintage sound is as much of a bargain as ever, and the blue case of personal equipment kept there by the World Circuit sound engineer Jerry Boys is still in a corner. Like much of Havana, Egrem seems trapped between longing for imminent relief after 50 years' cash starvation and fear of a Yankee business invasion. Would the unique period acoustic appreciated by connoisseurs such as Cooder withstand an influx of renovation cash? "We're thinking about this" says a sound engineer "But the main thing is to stop the building falling down". 
Some members of the original cast used their Buena Vista success to move abroad. From Maryland, Juan de Marcos González, the brains behind the whole B V adventure, adds yet another anecdote to the fund of heartwarming Buena Vista legend. "I remember getting Generoso Jiménez, the great arranger of the seminal 1950s Beny More big band, out of retirement for Ibrahim Ferrer's Banda Gigante in 2000. Generoso was deaf and I had to bring him hearing-aid batteries from London." Jiménez also moved, to Miami, where he died, at the peak of his glory, in 2007.  
"Buena Vista was a project to be proud of", says Marcos: "The touring band's still good, and the record has some great tracks. Mind you, a brand-new album would be even better". To judge by some rather un-adios-like sounds emanating from Havana, I wouldn't entirely rule this out, any more than the sight of Omara Portuondo burning up the Malecon in a pristine vintage Lada.
Buena Vista Social Club's 'Lost and Found' is released by World Circuit Records on 23 March. The Orquesta Buena Vista Social Club Adios Tour is at the Royal Albert Hall, London,  5 April, Birmingham Symphony Hall, 13 April, and the Royal Opera House Covent Garden, London 30 July
Reuse content