"Too successful wouldn't be successful enough for me," enthuses Van McCann, the fearless lead singer for Llandudno four-piece Catfish and the Bottlemen, who are fresh off a fruitful US tour.
Catfish and the Bottlemen are now hot property. Their vital debut album, Balcony (produced by Jim Abbiss of Arctic Monkeys fame), climbed to No 10 in the UK charts, their Koko show sold out four months in advance, and they garnered rave notices for their rousing performance at last year's Reading festival.
"Reading was probably the best day of my life, I came off stage and I was shaking with the thrill of it," claims McCann, talking to me without his band (the others don't speak as much apparently) in a West London hotel. "For three days after it I woke up shaking.
"We'd been around for eight years and the NME had been telling us we were shit for seven of them," he continues. "But I looked into the crowd's faces at Reading and the look I was getting off everyone was that look when something is so cute you can't love it enough, like a newborn baby."
Wiry McCann, who is sporting a bruise on his nose owing to a "lamp-post incident", is a garrulous ("I love doing interviews, I'm so flattered to be asked as I used to beg to be interviewed") and engaging force of nature. He's driven (in a good way) and diligent, having already written 300 songs and organised the band's first three albums. However, like all the best outfits, it's live where these catchy indie-rockers make the most sense.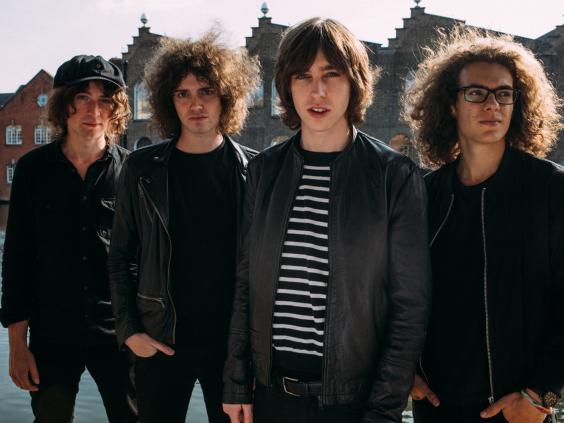 The 22-year-old, who is named after Van Morrison (his father's favourite singer), is unapologetic about his desire for success. Catfish and the Bottlemen (yes, it's an absurd name; more on that later) have been a going concern for eight years, and there's been a fair bit of rejection. McCann is still hurt that Kasabian's lead guitarist, Serge Pizzorno, refused to take a demo tape off him when he was 16; his secondary school expelled him for persistent truancy; and NME were nothing but critical of the band until their recent upsurge. McCann unsurprisingly has a lot to say about all these topics, particularly school.
"I've been asked to go back to the school and do stuff, but I've refused to do that because a lot of the teachers were telling me I wasn't going to do anything or be anyone," he maintains.
A belligerent McCann, whose hero is Muhammad Ali ("his mentality is ingrained in me"), is dismissive of most other British bands.
"I started from nowhere, from nothing, my mum and dad had a guest house and they couldn't even afford to have their own bedroom because they had to rent everything out," emphasises the refreshingly candid McCann. "I used to sleep in the linen cupboard and that was my bedroom.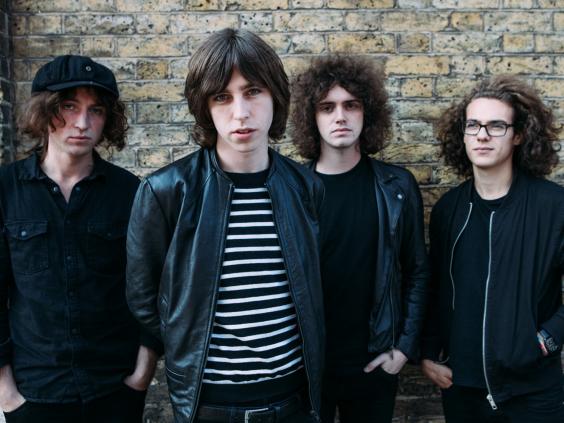 "We're working-class kids and all the bands out there are made up of rich kids," he asserts. "I don't know any bands that come from the background that we come from. We go to these festivals with these proper posh kids who look at us like we're not supposed to be there."
The band, who include Johnny Bond on lead guitar, Benji Blakeway on bass and Bob Hall on drums, have already released (and will no doubt re-release) six singles – "Pacifier", "Cocoon", "Homesick", "Rango", "Kathleen" and stand-out track "Fallout" – and their guitar sound is a blend of The Strokes (in America they've been described as the "British Strokes"), Arctic Monkeys and The Walkmen. McCann writes uncomplicated and confessional songs, peppered with profanity, about "girls and escapism".
"I write honest stories about what's happening in my life," McCann maintains.
"For instance, I met this girl in a band recently and I proper fancy her, so I said I was going to write a song about her. She said, 'I don't care as long as you don't put my name on it', so the first word of the song is her name."
Typical lyrics are "She hates her work but loves to flirt/ Shame, she don't work with me" (on "Homesick") and "I spent my yesterday/ Ducking your calls/ And in fear that things would change" ("Fallout"). They're not terribly nuanced but they're occasionally droll, and the Streets' Mike Skinner is McCann's biggest influence. He has no time for the likes of Muse, who write about "planes and robots", but he is aiming to create the same sort of big-arena choruses.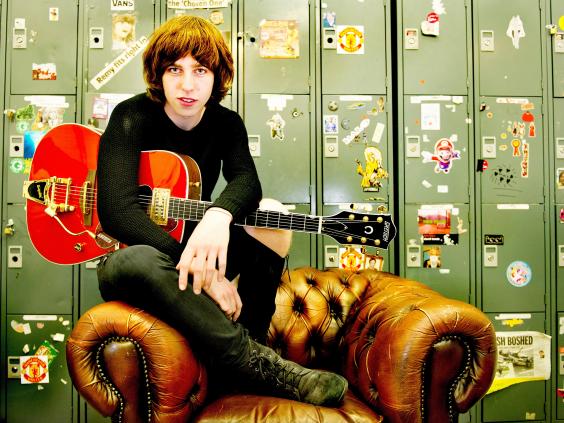 "People are afraid of saying they want to sell out, but for me that's what it's all about, getting on ketchup adverts and all that," he claims. "I went to see Beyoncé and Jay Z in New York and straight after the gig two helicopters turned up and collected them. I bet they were at their kids' bedside put 101 Dalmatians on for them, went to the gig and they came back from the gig before the credits came on. I would love to do that."
So, he wants be a squillionaire?
"No, I don't like money, I don't like what it does to people," he says. "Whenever I get money I buy my parents a meal. All my money goes on fags and tea… and helicopters," he quips. So where does the band's daft name, which unhelpfully recalls Hootie & the Blowfish, come from? Well, Van's mother was run over as a child and was informed she couldn't have children. However, McCann's parents refused to give up, working two jobs in order to afford IVF. It didn't work until the last round and Van is the result – a test tube "miracle" baby. To celebrate the couple travelled extensively around Australia with their two-year son, whose "first experience of live music was at Sydney harbour watching a busker called Catfish the Bottleman playing his drum kit".
It's a sweet story and McCann, for all his  bluster, is pretty much impossible to dislike. Although he claims to be "mental" he appears pretty grounded too.
"We don't go out partying because we don't feel like we've got anything to party about," McCann claims. "We're still not where we want to be and we'll do anything to get there."
You don't doubt him.
Catfish and the Bottlemen re-release single "Pac-ifier" on 24 November, and tour until 13 December
Reuse content