There are only so many heartbreak songs a singer can sing before the listener smells a rat. No one is that unlucky in love, and surely nobody can stumble quite so calamitously from one dysfunctional relationship to the next time and again.
Not whiskey-sodden singers of country and western; not even Adele. 
Chris Isaak, US crooner par excellence for the past 30 years, has been, in one sense, singing from the same song sheet all along. In a voice eerily redolent of early Elvis Presley and Roy Orbison, he sings of untrustworthy girlfriends and relationships destroyed.
His new album, First Comes the Night, is similarly rife with disharmony. "Found my flower where you tossed it," he laments on "Keep Hanging On". Poetry isn't even required on a track as bluntly titled as "Don't Break My Heart", and on "Some Days Are Harder Than the Rest", in which he harangues a former lover ("Did you think that you would go and I would just forget?"), his anguish is so palpable it all but climbs out of the speakers and expires in your lap.
But the man himself insists this is no mere act. He is singing from direct experience. At least he claims to be.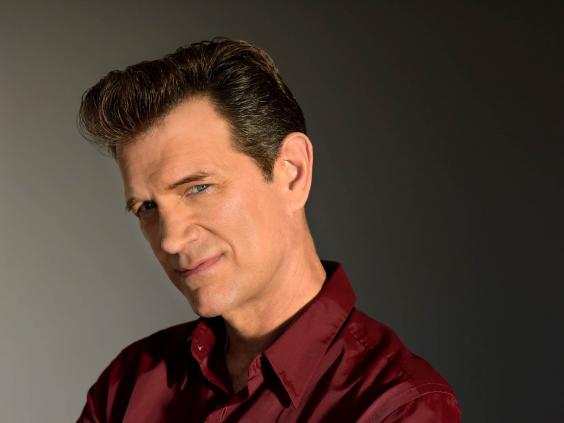 "So many of my songs are based on past girlfriends," he says, and mentions another track here, "Baby What You Want Me to Do", a "pinup girl with a femme fatale body" intent on breaking hearts. "She had a boyfriend who was mean to her, so she got her own back on him.
She made love to him every possible way, cooked all his favourite meals, and after 30 days of perfection, left without a word. Trouble is, she keeps doing it."
Isaak knew all about this, he admits, when he took up with her. She subsequently broke his heart, too. He holds his hands up. "All my own fault, but you know, she was gorgeous. Shame she was also vindictive and angry."
Had he not got such creative mileage out of heartbreak over the years, you'd imagine Isaak to be angry and vindictive himself. The impression this occasional actor gives, however, is of someone entirely happy with his lot.
Musicians and Actors on Growing Old Disgracefully
Musicians and Actors on Growing Old Disgracefully
1/5 Lemmy

The Motorhead frontman recently revealed his excessive lifestyle - rumoured to involve drinking a bottle of whisky a day - had to be scaled back after he started being unable to stand up during a recent show.

Getty Images

2/5 Willie-Nelson

82-year-old Nelson says he started smoking cigarettes when he was just six, and that his love affair with marijuana was the "smoothest" of all his marriages. He even has his own brand of marijuana called 'Willie's Reserve'.

Getty

3/5 Shane-MacGowan

The Pogues singer was kicked out the band in the nineties for his excessive drinking, and was given just six weeks to live, and is still partial to a G&T after a doctor suggested he stick to clear liquids.

Getty

4/5 Keith-Richards

The Rolling Stone guitarist is still a fan of marijuana. ""I smoke regularly, an early morning joint. Strictly Californian," he told Mojo.

Getty Images

5/5 Jack-Nicholson

The legendary actor knows his limits, even if they are extreme. "I've woken up in trees, I've woken up almost hanging off cliffs, but I've always known how to sort myself out."

Getty Images
"Let me quote Sinatra to you," he says, flashing a smile only an American could boast. "Regrets, I've had a few/But then again, too few to mention."
We meet late afternoon early this month, at his record company. The moment I walk into the room, he serenades me with a song, "Every Night I Miss You More", the most country-tinged track on an album recorded in Nashville.
Affixed across the top of his guitar are 10 plastic letters that spell out CHRIS ISAAK, perhaps to deter thieves. He has his name written on his belt, too.
The man will be 60 this year, but has somehow maintained both his matinee idol looks and his impeccable quiff. His mischievous grin, meanwhile, is positively teenage. It has been 27 years since his breakthrough hit single, 1990's "Wicked Game", and though that proved to be his commercial high point, he has not stopped working since. 
"I never missed a gig in 30 years," he boasts, "and I'm always on the road, hustling. You know, there's a lot of crazy talent out there: Lennon and McCartney, Elvis, Adele. The rest of us have to get up early and work late to compete. I may not be as talented, but I don't drink, I don't smoke, and I work hard. Always did."
He was born in Stockton, California ("once named the most violent town in America," he points out), and briefly became a boxer before his love of Sam Phillips-produced Elvis songs tempted him to follow suit. His parents were blue-collar: father drove a forklift truck, mother worked in a crisps factory.
He had no idea someone of his background could do something as fanciful as music, but, he says, "I just loved to sing."
And he could do so beautifully. The success of "Wicked Game", a song so out of time then it remains curiously fresh today, opened all sorts of doors.
He began dabbling in acting, notably in David Lynch's Twin Peaks: Fire Walk with Me; he popped up in an episode of Friends (as a primary school teacher); and is currently a judge on Australia's The X Factor, alongside James Blunt.
"I still see myself struggling to make it, and I'm just trying to do good product," he says, humble as little orphan Annie. "I never think I've arrived. I'm still trying to get there!"
This work ethic, he suggests, is perhaps one reason why he has failed to attain anything even resembling domestic bliss. "If I had married my first girlfriend, maybe I'd never have lived this life. But then this is the road I chose. I never married a supermodel and divorced her, never got into cocaine and rehab, never bought a jet plane or a racehorse or boat. I'm happy with my choices. And I don't think I have had any more bad luck in my relationships than anyone else. I just whine about it more."
Home these days is San Francisco, in a house overlooking the ocean. Ultimately, though, his tastes remain modest. "If you look in my cupboard, you'll find cans of sardines."
He claims to have few friends – his closest friends are his band members, his manager – and they are often busy with their own families. Which must make him rather lonely. How does he occupy his time away from music, I ask.
"I draw. I'm no Picasso, and nobody will ever look at my stuff and say, 'What a genius'. In fact, they may look at my stuff and go, 'He's a creep!'" Why? "Half the cartoons I draw could be Disney, but the other half has full penetration sex! Ha! It's filthy!"
A psychiatrist, you sense, would have a field day here. I ask him why he draws such crude comic strips.
"It's just a fun thing to draw your fantasies," he reasons. "I never try to edit myself, and I'll draw anything I goddamn please." 
'First Comes the Night' is out now
Reuse content