As the Eurovision final draws closer, voters' minds are once again turning to the contest's politics with all eyes on Ukraine and Russia.
After being booed at the semi-final on Tuesday, Russia is widely expected to lose out in the voting as a result of both its strict anti-gay propaganda laws and the current crisis in Ukraine.
The cheesiest, campest and arguably most ridiculous of all music competitions has long been plagued with cries of "It's just political!" and, when it comes to these two countries, it might well be.
But is it really true that the outcome is always rigged by tactical, politically-motivated voting? Do neighbouring countries vote for each other? And can Britain's poor performance in 2003 be blamed solely on Blair's Iraq invasion?
We take a look at whether Eurovision is as political as people claim...
1) Eastern Europeans just vote for their best mates
One of the main issues fans take with Eurovision seems to be over "bloc voting", where neighbouring countries award one another the top 12 points.
The chart below shows the number of times "buddy" nations have given full marks to the other since 2009, with Turkey and Azerbaijan the worst offenders.
Perhaps it's worth considering that viewers are more likely to vote for acts they have heard of.
Serbia's Zeljko Joksimovic won numerous votes from former Yugoslavian countries in 2012 because he is popular in the Balkans.
Neighbouring countries often share a similar language and musical tradition, meaning that a household name in one country will likely hold a similar status in the other.
2) Britain gets 'nul points' because Tony Blair invaded Iraq
Yes, the decision was an unpopular one, but this is Eurovision – feel-good songs, cheesy grins and outrageous outfits all round, right?
Some critics believe the UK's chances plummeted because of the Iraq War in 2003 (see chart below showing points awarded to the UK from 2000 to 2009).
That same year Jemini suffered the "nil points" nightmare that had, until then, eluded the UK. The duo confessed to singing out of tune and the song was nothing short of terrible.
While it's always fun to blame Tony Blair, it probably wasn't his fault we did so badly...
As mentioned above, this year, Ukraine and Russia will engage in a music propaganda battle which many suspect will see the latter lose out on votes.
3) Expats are voting for their native entries
Eurovision rules state that countries are not allowed to vote for their own song (sorry, Molly). Cue uproar over people living abroad racking up votes for their homeland i.e Russians in Estonia and Cypriots with Greek heritage.
The jury's out on whether this has been skewing the voting enough to change the outcome.
4) Israel is not in Europe but still takes part. Urm...?
Israel has been allowed to participate in Eurovision since 1973 as it is within the European Broadcasting Area and a member of the European Broadcasting Union.
Each year, Eurovision invitations are sent out to all active members of the EBU. Some choose to take part while others do not. Israel's keen, simple as that.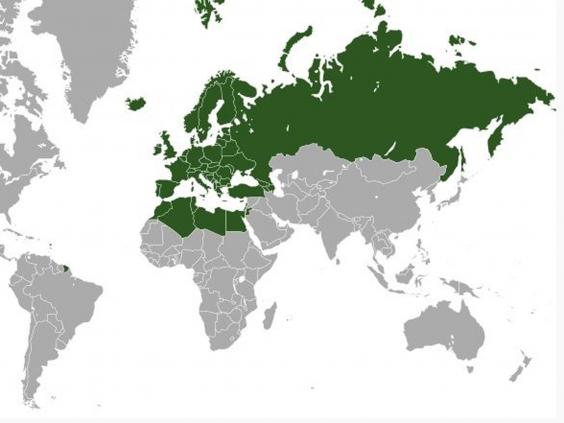 Morocco has also entered Eurovision before but it has not returned since Samira Ben Said performed "Bitakat Hob (Love Message)" in 1980. As for Turkey, part of it is in Europe and the other in Asia, making it eligible for Eurovision.
Eurovision 2014 contestants
Eurovision 2014 contestants
1/37 Conchita Wurst for Austria

Tom Neuwirth has been performing as his alter ego Conchita since 2011. For this year's contest he will be singing 'Rise Like a Phoenix'. Tom's motto is: 'Be the best version of yourself rather than a bad copy of someone else'. Conchita is a symbol for tolerance and artistic freedom around the world.

ORF/Thomas Ramstorfer

2/37 Molly Smitten-Downes for the UK

Molly is an up and coming singer-songwriter who will represent the UK in Copenhagen with her own song 'Children of the Universe'. The track includes a strong drum beat and lyrics designed to promote 'love and unity'.

BBC/PA

3/37 Vilija Matačiūnaitė for Lithuania

Vilija's singing talent was first spotted by her kindergarten teacher. She began a professional singing career aged 18 and will perform 'Attention' at Eurovision 2014.

Darius Gražys Vilija Matačiūnauitė "Attention"

4/37 Tinkara Kovač for Slovenia

Tinkara will be performing 'Round and Round' for Eurovision 2014. She is a singer, flautist and lyricist who has recorded two albums. Past collaborations include Robert Plant and Ian Anderson.

Matej Mljač/ Tinkara Kovač

5/37 The Tolmachevy Twins for Russia

These girls won Junior Eurovision in 2006 aged nine. Anastasiya and Maria are all grown-up now and ready to perform 'Shine' in Copenhagen.

RTR

6/37 Hersi for Albania

Hersi Matmuja is just 24 but has already participated in her country's Eurovision selection festival five times. She has been pursuing a career in both modern and classical music. Her song for the contest is 'One Night's Anger'.

Avni Selmani

7/37 Tijana for FYR Macedonia

Tijana Dapcevic is well-known as a singer, cellist and actress. Her Eurovision song choice 'To the Sky' fits with her life motto: 'The sky's the limit - nothing is impossible'. Her sister Tamara will perform as her backing vocalist in Copenhagen.

Dusan Jaukovic

8/37 Mei Finegold for Israel

Mei will be performing 'Same Heart' at Eurovision 2014. She is renowned as one of the most unique singers on the Israeli music scene.

Lior Nordman

9/37 Freaky Fortune feat. RiskyKidd for Greece

Nikolas Raptakis and Theofilos Pouzbouris are both 23. They will be performing 'Rise Up' for the competition after making their breakthrough online. Freaky Fortune's cover of Katy Perry's 'Part of Me' was championed by blogger Perez Hilton.

Maria Delakou / Freaky Fortune feat. RiskyKidd

10/37 András Kállay-Saunders for Hungary

András is a long-time lover of Eurovision. He will be singing 'Running' for the 2014 contest - a song with a strong link to his one life. 'I wrote this song about a childhood friend of mine who was victim to child abuse. I would like to raise awareness to this topic.'

Dávid Ajkai

11/37 Donatan & Cleo for Poland

This duo's song 'My Slowianie' was a hit in Poland and the video has been viewed more than 40 million times on YouTube. They will be singing the song - translated to mean 'We Are Slavic' - in Copenhagen.

Respective Broadcasters/EBU Donatan & Cleo

12/37 Suzy for Portugal

Suzy performed on-stage for the first time aged 5. She has performed at various musical events and will be singing 'Quero Ser Tua' for this year's contest.

Cátia Castel-Branco / RTP

13/37 The Shin & Mariko for Georgia

Germany-based band The Shin became famous for interweaving traditional Georgian music with more mainstream influences. 'Three Minutes to Earth' reflects this style. 'It describes the last three minutes of a long walk back to Earth.'

Jiji Rejini / GPB

14/37 Firelight for Malta

Firelight is a fairly new Maltese country folk-pop band. They only formed last June! Nevertheless they will be performing 'Coming Home' for Malta at this year's Eurovision.

Mario Micallef / PBS

15/37 Softengine for Finland

Eurovision 2014 will be the first big performance for Softengine. The group arrived at their current line-up last summer and will be performing 'Something Better' in Copenhagen.

Marek Sabogal / YLE

16/37 Basim for Denmark

Basim is a household name in his native Denmark. He came fourth in the first season of The X Factor in 2008 and will now perform 'Cliche Love Song' at Eurovision.

Jens Rosenfeldt / DR

17/37 Pollapönk for Iceland

Pollapönk were founded in 2006 and are set to perform 'No Prejudice' in Copenhagen. The song is about a young person with a speech impediment who is afraid of being bullied.

Jonatan Gretarsson / RUV

18/37 Can-linn feat. Kasey Smith for Ireland

Kasey Smith from Dublin found fame with girlband Wonderland in 2010. The group were tutored by Louis Walsh and Kian Egan. Since then the 23-year-old has been in Nashville focusing on her solo career. She will perform 'Heartbeat' at Eurovision.

Philip McMillan / RTE

19/37 Tanja for Estonia

Tanja moved to Estonia from Russia aged two months. She will perform her song 'Amazing' in Copenhagen.

Stina Kase

20/37 Emma for Italy

Emma describes music as 'like drinking, sleeping, eating'. She used to follow her father's band gigs and will sing 'La Mia Citta' in Copenhagen.

Flavio & Frank

21/37 Twin Twin for France

Twin Twin (not Tin Tin!) won't be letting anyone forget their performance in a hurry. The trio are known for their extravagant style and bouncy stage presence. Twin Twin will sing 'Moustache' at Eurovision.

TWIN TWIN

22/37 Sergej for Montenegro

Sergej will be singing 'Moj Svijet' in Copenhagen. He began his musical career aged 10 when he won second place in the child festival Our Joy.

Kristina Cetkovic / RTCG

23/37 Ruth Lorenzo for Spain

Ruth was destined to be a singer after screaming so loudly when she was born. She started singing opera aged six and will be performing 'Dancing In The Rain' at Eurovision 2014.

Josep Echaburu - RTVE

24/37 Elaiza for Germany

This female trio gained a wildcard for the German national final out of more than 2,200 acts who applied via YouTube. They will perform their own song 'Is It Right?' after beating seven of the German music scene's most famous acts.

Ben Wolf

25/37 Sebalter for Switzerland

Sebalter will be fulfilling a life-long dream when he performs at Eurovision. His trademark is the fiddle which he began playing aged six. Sebalter will perform 'Hunter of Stars' in Copenhagen.

SRF/Merly Knörle

26/37 The Common Linnets for The Netherlands

Ilse DeLange and Waylon make up this act who will be performing 'Calm After The Storm' at Eurovision 2014. The pair recently travelling to Nashville to prepare for their appearance.

Paul Bellaart / The Common Linnets

27/37 Sanna Nielsen for Sweden

Sanna, 29, broke onto the music scene aged 11 and is now one of her country's most famous pop artists. She will be singing 'Undo' for this year's competition.

Per Kristiansen

28/37 Paula Seling and OVI for Romania

Seling is a multi-talented entertainer who has won awards as a classical piano player. She will be performing 'Miracle' with OVI in Copenhagen this May.

Radu Bucura

29/37 Dilara Kazimova for Azerbaijan

Dilara is influenced by traditional Azeri folk music as well as rock legends like Freddie Mercury. She will perform 'Start A Fire' for Eurovision 2014.

Sergey Illin

30/37 ARAM MP3 for Armenia

Aram will be representing Armenia in Copenhagen this May with 'Not Alone'. His shows are unpredictable and unique so we're in for a treat.

Arnos Martirosyan/ARAM MP3

31/37 Mariya Yaremchuk for Ukraine

Mariya hopes to take home the glory for Ukraine with her own intense track 'Tick Tock'. The plan is for her performance to be 'soulful and simple'.

Sergey Illin

32/37 Teo for Belarus

Teo, real name Yuriy Vaschuk has experience in singing, composing and arranging. A born entertainer, he will perform 'Cheesecake' in Copenhagen which may or may not be cheesy (we suspect cheesy).

BTRC

33/37 Cristina Scarlat for Moldova

Cristina was born into a family with traditional music roots and has always been surrounded by music. She graduated from the Moldovan music conservatory in 2006 and will be singing 'Wild Soul' in Copenhagen.

Vlad Vlas/Cristina Scarlat

34/37 Carl Espen for Norway

Carl was born in Bergen in 1982 and will represent Norway at the 2014 Eurovision Song Contest with the song 'Silent Storm'.

Kim Erlandsen/NRK

35/37 Axel Hirsoux for Belgium

Trumpet-playing Axel from Charleroi will take to the stage in Copenhagen this May to perform 'Mother' for Belgium.

Bart Musschoot

36/37 Valentina Monetta for San Marino

Valentina was born in 1975 as the second of two children. She describes her music taste as eclectiv and will sing 'Maybe (Forse)' at Eurovision 2014.

Augusto Betiula/Valentina Monetta

37/37 Aarzemnieki for Latvia

Aarzemnieki (or Foreigners) began as a YouTube sensation in 2013 after Joran Steinhauer wrote a farewell song to the Lat currency. Now the group will sing 'Cake To Bake' in Copenhagen.

Linda Rutule/ Aarzemnieki (Latvia)
5) Lifting the language rule has ruined the UK's chances
In 1999, Eurovision organisers abandoned a rule stating that songs must be performed in an official language of the participating country. This meant that other countries could perform in English.
The UK's success rate started to fall from then, with only two entrants finishing in the top ten. It does make the whole thing much more enjoyable for the English though, as we can hear those cheesy lyrics in all their glory.
So are Brits just more cynical about Eurovision than other countries?
In short, yes. A pan-European YouGov poll conducted on the eve of last year's Eurovision revealed that Brits are most likely to claim that political voting scuppers certain countries' chances of winning.
The Eurovision Song Contest was founded after World War II in the hope of uniting European countries through light-hearted, fun entertainment. Less than 15 per cent of Brits believe this aim has been achieved.
Perhaps it's time to lighten up, host a Eurovision bash and just enjoy the spectacle.
Start by watching the UK's entry Molly Smitten-Downes perform her song "Children of the Universe":