Frank Turner is a busy man. Too busy, it seems, to meet up with me in person. But as the hardcore-punk-turned-folk-troubadour speaks down the phone from Munich I'll let him off, not merely because he is out of the country, but as he is manically preparing for the biggest show of his career.
There are nine days and 570 miles separating Turner and a potential crowd of 11,000 fans at London's iconic Wembley Arena when he speaks with me, and his seat shuffling impatience leaks its way into every word.
"The weight of expectation and the amount of work that's going in – there's a million different things flying backwards and forwards – mean I'm  at that point now where I just want to do the show," he says.
If it sells out – with around 200 tickets left, he says it's "tantalisingly close" – the Wembley concert will see the 30-year-old playing to over twice the number of people he's headlined to before, dwarfing past sell-out gigs at Brixton Academy and Hammersmith Apollo.
As a relentless player to such modest venues, what made the Winchester singer think he could join the rock 'n' roll royalty of The Beatles and The Stones, and more recently the teen fodder of McFly and The Saturdays, in packing out the legendary arena?
"It certainly wasn't an automatic snap decision," he tells me.  "I spent quite a lot of time trying to decide whether doing an arena show was the right move, because as far as I'm aware the intimacy and the personal connection thing is a big part of the attraction of the music I make."
Indeed, Turner's stripped back, and often viscerally honest folk-tinged rock  is celebrated among his army of die-hard fans for sounding most at home in the sweaty backrooms of pubs where it debuted seven years ago. However, he insists that this sense of up-close camaraderie is not impossible to recreate in an arena setting, and, ultimately, he would be stupid to turn down such an opportunity.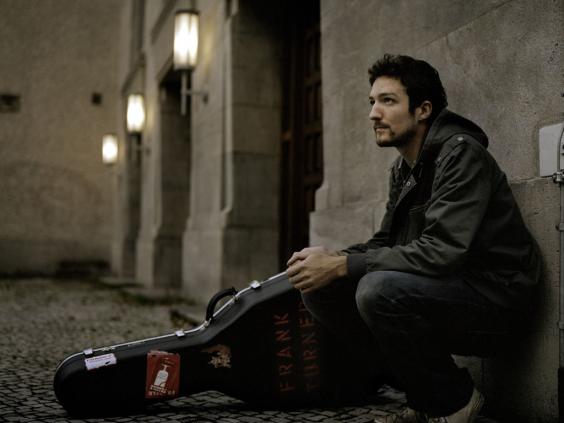 "One of the main things that swung it for me was just that I may never have the chance to book a show this size again."
So is this Turner's 'all or nothing' moment?
 "I try and be a realist," he sounds relaxed, but this has evidently played on his mind. "If you look at the number of people who want to be a full-time musician and compare it with the number of people who get to do it over a lifetime, as opposed to a couple of years in their early twenties, the odds are against me.
"Who knows," he says. "This might be the zenith of my career."
The looming show would have been unimaginable for the Turner of 2005, touring the UK by train, accompanied only by a backpack and acoustic guitar, playing tiny bars and squats, and relying on good-natured punters to offer him a bed for the night.
When he threw himself into what he calls this "super solo" 18 months of continual touring, Turner's John Peel-endorsed political hardcore outfit Million Dead had come to a hostile end after two albums and a rapturous response from the underground. While some purists still blame Turner's pursuit of a solo career as the reason for the band's split, this is something he wants to finally put to bed.
"I know I'm pretty much the only person in the world that actually gives a shit about this," he says despairingly.  "But it's kind of important to me that Million Dead didn't break up because I wanted to play solo shows, I played solo shows because Million Dead broke up. It's kind of a point finale for me. "
Turner also points out that Million Dead headlined their largest show to 600 people and only made two records, while last year's England Keep My Bones was his fourth as a solo artist, on top of various EPs and rarities collections, so he feels it's time for the constant comparisons to his shaggier-haired, scratchier-vocalled days to come to an end.
First discovering punk rock through a friend's father's endorsement of The Clash, Turner was soon drawn to the US's offerings and, ultimately, the 'big three' of Black Flag, Minor Threat and Dead Kennedys. While he says that he still conducts himself "in a way that remains true to [Black Flag frontman] Henry Rollins, essentially", a love affair with the world of more understated, melodic music came when a friend played him Bruce Springsteen and Johnny Cash during the tail end of Million Dead.
"It was a huge eye-opener for me that you could be just as intense and profound using just an acoustic guitar and a bad microphone in a hotel room as you could if you took your shirt off and started screaming in people's faces," he says.
Having used the softer sides of Americana, folk and country to take refuge from the "maelstrom of electric guitars and awkward noise" of his former band, he says it made a lot of sense to pursue a more stripped back, straightforward approach to songwriting when going solo.
Much of Turner's early solo work was Billy Bragg-esque political folk, with songs such as 'Thatcher F*cked the Kids' and 'Once We Were Anarchists' railing against a society that had neglected its youth, while lampooning the apathy of the neo-liberal Left of his parents' generation that was beginning to drip down into his own. However, this state of the nation commentary seems to have been absent in recent years, leaving many disgruntled fans asking why he turned his back.
" I had a glance through a door into a world to see what it would be like if I was a full-time political folk singer, and it wasn't a vision that appealed to me, " he explains. "It suddenly became very sectarian; suddenly everything was judged by something other than music.
"At the end of the day, I want to be a musician, and I hate the idea of people not coming to my shows because they disagree with my politics."
He adds that he feels there is a certain "assumed centre-Left malais within the music scene," which is at odds with his own loosely libertarian politics and he says that, while he won't rule out writing more political music, his fans should be careful what they wish for.
"People go, 'oh, I really want you to write a political song,' to which I quietly say to myself 'I have a feeling you're not going to like it if I do'."
While politics and social observations may have taken a backseat, the concepts of England and his home county of Hampshire are ones that have increasingly reared their heads throughout his back catalogue, not least in the aforementioned latest album. In 'English Curse', for example –  an a cappella folk jaunt that recounts the Norman Conquest – Turner sings "If you steal the land of an Englishman then you will know this curse/ Your first born son's warm blood will run upon this English earth". He says he also toyed with the idea of reclaiming St George's Cross for the artwork of England… to make it something that isn't "automatically associated with football violence and racism", in a similar way that Britpop did in the nineties with the Union Flag, but chickened out after concluding that it would "cause a massive shit fight".
Would it be right though, to label the self-styled 'Wessex boy' a patriot?
"I'm wary of that word to be honest; the mental associations I have with it are not necessarily good ones."
Turner says his relationship with England is a complex one, and despite feeling more identifiably English as he grows older, it is something that sits uneasy with him. While he openly loves the English countryside and certain periods of English history, he finds many aspects of 'Englishness' very depressing, not least its "obsession with class".
He studied at Eton (albeit on a scholarship) before the LSE, and as the grandson of Sir Mark Turner, former chairman of BHS, he has attracted a fair amount of flak over the years  from those who question his authority to speak as a man of the people.
This is a subject that stirs similar feelings to the dispansion of Million Dead, as he explains with an air of exhaustive frustration.
"I deal with a lot of people who think it's perfectly legitimate to call me a c*nt because of decisions my parents made about my schooling, and I find that most tear-enducingly stupid and shit."
But beyond the more contentious issues in Turner's writing, there has always been an element of love, be this in nostalgic stories about carefree times with friends, the power of music itself or in the intensely personal – and often painfully candid – portrayals of doomed romantic relationships, and the man who once boldly sang "music is my substitute for love" is now settled with longterm girlfriend Isabel in a relationship that he admits has "not been the smoothest ride," something he puts down to his near constant touring.
Not that he wants sympathy for this. Acknowledging how lucky he is to be playing music for a living, he shuns those that heap praise on his busy schedule.
 "If you add up the number of 9-5 office days in a year and the number of shows I do, you're talking roughly a similar number," he explains. " I don't deserve plaudits for working as hard as everybody else does."
But averaging 200 shows per year, how long does he see himself continuing life on the road, especially with the strain it puts on his relationship?
Billy Bragg, who supports Turner at Wembley next week (he's been in the game too long to care about the "usual political bullshit about who goes where on a bill", I'm informed) apparently told him that he was 40 when ran out of stamina, so Turner hopes he has another ten years in him at least, but cornily admits that he'd "love to be doing this forever".
After Wembley and a new album, Turner plans on touring smaller venues again, as well as unleashing a long-awaited "fun, rock 'n' roll hardcore" side-project, where he'll literally scream alongside Million Dead drummer Ben Dawson and Matt Nasir from the Sleeping Souls (Turner's 'E-Street Band'), assuring me he'll "strip down to [his] underwear and start pouring drinks on people in the front row".
But really, how can he top Wembley?
"Two nights at Wembley," he jokes, before straightening up. "I'm not an unambitious person, I've long grown out of being the indie warrior who believes that bands are only valid if only five people like them, and it would not be a problem to me if I was having this conversation in ten years time and I was playing the O2, the Dome, or whatever the fuck it's called.
"But for now it's best I do as much as I can while the opportunity's there," he starts before closing off with a typically English idiom. "I've got to make hay while the sun shines."
Frank Turner and the Sleeping Souls play Wembley Arena on Friday 13 April, with support from Billy Bragg, dan le sac Vs Scroobius Pip and Beans on Toast
Reuse content