George Ezra is sitting backstage in Vienna, trying to explain why Europe might have fallen for his charms before the UK.
"I don't really know. I joke that it's because it's where I wrote a lot of the album but it's obviously not that. I've no … look, there's a poster over there for a band called Stoner Kebab," he says, before chuckling away to himself.
This is typical George Ezra, one of last year's breakout stars. Whether he's manically switching songs on his iPod to play to his crew or bouncing around offering everyone cups of tea, his attention flits from one thing to the next. He's easygoing, and any pressure that comes with a rapid rise such as his fails to show on his young face. Or maybe he's just 21.
Whatever it is, Ezra, quite rightly, is in a chirpy mood. Even if we were a little behind, Britain has caught up with the continent, and Ezra enjoyed one of the most successful musical debuts of 2014. His number one album, Wanted on Voyage, released in June, was riding high in the Top 10 until the end of the year. And you can expect to see his name at various music award ceremonies over the coming months.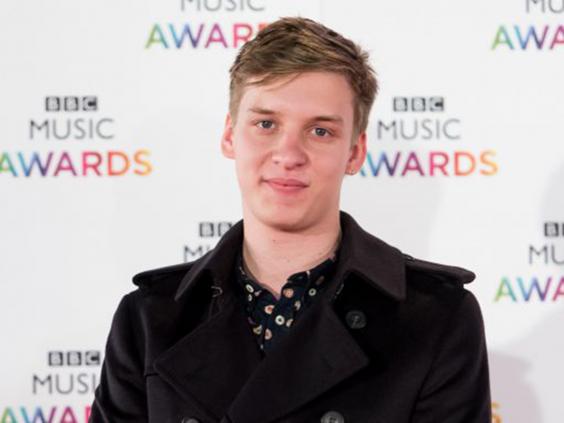 But Ezra struggles to pick a highlight of the year, instead insisting that "the year will be a highlight". What about having a No 1 debut album, I offer. "I have this inability to realise what's going on," he insists. "It was a bit shit actually. I was in a hotel room by myself and got a phone call. So I was, like, 'Yay.' It was a lonely celebration."
There was a time when the magnitude of his catchy platinum-selling single "Budapest" looked in danger of swamping anything else he put out. But while it might remain his most recognisable track, fortunately, that's not been the case at all. When he performs his monster hit  at the sold-out Austrian show, the crowd, sure enough, let loose. One can only imagine what they did the previous night when he performed it in the Hungarian capital.
At the front of the crowd there are rows of girls who have elbowed their way there and stare up at the object of their affection, captivated. The tall blonde might bemoan his inability to grow a beard, but his baby-faced looks have clearly left many enthralled. So how is he handling the female attention?
"I actually find it really hard to deal with people looking up to me or being interested in wanting a picture," he says, looking a bit uncomfortable for the first time. "Anyone that I think is amazing at what they do, I always have it in the back of my mind that they might be a dickhead. I'm never rude about it or anything; I'll always smile, I appreciate it. It just goes over my head a little bit."
Most searched-for song lyrics
Most searched-for song lyrics
1/10 1

'Happy' - Pharrell Williams

Getty

2/10 2

'Rather Be' - Clean Bandit

3/10 3

'Royal' - Lorde

4/10 4

'I'm Not The Only One' - Sam Smith

Getty

5/10 5

'How Long Will I Love You' - Ellie Goulding

Getty Images

6/10 6

'Counting Stars' - One Republic

Getty

7/10 7

'Chandelier' - Sia

Getty

8/10 8

'Sing' - Ed Sheeran

Getty

9/10 9

'Let Her Go' - Passenger

Getty

10/10 10

'Budapest' - George Ezra

Getty Images
Dig a little deeper, and behind the easy-breezy demeanour lies a young man who can't quite get his head around celebrity. He wonders why famous musicians with similar hectic schedules to his get back home and want to club-hop with showbiz pals. "I'm, like, do you not have friends and family you want to see? My closest friends are still the ones that I grew up with." On being signed, he requested that his face wouldn't appear on the album. As a compromise, he peers out of a crowd on the cover, most of which, incidentally, is made up of his mates.
"When I was younger, I used to love the idea of writing songs and performing them live. But that was all I thought about," he says. "I didn't think about people getting to know my face."
And when asked whose career he admires, he points to someone such as the Arctic Monkeys' Alex Turner. "He's appreciated for his lyrics. He's released, what, five albums now? And still I never see his face in papers. You don't ever hear what he's up to, and I think that's cool."
That's not to say Ezra is dismissive of fans or his success. He knows he is in a fortunate position and he feels lucky. But the way he has approached the industry with one eye raised has clearly kept his head from swelling.
That is also down, it would seem, to his strong ties to family and friends. Raised in Hertford, Ezra remains close to his teacher parents, and his older sister tours with him as his assistant. He was planning on following in his mother and father's footsteps until he started playing bass when he was 13 (because he "wasn't any good at sport") and his friend was already learning the drums. A bunch of them would stay at school late on Fridays and write songs.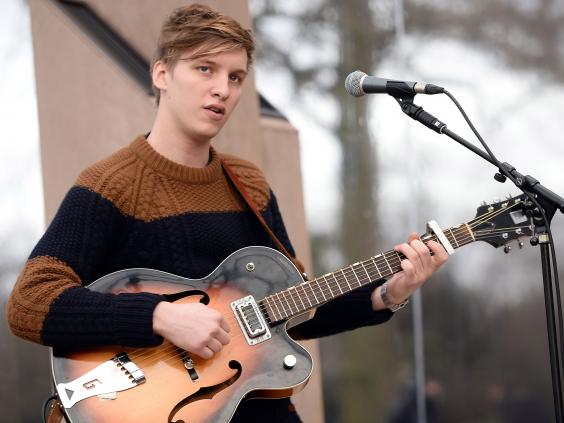 At 15, his friend's interest started to wane, but Ezra was just getting started. Having been into the usual indie bands at the time – Vampire Weekend, the Cribs – he discovered Paul Simon, Tom Waits, Bob Dylan and Johnny Cash. "I just fell in love with that stuff," he recalls. Those led him to the artists he draws the most influence from today, such as Mississippi John Hurt, Woody Guthrie and Lead Belly: "People say to me, 'Isn't it strange that you were so young and listened to this old stuff?' But often those recordings were made by 20-year-olds." 
He was hooked. He went to music college in Bristol, and signed with Columbia 12 days after his 19th birthday. While people might comment on his fast ascent, he paid his dues during years of schlepping between Bristol and London to gig and play open-mic nights.
Still, two years after securing a record deal, he finds himself this month playing his first New York show, at Madison Square Garden, supporting Sam Smith. He is typically unfazed about playing to 18,000 people – in fact, he appears more excited about being able to fly his mum out to watch him there.
Shortly after our interview, back in London, I bump into someone from Ezra's record label on the Tube. I wasn't aware that he worked with Ezra; nor did he know that I had interviewed him. He is holding a huge pile of handwritten Christmas cards, and I comment on his festive efficiency. He tells me that the cards are actually from the musician, to people he's worked with throughout the year.
George Ezra: it couldn't have happened to a nicer guy.
'Wanted on Voyage' is out now. George Ezra tours the UK in February