For more than a decade, Glastonbury Festival has had a secret. If you are particularly observant, you may have rumbled it already in the miniscule clues that have been left. If not, the big reveal comes at this year's festival.
You see, Stanley Donwood, the artist responsible for the artwork for every Radiohead album since 1995's The Bends, can't hide anymore. He has anonymously had his fingerprints all over the festival artwork since 2002, providing imagery for its T-shirts, newspapers and other small items and he has embraced that anonymity. This year, he can't do that.
That is because one of the most prominent paintings from his exhibition Far Away is Close at Hand, held last year at the Outsiders Gallery in Soho, has been chosen as the central image of the 2014 festival. It can be seen on everything from the website masthead to the programme and official merchandise. Whereas before his artistic influence on Glastonbury was subtle and deliberately different from his usual work, this year he is centre stage with something unmistakably his own. If the festival had a headline artist, Donwood would be it.
The painting in question is Nether. It depicts a Holloway (a tunnel of trees) with a massive ball of light emanating through it. Donwood says its creation was the most problematic of all the work he produced for last year's exhibition. "I really hated it for a long time," he says. "It was so difficult to get right. I spent so long painting twigs – thousands of them – to get what I wanted, but fortunately in the end this painting came together."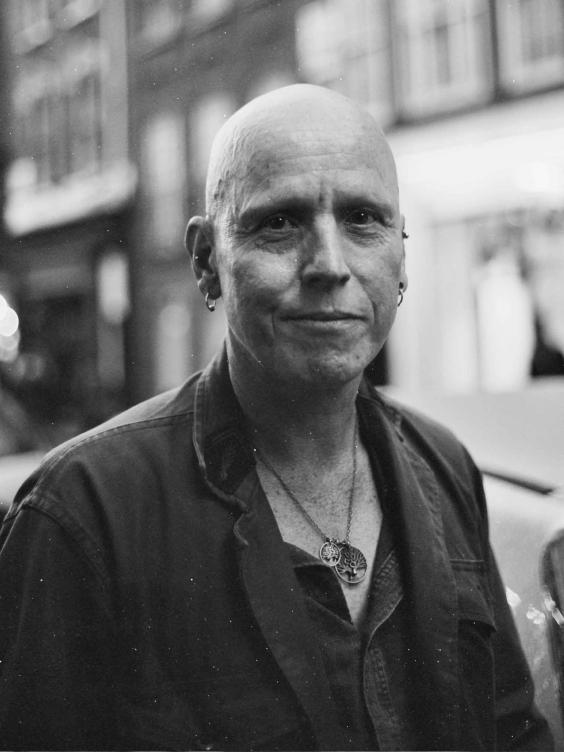 He says he was surprised when Glastonbury asked if the painting could be used, as he thought it to be a very depressing image. It is easy, though, to see the synergies between the painting and the festival. On the most superficial level, it is a nature painting with a deep sense of spirituality – two things with which the festival has long been synonymous. It even looks like it depicts a particular spot on the site, where it is possible to walk along an old, overgrown railway line towards the sunset.
Look a little deeper and there is the fact that England's holloways are fast disappearing and are constantly under threat, just as the festival is constantly fighting for its own existence. Look deeper still, Donwood says, and there is a further connection.
"I have not made this overt, but the huge ball of light, in my mind, was the flare of a nuclear explosion, which is why the branches in the foreground are dead," he explains. "Glastonbury, of course, used to be known as the Glastonbury CND festival. That said, people should bring to it what they want. Is it a rising sun? A setting sun? A distant glow of a metropolis? They can make their own decisions."
Donwood is a natural choice for Glastonbury. He is a staunch believer in the festival being a cultural celebration rather than simply a music festival, a perception the organisers would no doubt like to be more broadly held amid accusations of Glastonbury selling out to a corporate agenda that belies its spiritual roots.
"The corporate tag people have put on it is ridiculous. This is still a working farm in the first instance. And aside from that it is such an incredible work of art in its own right, perhaps the most incredible piece of art I have ever seen. It is so temporary, a quick, fantastic flash of inspiration, and then it is gone. And places like Trash City, Shangri-Lah and Arcadia, they are just so extraordinary, better than anything you would see in a gallery, anywhere. I have been to corporate festivals and Glastonbury is completely the opposite."
Being able to highlight this side to the festival is one of the positive aspects Donwood sees in going public about his involvement.
Another plus, he admits, is that his work will suddenly reach a mass audience.
"Metallica fans!" he exclaims. "I would never have reached them."
Whether those fans will look up the artist behind the image that will remind them of this summer remains to be seen. For Donwood it doesn't really matter. He has attended Glastonbury since he was 14 years old, when he snuck inside in the back of a van, hiding under a mattress. Since then, he has found a home among the fields of the festival and wants to give something back and let others see what he sees.
"I switch off when I am there," he says. "I turn off my work brain and just immerse myself in it. I really like being associated with it. For me, it is the greatest festival in the world."
To find out more about Stanley Donwood's work, visit www.faicahiioe.co.uk and www.slowlydownward.com
Reuse content