As a founder-member of the Gypsy Kings, Chico Bouchikhi introduced a new strain of pop music with a vibrant Mediterranean pulse to a global audience. However the music stopped when his elder brother was assassinated by agents from Mossad in a case of mistaken identity.
Despite the anger he retains over the bereavement, Bouchikhi has now urged fellow musicians to shun growing calls for a cultural boycott of Israel following the recent Gaza conflict and said he is happy to perform in the country, to assist reconciliation in the region.
Born in Arles, South of France to a Moroccan father and an Algerian mother, Bouchikhi co-wrote a string of flamboyant, flamenco-inspired Spanish language hits for The Gypsy Kings in the 80s, including "Bamboléo".
The group sold 20 million records, becoming the biggest "world music" crossover act. But their upbeat, gypsy-inspired songs masked a tragedy which Bouchikhi has preferred not to discuss.
In July 1973, Chico's older brother Ahmed Bouchikhi was assassinated by agents from Mossad, the Israeli secret service, in Lillehammer in Norway. They had mistaken him for Ali Hassan Salameh, one of the terrorists belonging to the Black September group responsible for the massacre at the 1972 Summer Olympics in Munich.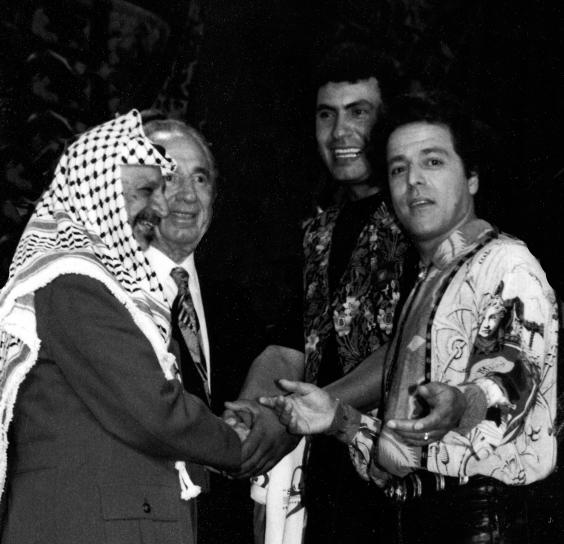 "It was a clear case of mistaken identity. They killed him in cold blood. It's the hardest thing to forgive when it's your own flesh and blood," said Bouchikhi, who now performs as Chico & The Gypsies after walking out of The Gypsy Kings following a financial dispute.
Rather than stew in hatred following the killing, Chico became a special envoy for peace and an ambassador for UNESCO, following a path which eventually led him to shake hands with the former Israeli Prime Minister, who as foreign minister first pursued secret negotiations with Yasser Arafat's PLO.
Chico said: "Despite the tragedy that my family and I experienced and live with still, my destiny led me to perform at the first anniversary of the 1993 Oslo Peace Treaty in Oslo and to shake the hands of both Shimon Peres and Yasser Arafat. In a way I needed the events of that night to help me find inner peace and forgiveness."
Chico & the Gypsies have played concerts to promote tolerance and understanding in Israel and Ramallah. Whilst Roger Waters, the former Pink Floyd musician, has called for musicians to boycott Israel, which he calls an "apartheid" state and Lana Del Rey became the latest star to cancel a Tel Aviv show, following continued fighting in the Gaza strip, Chico does not believe a boycott would be productive.
"If there is a concert for peace then yes, I would go back to Israel without any hesitation," said the musician, who makes his London debut with the Gypsies at the Drury Lane theatre in November. "Artists are free to boycott Israel if they wish; but as far as I am concerned I hold no resentment and have no wish to boycott any country. What matters to me is for people to live a free life and to respect each other."
Although Chico's new album, Fiesta, is a celebration of the "passion, love and exuberance of the traditional gypsy way of life and love", he is not of gypsy extraction himself, developing a kinship with the travelling culture which was transported from Catalonia to the Mediterranean regions of southern France at the start of the Spanish Civil War in 1936.
Chico condemns the rise of violent far-right groups across Europe who seek to make gypsies and immigrants the scapegoats for current economic problems. He said: "The gypsies - and immigrants in general - have always experienced dark times. I am a great believer and supporter of cultural diversity, a standard bearer of hope and tolerance and strongly believe that we can overcome negative attitudes around the world, particularly those perpetrated by the hard-right."
Reuse content