Drummer jokes are such a staple of rock lore that finding a drummer who multitasks, never mind avoids drooling over their kit, can still come as a surprise. Yet, over the years, a handful have taken on lead-singer duties while keeping time, a select band now joined by Darren Weiss of US group Papa. Before that, he lasted a year as sticksman in the constantly changing line-up of Girls, until that San Francisco outfit disbanded in 2012. Now Weiss has taken on both singing and drumming duties, ensuring his current venture stands out ahead of the release of their compelling debut album Tender Madness, a combination of Springsteen-esque anthemic nous, Arcade Fire's full-on attack and a soupçon of Phil Spector-ish pop drama.
Although Weiss can tackle both disciplines with some panache, the question is why should he bother linking to such an eccentric heritage. Singing drummers find themselves in an awkward position, behind a barrier of tom-toms and cymbals making it harder to connect with an audience than if they played bass, guitar or keyboard. The most famous percussionists are known for distinctive character traits as much as their playing styles – think Keith Moon's exploits or the legendary temper of Ginger Baker – and this applies just as much to singing drummers too.
Supposedly criticised for not being the best drummer in The Beatles, Ringo Starr is respected for his concise idiom and somewhat distinctive vocals that carry a certain pathos, though he is better known as the joker in the Fab Four pack.
Likewise The Monkees' Mickey Dolenz rates highly for charisma, even though he could not play the drums when the joined the manufactured group. Still, Dolenz took lead vocals on some of their biggest hits – "Last Train to Clarksville", "Pleasant Valley Sunday" and "I'm a Believer", learning the instrument at first to mime to it, before he could play live with Davy Jones and the boys.
Little wonder, then, that so many singing drummers choose to concentrate on the vocal part of their craft. Phil Collins became the frontman of Genesis after Peter Gabriel left in 1975 only after a protracted search for a replacement. Live, the group used two drummers, eventually leading to him only getting behind the kit for longer instrumentals. Nor would the drums take a major role in his subsequent solo music career. Then there is the case of Karen Carpenter, who started out as a drummer greatly admired for her ability, having learnt while playing along to Dave Brubeck's exotic time-signatures.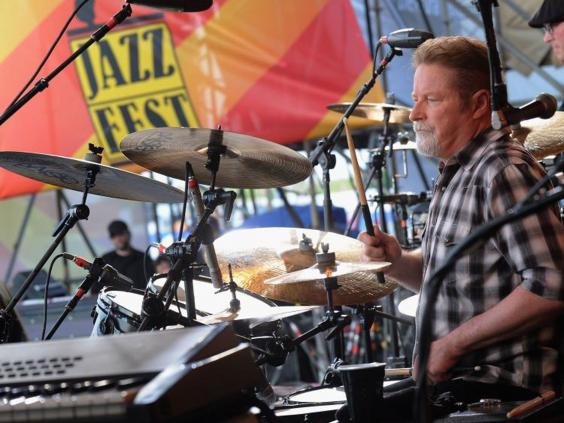 She continued to hit the skins on many recordings with her brother Richard as the duo found fame as The Carpenters, though she was discouraged from playing drums live as due to her small size she was mainly out of sight. Still, other singing drummers have thrived for long periods, as Don Henley did with The Eagles. While keeping time for the country-rock giants, he shared vocals with Glenn Frey, providing the lead line on some of the band's best-known numbers, among them "Hotel California", "Desperado" and "Life in the Fast Lane". Moreover, he made the combination of percussion and vocals look effortless, aided somewhat by a frill-free drumming style that he admits was inspired by Starr.
As for Papa's Weiss, he says his "biggest idol musically" is The Band's Levon Helm, who not only shaped the group's sound with his rootsy shuffle, but also provided a soulful southern-states edge to many of their most recognisable tunes, among them "The Weight". Elsewhere, his harmonies were essential to their layered sound and as a multi-instrumentalist of exceptional talent he also played mandolin, bass and guitar. Not that Weiss set out to be a singing drummer. Just as Genesis tried to recruit a new vocalist before realising Collins really was their man, so the ex-Girls drummer auditioned possible replacements to take his seat so he could concentrate on being a frontman, until he realised it felt wrong.
Speaking from Los Angeles, Weiss says: "Whoever we tried, it wasn't quite the right rhythms or the right energy. I realised I would have to do as much of it myself as I could." Now feeling comfortable in his role, the hirsute Californian sees how combining mastery of rhythm and voice can make an impact for a band, though he still picks out two exemplars who came out from behind their kits to evolve their musical lives: Dave Grohl, who was the drummer for Nirvana before becoming Foo Fighters' frontman, and Frank Zappa, who started on the stool for bands from high school onwards.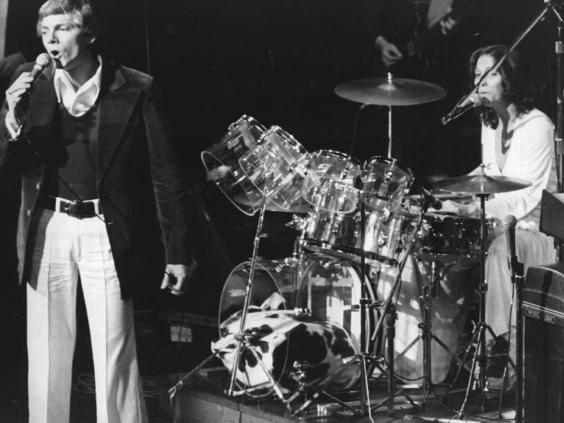 "Rhythm is such an important part of American music, especially the rhythm and blues that so much has been based on," he says. "So much of what we hear in a song depends on us feeling that beat." Weiss believes Grohl's and Zappa's successes are based on their innate understanding of rhythm as the first building block of their arrangements, so perhaps the same applies to other drummers who have proved they can sing. Take two very different bands hailing from Minnesota. Grant Hart's vocal contribution to Eighties alternative rockers Hüsker Dü was just as important as his drumming, while from behind her spartan set-up, Mimi Parker's spare delivery has taken on an increasingly high-profile role for a more understated trio, Low, as she sings lead on ever more tracks, including on their latest album, this year's The Invisible Way.
Though, if you want to be truly alternative these days, then you need to form a duo. Not a synth outfit in the manner of Soft Cell or Pet Shop Boys, but a punky assault as loud as any three-piece or quartet. Providence, Rhode Island's fearsome noise-rock pairing Lightning Bolt has led the way, joined by Canadian twosome Death From Above 1979, now making a comeback after splitting up in the mid-Noughties. While Papa may aim to be more melodic than such outfits, they all go to show that singing drummers are more than a musical oddity.
Papa's album 'Tender Madness' is out on November 4 via Island Records
Roll play: Drummer jokes
What do you call someone who hangs around with musicians?
A drummer.
What do you call a drummer who breaks up with his girlfriend?
Homeless.
What's the best way to confuse a drummer?
Put a sheet of music in front of him.
What's the last thing a drummer says in a band?
"Why don't we try one of my songs?"
What's the difference between a drum machine and a drummer?
You only have to punch the information into the drum machine once.