The first time I saw Alison Goldfrapp, I thought she was someone else. It was 1997 in the Hackney Empire, at a Tricky gig when the Bristol trip-pop pioneer was at the peak of his power. Dense shadows made what was happening and who was doing it onstage uncertain. But there in the darkness, it wasn't Tricky's regular co-singer and muse Martina Topley-Bird, but her friend the unknown Goldfrapp, singing and locking her body into his malevolent groove.
Goldfrapp and Will Gregory, her partner in the band they gave her surname to, were supporting players in the Bristol scene, where Gregory had been since the 1980s, playing sax with Portishead for a while, and Goldfrapp had sung on Tricky's 1995 classic Maxinquaye. After meeting at a Startled Insects theatrical show in Bristol in 1998, they triumphantly stepped out of the shadows in a new decade whose glamorous moments they largely defined. Mercury-nominated, atmospherically cinematic debut Felt Mountain (2000) shared Portishead's crepuscular trip-hop sensibility, but follow-ups Black Cherry (2003) and the million-selling, Grammy-nominated Supernature (2005) were technicolor sensations, drawing on glam-rock, disco and pounding synth-pop.
Alison Goldfrapp now couldn't be missed, using her conceptual art student background to dress herself and her dancers in mirrored horse's heads and pervily swishing tails, or as saucily semi-clad Brazilian showgirls. "Ooh La La" was the first of several international hits. Madonna was seen going to the gym with a copy of Supernature. When Goldfrapp wore shocking pink hot-pants, Madonna's magpie awareness of the cutting-edge meant she swiftly dressed similarly, being ignominiously dubbed "Oldfrapp" for her pains. Couture as well as musical trends danced to the duo's tune. But while Will Gregory stayed anonymous on-stage, it was hard to avoid the feeling that the extravagantly costumed Alison was hiding in plain sight. Seventh Tree (2008) anyway saw them bravely shape-shift away from the disco into a mythic, rustic Britain partly inspired by The Wicker Man's folk-horror soundtrack, and Alison's upbringing in rural Hampshire. Dumping the twitching tail, her new look was a clown outfit. 2010's Head First then saw a less artistically successful though still Grammy-nominated return to the dance-floor.
Now with their new album Tales of Us, Goldfrapp have switched tracks again. Like Felt Mountain and Seventh Tree, it's heavily atmospheric, seemingly conjured from some half-awake realm. Alison's voice, and acoustic guitars, are at the heart of its stripped-back sound. But despite this and the title, singer-songwriter confession is the furthest thing from their minds. These are other people's tales, from "Laurel"'s doomed Hollywood actress to the equally tragic, real wartime male soldier-lovers who inspired "Clay".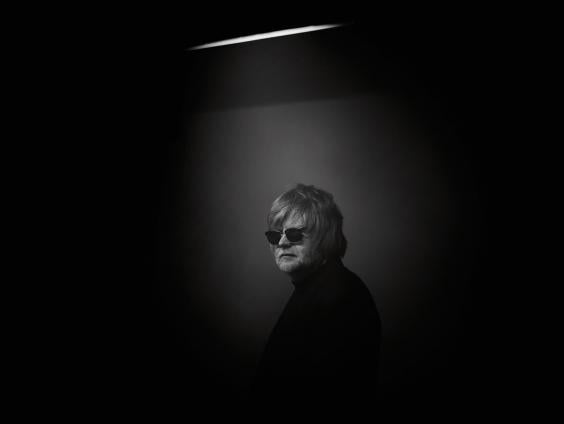 I meet Gregory and Goldfrapp in a quiet upper room in London's recently reopened Victorian landmark, Tthe Great Northern Hotel. "Posh, innit?" Goldfrapp mutters as she enters. She's dressed in plain black trousers and top, minus make-up, with pushed-up blonde curls she plays absently with as she talks. Famously reticent and uncomfortable in interviews, she gives me an initially wary glance, but is soon regularly cackling with laughter as she (relatively) relaxes. The bearded Gregory is a more solid, comfortable presence, supportively chipping in.
While Goldfrapp has been in a relationship with film-maker Lisa Gunning since 2009 (they met while both were working on the film Nowhere Boy), Gregory wishes to keep the details of his romantic life private. But his young son Rufus appears briefly before the interview, exclaiming with wide-eyed wonder at a glass crab. The creative curiosity his dad pours into Goldfrapp seems safely inherited.
You wouldn't give a second glance to either musician as they sit there in their day-clothes. Goldfrapp is 47, Gregory 53, and pop stardom's high-octane, compromised game has been struck from their agenda. Head First was, they reveal, the unhappy end to that.
"A difference between this album and the last album is that we made a decision right at the beginning that we weren't going to be rushed to do anything," Goldfrapp begins. "Because it was important for our sanity, and to enjoy it! We had found ourselves on a treadmill. With that last chapter with EMI [which in 2010 owned their label Mute], they wanted us to do a big commercial thing, and that's just not what we were planning. So it was very nasty. Because if you produce something that they think may very well be a hit, then you have to live it out for the next year, and do all these things that they think will make it into this hit, and I'm not interested in that world, or to fulfil their idea of a commercial hit. They had plans for us. And we found ourselves going into a world where we really didn't want to be."
"They had a schedule," Gregory says, "and we were blackmailed into sticking to it. We needed another six months on Head First, really. Although the way it came out, it's fine, it's lovely. But the pressure was definitely on. We wanted to do something different. This one felt like a new start."
"Yeah, we re-signed with Mute – great, they're independent again," Goldfrapp says with relief, "and new management who are on our side, they're not trying to make a quick buck – all these things and lots of other things. So it did feel like a new start, like, 'OK, we're going to do what we want to do'. It felt liberating." Did Goldfrapp feel bruised by being shoved through the music industry mincer? "Yeah. I was disappointed by… the way the world works!" she laughs. "Or can do…"
Compared to its troubled predecessor, Tales of Us sounds like deep Goldfrapp, sinking into the duo's truest imaginative reserves. "The idea was to make something that was more sparse and intimate," Alison says. "A lot of the people I love listening to, traditional singer-songwriters, they were the people I wanted to listen to again. They're the same things that inspired Felt Mountain and Seventh Tree, really. Françoise Hardy, Jacques Brel – the song "Jo" is very much inspired by a Brel song, directly. We actually wrote to their estate to let them know. And lots of new discoveries, like Leonard Cohen's "The Stranger Song", which really inspired the feel for the song "Drew". I also love things like Bon Iver, because when it's acoustic it's got this lovely, dreamy gentleness."
These singer-songwriter sources, and even the strummed sound of the unusually dominant acoustic guitars on Tales of Us, usually suggest a world of earnest autobiographical confession. But the album's songs are all given others' first names (except for "Stranger"), whose fictional stories they tell. Does Goldfrapp, who writes the lyrics, prefer it that way?
"Do you mean thinking about someone else rather than me, basically? Yes. Yes is the answer to that question." Whatever real elements of her and Gregory's lives may be hidden in its hall of mirrors, Tales of Us most clearly grew out of a period when, in Head First's aftermath, Goldfrapp spent long, languid afternoons in the cinema. "Oh God," she remembers. "I went a bit nuts watching films, and reading books. I just love that immersion into a whole other world, and getting lost in characters, and that's what I wanted with these songs, for you to feel that you were entering this person's world for a moment. I love escaping into film, because everyday life I find quite troublesome. So any excuse to go into a cinema and say goodbye to the world for a couple of hours, or in a book or whatever, is great. And the older I get I want to do that more and more. I read a quote the other day that said, 'don't ever expect an idea to pop out of your computer'. That's so true. You can get so absorbed in what's on the computer, and you just waste so much fucking time. All those little worlds in books… it's nice, it's delicious."
"Laurel" is the song on the album that most clearly references the cinema. With strings that sweep in like the fog in its lyrics, it draws on Dorothy B Hughes's 1947 novel In a Lonely Place, set in a Hollywood in which the heroine Laurel is stalked by a misogynist serial killer, and filmed in 1950 in bowdlerised but still brutal form with Humphrey Bogart.
"Do you know what," she says, "I can't stand the film, and I don't really like film noir. I think the books they're based on are way more exciting and evil and gritty and explicit. I got really into Patricia Highsmith, too. There's just this sense in them that something's about to happen, or maybe it has just happened, there's a psychological fear running through them. Brooding, but quite romantic as well. And those books are very visual, there's a simplicity there. You can hear the fog and the sea, and you can smell the dampness in the air, and you can feel yourself going round a corner in one of those great big Fifties cars, going slowly down a dark street, by the rolling sea, and a feeling of doom, and you're just immersed in it.
"I really wanted it to have that feeling in "Laura", with the harpsichord in there and the reverb, and the feeling of being sleepy and losing consciousness, which is how that world seems to feel. David Lynch's Lost Highway is like that too, where he just has a camera hovering, looking at a room that's empty, and you don't quite know why you're looking at it, and shit, what's going to happen? I like the idea that the dread doesn't really arrive. And that's a nice feeling in music as well. Sometimes you don't want things to be resolved, or explained." It's a good job her old EMI paymasters are no longer there to listen to such heretical talk. "Ooh La La" suddenly seems a lifetime ago.
In Goldfrapp's brave new world, even the visual extravagance of the past has been stripped away. Gunning has directed short films to go with five Tales of Us songs. Goldfrapp will play in cinemas following showings of all five later in the year, furthering the filmic links. But their singer has kept the horse-tails and clown outfits firmly in their boxes. So what is the new look from pop fashion's one-time queen?
"Black!" she cackles. "I'm anti-costumes at the moment. I just quite like black! To me it's almost like a representation of the empty space in the new record's sound. Don't get me wrong, I love clothes. But at the same time, I love a shape. So for me it's more about the silhouette than the surface now. Whereas before there was a lot of emphasis on costumes, this is like wiping the slate clean." If she ever truly left them, then, Alison Goldfrapp has slipped back into the shadows.
'Tales of Us' is out on Mute on Monday.
Reuse content