"I'm a very sensitive person – an open nerve," says Joan Shelley, with a self-conscious smile. Being labelled a "folk singer", she says, "I just find confusing. I play with a folk trio in Kentucky, Maiden Radio – and there's where I do sing folk music from traditions – but here's where I do my thing, which is very personal".
An "open nerve". It's a tellingly precise figure of speech from the 31-year-old, who has just released her self-titled fourth album, a remarkable collection of songs ranging across a host of genres that confirms her as a major talent, and will almost certainly stand as one of the breakthrough albums of 2017. The day after we speak she appears on Later... with Jools Holland, followed, improbably enough, by a day-trip to Sevenoaks: "Someone recommended it for a walk in the countryside."
In person, she's tall, slender, beautiful in a kind of old-fashioned American way, a little guarded. But watching her play to a captivated audience later on, her self-assurance and openness is striking. "Come closer" she asks the 100 or so people gathered to see her at the Lexington in Islington. She's a quietly magnetic performer.
Brought up on a farm near Kentucky's state capital, Louisville, the daughter of a painter, Shelley drew on Appalachian mountain music and classic Sixties folk on earlier albums Ginko, Electric Ursa and 2015's Over and Even. A key collaborator on those albums has been the guitarist Nathan Salsburg, a fellow Kentuckian who appears on Joan Shelley and also curates the archive of Alan Lomax, the musicologist who amassed field recordings of the great folk, blues and jazz musicians in the 1930s and 40s.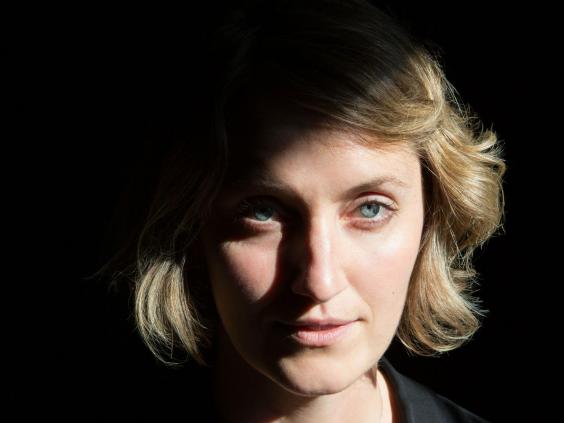 Joan Shelley was produced in Chicago by Jeff Tweedy, the guitarist and singer of the American rock band Wilco, who has helped bring out other, jazzy, torchier, more psychedelic sides in her music (she describes his approach as "malleable", "spontaneous" and "intuitive"). Like her friend, and Louisville neighbour, beloved alt-country enigma Will Oldham (aka Bonnie Prince Billy) – a "huge teacher" with whom she has written before – she "understands" the folk tradition, she says, "but it's like with Will, or Leonard Cohen. I feel I want as much freedom as he has – he transcends the genres." The playing on the record is exquisitely organic, Tweedy's barely perceptible bass and his son Spencer's subtle brush drumming supporting the filigreed guitar turns of Shelley, Salsburg and the British guitarist James Elkington.
What's so appealing about the new album is the close spell it casts. Laced with vulnerability and self-doubt, Shelley's crystal-clear voice meditates on the spaces between people, in arrangements that evoke Bacharach and David and African blues influences as much as acid-folk.
"Well, I've been the chaser too long," she opines on the irresistible "Wild Indifference", Aretha Franklin being one of her formative guides. One of her favourite live acts is the Saharan Tuareg band Tinariwen. "There's something common to Irish music, mountain Kentucky music or Appalachian music and Northern African music, like a modal thing that's really beautiful," she says. "There's a common thread. It gives me chills and I have no way of explaining why." 
An anthropology graduate, she cites the Sufi poets Rumi and Hafiz as an influence on her lyrics. "I've watched the foal / Roll in clover and steam in cold," she sings on the album's final track – a particularly lovely example of her use of language. "Some of the great songs I love are very opaque," she says. "Leonard Cohen is only inviting – that's what his words always do. There's nothing distant or isolating that alienates people, it's like a poem – there's a directness." She also credits her artist father as a guide to her lean lyrical and musical palette. The 11 songs on Joan Shelley are concise but leave a lasting impression. "He's an abstract minimalist," she says. "In a lot of ways there are crossovers. He and I talk about it often. Reviews could be about a painting of his or a song of mine." For her next album, she half-jokes, she's considering releasing something purely vocal, something "completely unaccompanied".
Asked about the mood of the album, on songs such as the lovely "The Push and Pull", she expands on one of the subtle themes running through the songs – desire. "Desire is a totally misleading life compass," she says, "but it's also the charge and the passion of life. So they're kind of working against each other. Desire may not lead you to a life partner, but it might take you somewhere where you might learn more about yourself by being burnt. Desire is always obscuring what's reality. It's funny and it's sad all at once. This album deals a lot with that."
So are they love songs? "They are love songs, but not necessarily always desirous love, but like I'm really trying to talk to someone but there are so many things in the way. Trying to have what I think of some kind of spiritual love." That kind of sentiment runs the risk of sounding precious, but there's a beguiling maturity evident in the songs. "Leonard Cohen is quoted as saying, or said in a documentary, or in a book, 'people think I'm sad, as if there's no room for seriousness in music'. That's an interesting point of view. The process of songwriting gives me empathy for someone who I didn't previously have empathy for – it's not a conscious goal, but it comes up a lot when write."
But melody, she says, has always been important, a way to help us get out of our heads and into our hearts. She's been writing songs since she was nine. "We don't really feed the right brain enough," she says. "The cool thing is to not always try to solve things, and to feel things. Being a musician my whole life, since I was small, I remember writing songs so my brain could breathe in those musical places – no time, no mind. We all need that – a therapeutic brain wash." It's a great description of the effect the album – serene but visceral – has. A record to luxuriate in.   
'Joan Shelley' is out now on No Quarter Records
Reuse content