On a warm summer's day, deep in the Kent countryside a few miles outside Canterbury, Syd Arthur are giving me a tour of the farmhouse and outbuilding which provide the base for their rehearsals and songwriting.
They are happy posing for photographs in between smokes as they bask in the sunlight; there's a relaxed vibe to these four late-twentysomething musicians – brothers Liam (singer and guitarist) and Joel (bassist) Magill, multi-instrumentalist Raven Bush, a nephew of Kate, and drummer Fred Rother, who bonded in their early teens on the local psychedelic outdoor party scene – and over music.
It was this rave scene which prompted their aim to avoid typical office life. "Experimenting with philosophy and drugs," ponders Bush, the wild-haired thoughtful member of the band, "opened our eyes to thinking, 'You know what, a 9-to-5 job doing something you don't want to do... life's so short, it's so precious, do what you love'. Money is very far down the list in terms of happiness and fulfilment. We all decided on that at school, and then we left school and made it happen."
With their long hair and melding of jazz, rock, folk and psychedelia into fresh-sounding three or four-minute songs, Syd Arthur – whose name is both a reference to Syd Barrett and the Buddhism founder Siddhartha – fit perfectly into the musical lineage of Canterbury, whose Sixties and Seventies scene brought us such bands as Caravan and Soft Machine.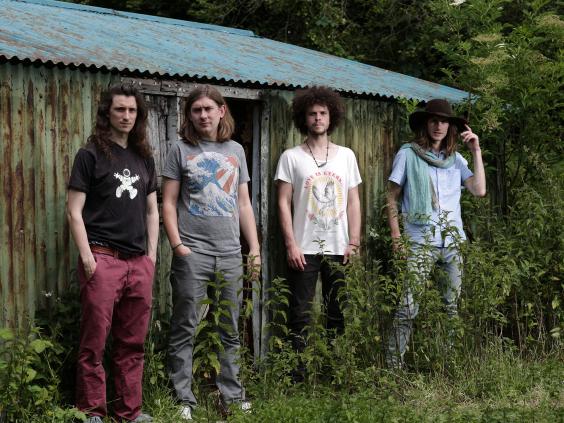 The album hones their burgeoning ideas, influences, and tendencies for sprawling prog, free-wheeling jazz and psych, and reflects their unquenchable thirst for music – from exotic sounds at Womad and cutting-edge new music online, to studying the greats on concert DVDs and archived films. "We've been on a big journey of world music, jazz, rock, West Coast, psychedelia, the English folk scene..." explains Joel. "The album incorporates a lot of sounds because of the breadth of what we've listened to over the years."

"We're quite guilty of trying to condense a lot of ideas into a shorter song," says Bush. "And I like to think that, with the new record, we've honed that a bit more. It's more succinct. Learning how to make records in the studio was a big thing for us in learning how to focus. When you're trying to sonically achieve something, that informs how you arrange and write. I like to think we incorporate the essence of jazz into what we play, which is essentially stretching out musical ideas so that you can take people on a journey."
For 10 years, Syd Arthur were entirely self-sufficient: they curated a stage at local festivals which showcased the likes of Bonobo and Polar Bear, booked all their own shows, had their own recording studio and released their debut album, On An On, through their own label.
It all took on a more intense pace in 2013 when a friend's advice to play at the South by Southwest Festival, in Austin, Texas, paid off. They took up funding from the Performing Right Society to make their US debut, and threw themselves into their four shows. A month of back-to-back meetings with labels and managers clamouring to sign them ensued and they finally cut a deal with the prestigious US-based label Harvest. "It's funny isn't it: 10 years of hard graft, then all of a sudden everybody wants a piece of you," says Liam.

"By that point we were just so used to doing everything ourselves," adds Bush. Their continuation of each other's sentences is a sign of their long friendship, and reflects the intuitive interplay between them at their captivating live shows. "All the energy towards the band is definitely from America," Bush says. "It's the guys in LA and New York who are heading the whole thing. Our manager, Kevin, is based in New York."
They still retain their DIY approach as much as possible. "We wouldn't have it any other way," insists Liam. "We're too controlling."
"Or your vision gets kind of diluted," Bush adds. "That was a big appeal for people wanting to sign us: we were so independent. People who are creative can sometimes be spaced out. I've never met a band that's as driven as this band."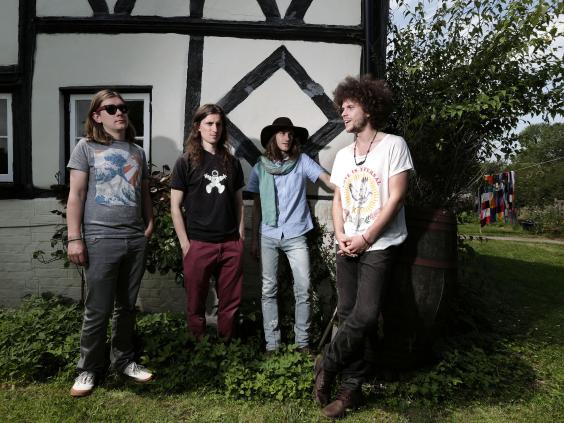 The only creative aspect of their new album, Sound Mirror, that they handed over (unwillingly) was the mixing – to Tom Elmhirst, a Grammy winner who has worked with Adele, U2 and Arcade Fire. There's also a star guest on Sound Mirror. Paul Weller is a fan and invited the band to support him on tour. Their song "Hometown Blues" was recorded at his Solid Bond Productions Studio in Woking, Surrey. "It was the first time we'd actually gone into the studio with nothing and come out with a whole track," says Bush. "It gave us a lot of confidence for the new album."
It is not, of course, their only claim to fame. Bush was a child when his aunt Kate's creative empire was run from the family home. His father would take photographs for the album covers, his grandfather would oversee the management and business side and his uncle would contribute. It inspired Syd Arthur's own DIY approach to music-making. "It used to be a very family-based affair. It was all run from home. They took it away as much as possible from [Kate Bush's label] EMI and made it where they could have complete control, which is essentially where she's at now. She has got her own record label. That's been inspiring for us," he says.
He delves into his memories. "The only record I remember her making was The Red Shoes. I remember my dad buying loads of fruit because inside [the album cover] there are all these fruit pictures, and I remember the living room floor covered with £200 worth of fruit."
For Raven, who seems perplexed by the constant, inevitable questions about his famous relative, she will always remain Auntie Kate. "My relationship with her is very much like an auntie. When I lost my mum last year she was the first person to call me up. Our relationship is very much a family one as opposed to a creative one."
However, he does send his aunt the band's music and she offers her encouragement. "There are a lot of similarities in the approach – because she is DIY and also it is popular music that is very conceptual. Essentially, when it comes to any musical relationship, it has always been just a bit of advice rather than, 'I think you should change that middle A'.
"When we had all this hype around the band I asked her for business advice, and the best advice she gave was, 'Don't do anything that you don't want to do. Stay true to yourself and your vision.' Which is what she's always done." Let's hope that Syd Arthur continue to pay heed to that advice.
Syd Arthur are on tour from next Wednesday until 2 October
Reuse content