Sipping mineral water outside a pub in Columbia Road, home to the East End's famous flower market, sits Laura Marling, English rose of the ongoing folk boom. Or perhaps the Arum Lily would be a more apt floral metaphor for this gamine blonde: there's an enigmatic pungency about Marling's songs that speaks more of hard-won emotional experience than sickly roseate sweetness, while the elegance of her delivery eschews delicacy and ornament in favour of unvarnished honesty.
Take her striking new album, Once I Was An Eagle, the most accomplished release of Marling's short but prolific career. A song-cycle charting various responses to emotional upset, it rejects the simple clichés of blame and victimhood to acknowledge the more complex dynamics operating in relationships. Clearly, it takes two to tie the kinds of emotional knots involved in songs like "Take the Night Off", "Master Hunter" and "When Were You Happy? (And How Long Has That Been)". It all sounds very personal – but is she, I enquire, simply adopting characters for the songs?
"I'm creating characters to say certain things," she admits. "There is a story to it, but it's not a true story. It's a kind of narrative, but everything is from my experience, because that's what I know – I'm not a great fiction writer."
The most impressive part of the album is its opening salvo, a four-song sequence in which the ripples of each song lead into the next, quietly but methodically stacking turmoil upon turmoil without allowing closure to dissipate the emotional momentum. Its success, she claims, is largely due to her producer, Ethan Johns, who had an instinctive grasp of the album's bigger picture.
"I had written this 16-minute track that was quite definitively four different things," she says. "Ethan took notes as we ran through it; I'd give him instances of places where I wanted certain things, but he had this wide picture of the record that I didn't have. So when it came to the arrangements, he wanted it to feel like each of the instruments had this character to them. I didn't really realise that until the end of the process! Listening to it later, he had brought out things in the songs that I'd forgotten were in there."
Hence the clear emotional arc described by the album, an aspect of music so often overlooked in these days of cherry-picked downloads. "I see the record as being very contemplative in the beginning, the middle being very frustrated, and the end finding a sort of peace," she says. "And yes, it does correspond to my experience: it's not necessarily 'I won't get hurt again', it's more a kind of peace, an acceptance of one's place in the world, and the things that disrupt it."
Since recording the album, Marling, who admits she's "quite a solitary beast", has deliberately disrupted her life by moving base to Los Angeles, setting up home alone in an apartment in the bohemian Silver Lake district.
"It's purely hedonistic," she explains. "I like the lifestyle in LA. I'd been travelling around America a lot, and I think the expanse of it had an effect on me – opening my eyes to quite how small a fish I am in an infinitely big pond. I really like it: I live in a very quiet, strange suburban neighbourhood, full of hippies and vegans, an hour from Joshua Tree."
It's an apt move for someone reared on her parents' musical diet of Bob Dylan, Joni Mitchell, Neil Young and Stevie Wonder, almost a spiritual pilgrimage to the hippie heartland. The first song her father taught her to play was Young's drug lament "The Needle and the Damage Done", a staple from his own time as a wine-bar troubadour in France. Her parents, she admits, were delighted when she won the 2011 Brit Award for Best Female Solo Artist.
"It's sitting on their mantlepiece," she says. "Because they're parents, they worry that I'm not successful, and that was like, 'I'm on the telly, make of it what you will'. That was the best part of winning it. I didn't expect it at all. It was weird enough being there, let alone having to go up and receive an award!"
Although she doesn't view herself as a folk singer, Marling's Brit Award was one of the first confirmations of the burgeoning "new folk" boom which she helped establish with the Mumfords and Noahs. Not that she misses the camaraderie of that tyro scene.
"I think it's taken its natural course," she says, matter-of-factly. "Everyone's very busy. The nice thing about living somewhere else is that people always tell you when they're in town, and a lot of people come to LA, so I see a lot of shows. And we all wish each other well, from afar."
Marling's back off home to LA the next day, where she'll spend her days struggling to write songs. For such a prolific writer, she claims to lack the facility to write songs in any circumstances.
"Some songwriters, great songwriters, get up and they're ready for the muse," she says. "Which is a term I can't understand. They can write all day, write certain sections of songs and put it all together, and I don't think I understood that when I was young. I play guitar every day, and sometimes I write a song, sometimes I don't, and that's as far as I have control over that."
She does, however, believe that her songwriting has improved with the loss of the innocence, such as it was, of her earlier songs.
"Yes, naivety was ripped from me, as it is from everyone!" says Marling with a wry smile. "I thought I knew everything when I was 18, and now I know nothing, increasingly less and less. It's a funny experience, hearing a younger version of yourself. The further I get into songwriting, the more I understand myself – the less I wriggle in my skin – the easier songwriting becomes. I used to be so guarded, I'd be, 'No, it's not about me, don't ask!'. Now, I don't think it's that I care less, it's just that I'm a bit more grown-up; I know what I'm giving away."
*This article appears in tomorrow's print edition of Radar magazine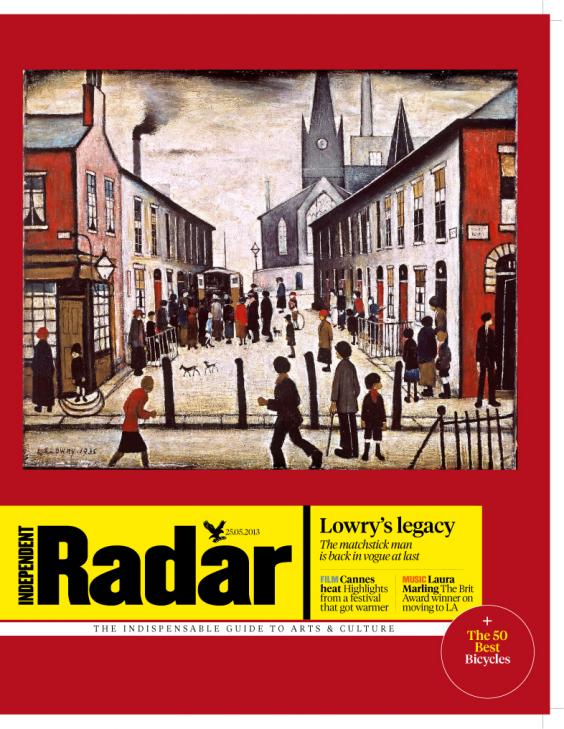 Reuse content