I'm sitting in jazz pianist and 2010 Mercury nominee Kit Downes's east London home, as he fiddles with his Skype connection and attempts a virtual meeting of the generations. A 1993 Mercury nomination is the least of the achievements of the crumpled, lugubrious face that eventually appears on his computer screen. It belongs to Stan Tracey, British jazz's old lion. The 86-year-old will celebrate his 70th year in the music with a major concert at this month's London Jazz Festival, itself in its 21st year. It's a mere pimply adolescent compared to the south Londoner, who played in shows also featuring Tony Hancock for fellow soldiers in the Second World War, entered the ring with the giants of American jazz as house pianist at Ronnie Scott's in the 1960s, and with his Dylan Thomas-inspired, 1965 album Under Milk Wood announced that British jazz now had a talent and character of its own.
Tracey's current ill health prevents him meeting in person. But his 2013 LP The Flying Pig finds him still leading a fine quintet with droll playfulness and rhythmic mastery. An OBE and CBE have come his way late in life. But in 1972, he and his wife, Jackie (who died in 2009), had to form the Musicians' Action Group to fight for British jazz's survival, as he contemplated retraining as a postman, and the music was abandoned by pop audiences and ignored by the institutions supporting classical music.
Kit Downes, 27, and conservatoire-trained, has come of age in a 21st-century scene Tracey's efforts helped ensure the existence of. As the two talk, changes and enduring realties in a British jazz life Tracey has seen from its start emerge.
"Jazz now has been embraced by all the conservatoires," Downes, who studied at London's Royal Academy of Music, says of its new, relative respectability. "I guess it also means that the music becomes part of the Establishment, which is at odds with how that music was born. But people at least have the choice now. There are all those stories of how it used to be. [Pianist] Django Bates spent about a week at the Royal College in the Seventies, saw a sign saying 'No jazz is to be played on this piano' and left. That used to happen a lot, right?"
"That was all over the place," Tracey agrees. "I remember we were doing a gig in Aberystwyth in the Sixties with [legendary American saxophonist] Ben Webster and [brilliantly eccentric American singer] Blossom Dearie. When we arrived at the hall, there was the little brown upright on the stage, and on the floor was the splendid grand piano, which was not to be played. And as Ben sat down and started playing, the jobsworth very slowly and gently closed the lid. And maybe eight years ago, I did a gig and they gave me a piano which was OK, but there was this full-size grand in the background. The guy who was running it said, 'Oh, we didn't give you that one. We thought you might be a bit overawed.'" Downes howls with incredulous laughter.
The younger man values the versatile musical grounding RAM gave him. Tracey's crucial schooling came in Ronnie Scott's nightly from 1961 to 1967, playing alongside most of the day's American legends. What did that experience teach him?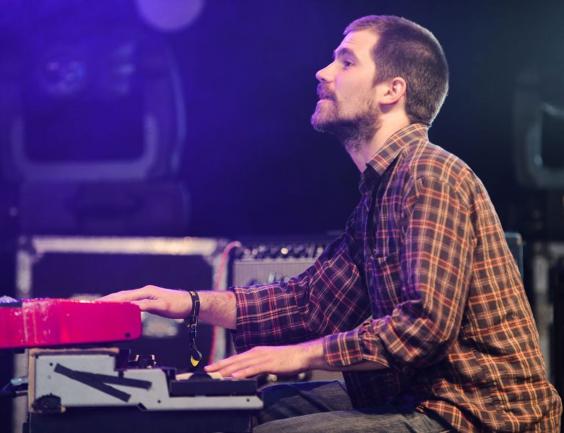 "You mean apart from ruin my health? It gave me confidence. Accompanying those guys, it's no good doing it with a quaking heart. You have to go in there on level peggings, whether or not it was level. There were various guys who came through who didn't like being accompanied by a white British pianist, but I just ignored that and ploughed on. You know, if you don't like it – toodle-oo."
The long hours and short pay of jazz life then saw Tracey develop a heroin addiction. "I wouldn't take a break," he remembers. "I was there for six years solid. I really didn't wanna miss a night, because I was learning all the time from working with those people, six times a week, oft-times seven. But it was exhausting, and the occasional aspirin was taken. My wife, Jackie, dragged me out, she could see what it was doing to me. It took me a year to get my strength back."
"I can understand why you did it for so long, Stan," Downes says enviously. "That kind of thing doesn't exist any more. I can't even imagine what it was like. And Stan was playing those long sessions with some of the most important people ever in the music, Ben Webster and Dexter Gordon and Sonny Rollins – you'd give your left leg to play with them. I guess we're lucky that it's not all wrapped up in a dangerous lifestyle now. It's all pretty soft, now, the jazz scene! You stay in Travelodges and have a few beers after the gig. Well, I do..."
Tracey's nightly presence at Ronnie's helped wear away American prejudices against British jazz. "Working with Ben Webster it started to change, and also with Sonny Rollins," Tracey remembers, "both of whom said nice things. They probably thought, 'Poor old bugger, throw him a bone…'" Under Milk Wood also gave British jazz new standing. "That's the impression I'm given, yeah," Tracey says, unconvinced. "But for myself, I've had enough of it."
Tracey says his goodbyes, the connection clicks off, and Downes considers their conversation.
"He won't take credit for anything, will he?" he marvels. "You'd think he'd allow himself to a little bit. Stan's legacy is that people now feel like they come from a healthy British jazz tradition. That gives you an inner sense of confidence, and a bit of worth. And because this music isn't anywhere near as mainstream as it was, you might as well not compromise anything, do what you want and go deeper down the rabbit-hole. Stan's example is incredibly inspiring."
Both Stan Tracey and Kit Downes perform at the EFG London Jazz Festival (londonjazzfestival.org.uk) 15 to 24 November