New York-based composer Nico Muhly has been musing on the river Thames. Walking along its south bank from Bermondsey to Rotherhithe, he has been trying to decipher its geography – why a grid of streets here, an irregular web there?
Decoding is a passion for the 33-year-old who is, it seems, interested in absolutely everyone and everything: he is as at ease writing about the scientist Alan Turing as he is recording with Björk, and has a new commission for English National Opera but is currently working with Antony Hegarty of Antony and the Johnsons.
London is very much a second home, and we meet at a spot many Londoners have missed, tucked round the back of the Hayward Gallery. He has many friends there, and in the run-up to the first performance of his Turing piece, Sentences, by Iestyn Davies and the Britton Sinfonia at the Barbican last month, he dug himself into a minute Airbnb flatlet, rising with customary self-discipline and boyish enthusiasm to the challenge of cooking for friends "with one knife, one fork".
This simple domestic challenge and its satisfying resolution came at the time of his publication online of a searing, honest and lengthy account of the mental illness that had dogged an apparently shining career. After a review of his medication and a good few sessions on the couch, he has now achieved a new serenity, but is aware that telling the whole story could help others. "There's such a stigma in the UK about mental health issues. It's not like that in New York, where people talk about their shrink as they do their supermarket, and phone each other after therapy. I wasn't planning to be helpful, but in my life I have been ambitious and apparently successful, whereas that could not be further from the truth."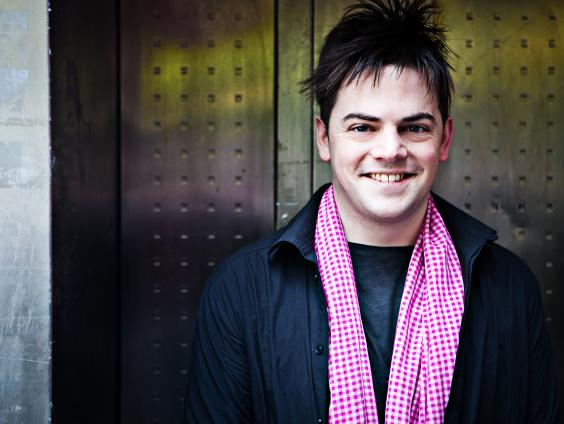 The successes do, however, come thick and fast, like the commissions. His first opera at ENO in 2011, Two Boys, was widely praised for its musicianship, and for taking opera into the disturbing realms of internet chatrooms, online sex and anonymity, its leitmotif – "Are you there?" – at the very heart of Muhly's interest in the nature of identity.
His own chameleon-like ability raises eyebrows among those who cannot cope with versatility and who should remember that there is something more important by far to the composer than his starry shoulder-rubbing, and it is found in a surprising place. "People want to talk about my collaboration with pop artists," he says. "But sacred music – Byrd, Tallis – is part of my musical DNA. And it's important to be aware that this brilliant music was never written for applause. It was not about itself. It is so different from music for the concert hall, and I keep that at the heart of my practice, and recognise that there is a disconnect. But I'm the most happy or the most excited when someone is asking me to write a Magnificat or Nunc Dimittis. That's being asked to drop something into this moving stream of water that's been flowing since the 16th century. It feels so important. That music is specific to the place and time." So the English choral tradition is the original site-specific art? "Yes!"
It was a small step, then, to his part in the National Gallery show, Soundscapes, opening this week, for which artists working in sound have been invited to choose and respond to a work from the permanent collection. Muhly, who took to popping in to gaze at the 14th-century Wilton Diptych during rehearsals for Two Boys, chose the treasured altarpiece, with its saints, virgin and child, and graceful gazelle, and composed a work for viola da gamba and drones.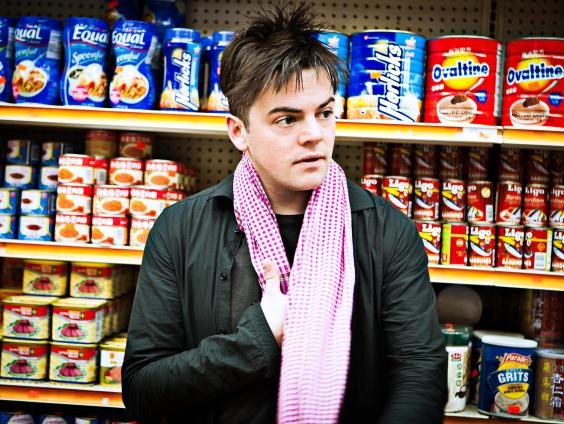 But Muhly's other current project is a long way from the constant and consoling world of religious art and music. With Hegarty, he has written the score for a new production of Caryl Churchill's 1994 drama The Skriker which opened last night at Manchester International Festival. With Maxine Peake in the title role, it tells of two young women, one of whom has killed her own child, whose lives are visited by a shape-shifting creature. The unsettling story is relayed in a torrent of wordplay, vivid phrases pivoting on homonyms that present the joint composers with predetermined rhythms: "No mistake no mister no missed her no mist no miss no …."
The collaborators' music inhabits the Underworld sections of the play. "It's already so musical, but the interesting thing about The Skriker is that it's not in verse. The challenge is to find a musical way in." The solution was to audition two community choirs of 25, from all age groups and musical backgrounds, who take turns to perform for the show's four-week run. But while most choirs aim for uniformity, the composer wants each singer to deliberately sing certain phrases at a different speed to their neighbour, so that there are multiple interpretations of the score.
"It's a highly stylised use of the choir. There's an element of improvisation within strict guidelines. When you're working within the rules, you find ways of breaking them. Antony and I have worked together so much that collaborating this time is really easy. He has this gift for melody which I don't.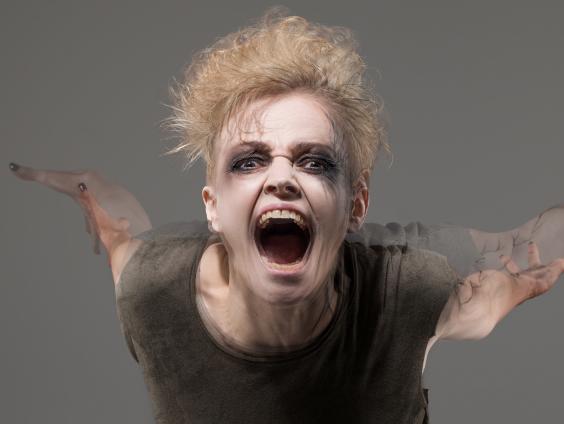 "I had read the play ... so when the ask came, I thought at first it was really hard – I had gone through a year of reading all the Shakespeare I could, and in Shakespeare, the text makes it quite clear where the music comes. But I came to realise that Caryl Churchill is being as clear as Shakespeare was ...."
Another shape-shifting woman is already in the composer's thoughts. An opera, Marnie, based on the novel that inspired the Hitchcock movie, is a joint commission between the ENO and New York's Metropolitan Opera that will premiere at the Coliseum in 2017. Muhly will be back in London, unravelling codes, like any traveller: "Why do the Underground escalators go up on the left here, and down on the left there? Have you been to EUR, Mussolini's town outside Rome? I love it! Why would you not want to speak many languages?" As a child, he must have taken asking questions to a whole new level.
He won't blush to read this, because he won't read this at all, avoiding such publicity just as he backs away from mirrors. He shudders at the thought, and scowls at the builders' noise by the Hayward Gallery. "Every compliment destroys me!"
Manchester International Festival runs from 2 – 19 July (mif.co.uk); 'The Skriker' is at the Royal Exchange Theatre, Manchester to 1 August. 'Soundscapes' is at the Sainsbury Wing, National Gallery from Wednesday to 6 Sept  (nationalgallery.org.uk)