It is the most eagerly anticipated appearance inside a glass box since crowds gathered by Tower Bridge, armed with tomatoes and other airborne-friendly objects, to see the magician David Blaine sit miserably in a 0.9‑metre by 2.1‑metre Perspex case for 44 days in 2003.
Tomorrow, P J Harvey begins a month-long residency inside a glass recording studio at London's Somerset House. Such is the eagerness to see the musician work on her follow-up to 2011's Let England Shake that the art centre's website crashed when tickets were released.
For those fortunate enough to watch Harvey and her band in action as part of "Recording in Progress", it will be something of a lottery as to what they actually get to see.
For every group of attendees granted with 45 minutes of voyeuristically witnessing a potentially historic melody being worked out, there will be countless more who will be greeted with a session musician lazily tuning a guitar. Harvey has been collaborating with Artangel, a company that works with artists to produce unusual projects, for more than a year. Its co-director, Michael Morris, explains that the idea is to demystify the recording process. "Polly's approach to songwriting and making films is very much like that of a visual artist and we got talking about how the process of making a record could be displayed rather like an exhibition and what that might feel like," he says.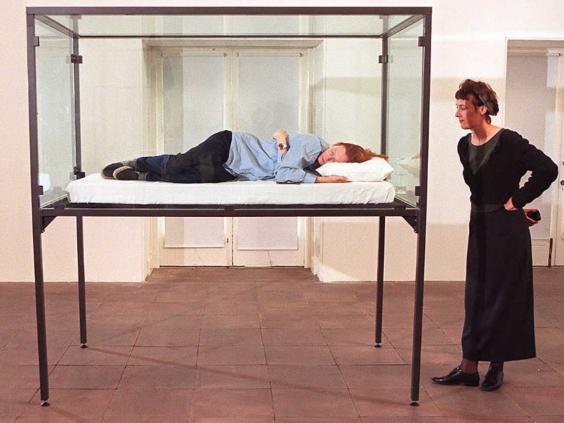 The glass box has long been featured in art but its usage is charged. "Once something is put in a vitrine [a glass display case] it becomes an artefact," Louisa Buck, The Art Newspaper's contemporary art correspondent, says. "The glass box isolates the object and puts it up for scrutiny, but on the other hand, it also protects. There's a two-way effect. It's almost a spotlight. You can be seen but you can't be touched. It's literally making an exhibition of yourself."
One of the most famous examples of performance art inside a glass case was when Tilda Swinton threw on some comfies and climbed into one for 40 winks at the Serpentine Gallery in 1995 (she reprised her role in Cornelia Parker's work, "The Maybe", at New York's Museum of Modern Art in 2013). Swinton was the centrepiece of an exhibition that featured the possessions (and one brain) of famous dead people.
"The glass kind of deals with the history of museology," says Julia Peyton-Jones, co-director of the Serpentine. "I think it's very interesting, this whole idea of reliquary. It's also kind of like a tomb. This idea of visiting somebody who is both available and not available."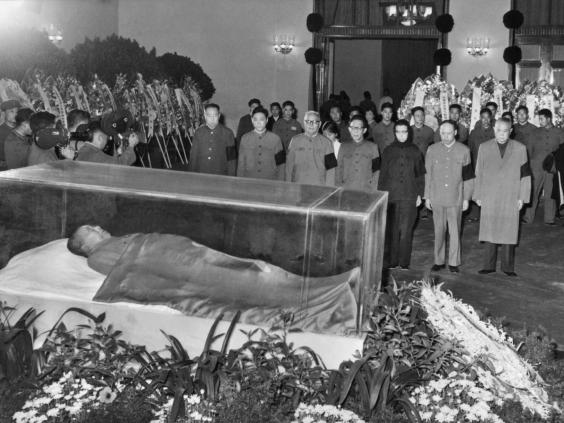 Art historians have drawn a link between the use of the glass case and the coffins of the dead, displayed for the glory of religion and art. The preserved corpse of Chairman Mao lies within a crystal coffin in a mausoleum in the heart of China's Tiananmen Square, while the tomb housing Lenin's embalmed remains in Moscow's Red Square recently underwent a renovation.
When Milla Jovovich stepped behind the glass for an art installation by Tara Subkoff titled "Future/Perfect" at the Venice Biennale in 2013, the actress was bombarded with boxes of goods and garments falling overhead, apparently in reference to greed and consumerism.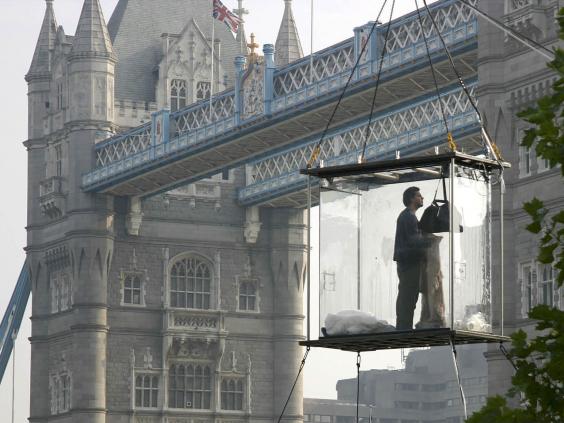 As is so often the case when live performances take place behind a glass box, Subkoff's work was dismissed by many as being a publicity stunt. Similarly, Harvey has been accused of merely trying to generate interest for her forthcoming album, a rather redundant criticism considering her reputation for being one of the most authentic artists of recent years.
But that's not to say that "Recording in Progress" will be immune from insult and ridicule. Fortunately for Harvey, however, the glass can only be viewed from outside in. So however restless or bemused any spectators might become, she will be blissfully unaware in her lair.
Reuse content