It's the morning of the 58th Grammy Awards in Los Angeles, the most august event in the American music-industry calendar, in a city baking in unseasonably high temperatures – at 9.30am it's already 80F. But for Brendon Urie, old habits die hard.
For one thing, the Panic! at the Disco frontman/songwriter is dressed in black T-shirt and tight jeans, which makes him stand out somewhat at the sun-bleached rooftop pool of this West Hollywood hotel.
You can take the emo rock star out of emo, that saddest of post-millennial cliques, but you won't get him out of his sub-goth daywear.
For another, unlike the Brit Awards, the Grammys are notoriously dry, in every sense of the term. "It's LA, so a lot of people are newly sober," the Las Vegas native explains with a grin.
But that won't be stopping Urie, a man with a healthy enthusiasm for wee-hours jollity, as evidenced on his band's riotously good-time new album, Death of a Bachelor.
"We're kinda up in the air as to whether we go to the Grammys," Urie shrugs. "It depends on how much we drink before the car picks us up. But we're not on professional duty – it would just be partying duty," he smiles. "The awards show is dry, but that doesn't mean the pre-game and post-show fun won't take place."
In truth, no matter how he's dressed this morning, the "emo" tag never wholly suited Urie and Panic! at the Disco, the band he and three childhood friends formed in 2004.
There was always too much exuberance and, well, pre-game and post-show fun. It's even less applicable on Death of a Bachelor, which was released last month and became their first US No 1.
The band's fifth album is an explosive, colourful rock album, shot through with not a little dancefloor energy. It speaks of one change in the 28-year-old's personal circumstances – three years ago he married Sarah Orzechowski, an aesthetician (a skincare specialist) from Detroit.
The album is the cheerful sound of an extrovert man growing, a bit, into adult responsibility while looking back fondly on his single years. But Urie says that concept only came after the fact.
"The first track I wrote was 'Hallelujah'," he says of a gospel-goes-funk song released 10 months ago and whose video has had almost 15 million YouTube videos. "And at the time I didn't have an album in mind, [nor] this full vision for an album. I only knew I wanted to do some songs that were Sinatra-inspired, and Queen-inspired, little moments here and there."
Indeed, one of the more refreshing sounds on Death of a Bachelor, notably on the title track, is Urie giving it full "crooner". Against expectation, it works, which is one benefit of growing up in Las Vegas and being steeped in its entertainment history. Urie wears his passion for Old Blue Eyes on his sleeve: he has a giant tattoo of Sinatra's face on his left forearm.
"My enthusiasm for him has moved in waves. As I got older I found a deeper appreciation for him as a vocalist. And Sinatra at the Sands is one of the greatest live albums of all time."
Between-song racist banter on the 1966 classic notwithstanding…
"Yeah, suggesting his buddy Sammy Davis Jr sits at the back of the bus – whoah!" winces Urie. "That's a little wild, Frank! I do remember seeing them demolish The Sands and put a new casino in its place, and my parents explaining to me it was the place where the Rat Pack performed and how it was Sinatra's baby. It really crushed me."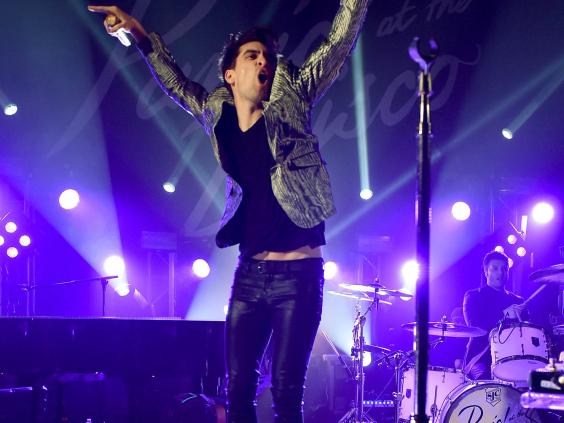 Urie was able to pursue his (on paper, somewhat ambitious) Rat Pack dreams without fear of contradiction. After the release of Panic's fourth album in 2013, drummer Spencer Smith exited the band to deal with addiction to alcohol and prescription pills.
He was following in the steps of the band's two other original members. This means Urie is the last man standing. To lose one founding member is unfortunate – but to lose three-quarters of them?
"Yeah, I smell, I'm loud, I'm offensive!" laughs someone who certainly seems to radiate bonhomie (and good personal hygiene). "That's something that I'm sure everyone assumes – what is wrong with this guy? Is he an asshole?
"When we started off I just thought, 'oh yeah, we'll be together forever, like the Stones, four original dudes touring until we're 70'. Which would be amazing. But there was never a question that I wouldn't continue after Spencer left, just like it was never a question after the first couple of guys left. I always wanted to do this. They left because they didn't want to do it any more, which I totally get and respect."
He might still operate under the band name but Urie is, in effect, a solo star, free to pursue whatever imaginative musical directions he fancies. It's a position viewed with some envy by another "is he/isn't he" solo performer.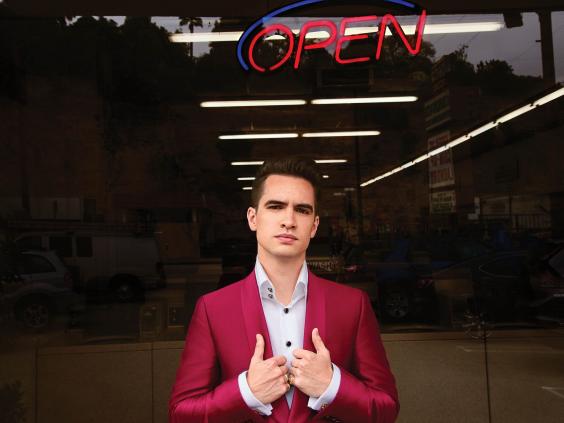 "Just heard Death of a Bachelor by Panic at the Disco," Robbie Williams tweeted three days before our meeting, "and realised what I should sound like."
"What?" exclaims Urie when I relay this. "Are you sure? Oh my goodness, Robbie Williams? Dude, that's huge. He's a great singer. What was that boy band he was in before? I remember seeing him in a huge fur coat in a video…"
I hand him my phone and as Urie reads it, his face lights up. "That is the biggest compliment. That is awesome."
This kind of connection – based on musical appreciation and enthusiasm – matters to Urie more than most.
Like his fellow Las Vegas showman-cum-frontman, The Killers' Brandon Flowers, Urie was raised a Mormon. Unlike Flowers, Urie left the faith as soon as he felt able.
"I still use a lot of good values from growing up in the Church, and there was a sense of community. But you were also being heavily judged by people that wanted to look down on you for not being as great as they are.
"And that's not the sense I get when I'm touring and just in music in general. So meeting fans and interacting with other bands has become a new religion to me, one that's overwhelmingly beautiful and enlightening."
'Death of a Bachelor' (Fueled by Ramen/Atlantic) is out now. Panic! at the Disco headline the UK's Slam Dunk Festival in May
Reuse content