Today we bring you a short film from Placebo set to their growling cover of Talk Talk's 'Life's What You Make It'.
Shot in Agbogbloshie, a former wetland in the heart of Accra, Ghana, it centres on the enormous electronic waste dump there, an otherworldly environment and a sobering one, particularly in light of the historic, anti-environmentalist action Trump took last night.
The band put out a brief for the music video around e-waste and singer Brian Molko got talking to director Sasha Rainbow.
"I called her up to sound her out and discovered that I was speaking to a very brave and passionate woman," he said. "I told her that she had balls of steel for actually daring to go film on location in Ghana and that, no, we would not be coming, since we were timid little souls."
Rainbow explained of her video: "The two boys in the film live in this extraordinary place, which, for me, highlights a human's ability to adapt with incredible strength, resilience, and humanity."
It is a compelling look into a world that few know exists.
"I hoped to capture the environment in a dreamily meditative way that would at once juxtapose and yet synergise with the theme of the song and glimpse at a part of the repercussions of our current technological revolution. Technology on the one hand is enabling us to create things beyond our wildest imagination, and yet little discussion has been had about what to do with all our discarded e-waste."
Molko's wounding delivery of the "life's what you make it" line is repeated by the boys in the video, who dance amid the piles of discarded phones and computers.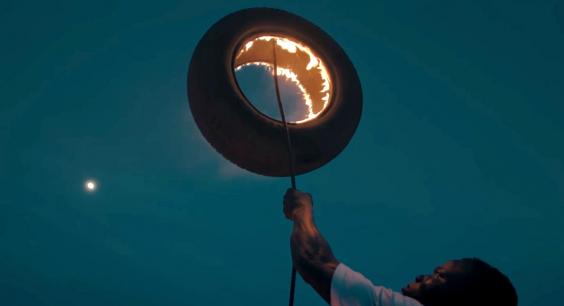 "I think that it is important to stress that the video is not anti-technology," Molko added. "That would be ridiculous, considering how much it enriches our daily lives. To me, it is about the triumph of the human spirit in the face of adversity that has not been chosen. 
"We do, however, hope that it will make the viewer think about the repercussions of just throwing away tech that doesn't work anymore. There are several new and ingenious ways to recycle tech these days. Some companies will even give you money for it. All it takes is a little more effort."
As for the choice of song cover, he explained: "We covered Talk Talk's 'Life's What You Make It' because it is a song from the 80s that we still liked and we wondered if we could replicate Gwen Stefani's global smash hit with her band's cover of [Talk Talk's] 'It's My Life'. That remains to be seen . . ." 
Reuse content