In a small studio in Cardiff, a large figure looms among cardboard boxes and wooden tables. There's a scuffling sound – a few chairs look like they're going to topple over. 
"Found it."
Super Furry Animals frontman Gruff Rhys emerges with a giant bear's head smoking a pipe, stepping over a plastic baby on his way.
"This is one of the things we used for the last live tour," he says, holding it aloft.
Five minutes later we're huddled around an old radiator in one of the rehearsal rooms as Rhys explains how a couple of friends of the band have created an institution of sorts – "like a social service for bands" – where most artists from the area come to rehearse. Later we'll peek into SFA's space and find the rest of the band crouching over foot pedals and adjusting guitar strings.
Rhys loves it because here – aside from the fact that it's cut off from every possible distraction – the studio attracts bands like Bullet For My Valentine in one room, then Budgie (from Wales), the hard rock band who were huge in the seventies and have their own festival in Texas every year. And then a completely new band in another one. But everyone's using the same kettle.
The 46-year-old artist is a wonderful, calming presence to be around. Recently back from a show in Mexico he found himself being interviewed on a cooking show called Let's Taco'bout It. I thought they were trying to make some link to SFA's song "Guacamole", but apparently they just wanted him to eat bugs (he didn't). He seems relieved to be back in the studio.
SFA are rehearsing for their Fuzzy Logic/Radiator tour, which will see the psychedelic rock legends take their classic albums around the UK through December, with a homecoming show taking place at Cardiff's Motorpoint Arena on 17 December. 
"It's been really nice," Rhys says. "What's enjoyable about it especially is that we've never played a lot of the songs live. So it's an extra sort of special. 
"Some of the ones from Fuzzy Logic are interesting songs but they're harder to play for a gig, especially when we were starting out in the sorts of venues we were in. We were so reliant on energy. Now we've been touring for 20 years, we can play things that were inconceivable before." 
Performing at the Motorpoint Arena will give the band a chance to have some more fun onstage. They can bring their inflatable bears ("an evil one and a good one"). Rhys pulls out his phone to show how they"ve had their album art by Pete Fowler animated; it's going to be displayed, 40ft high, on screens behind the band.
"So we don't have to bring the head" (the bear from upstairs). "And we have various characters."
There's a bat, the masked bear from Radiator wandering down the street… "and Howard", the Welsh drugs smuggler, author, and subject of SFA song "Hangin' With Howard Marks", who passed away this year.
"The last time we saw him was at his farewell show – so he was able to plan his goodbye," Rhys says.
"We used to text and stuff. That was a good sign, that he was still active. So it was still a shock, in a way, when he died. We knew he was ill, but I had no idea..." he trails off.
The idea of a reissue for one of the SFA albums had been on the cards for a while, but it took the band years to figure out who actually owned the rights for Fuzzy Logic.
Sony bought Creation Records, which had originally released that record 20 years ago. BMG and Sony merged, then they split up. And unbeknownst to the band, BMG took all the rights to their records. 
"So we were trying to contact Sony to try and get the rights to our records, and they didn't actually own it," Rhys says. "Then we heard that BMG owned it, and we were trying to contact them. And it turned out that they'd been trying to contact us the whole time."
If that wasn't enough, the California warehouse where the Super Furry Animals records were being kept caught fire. 
Fortunately because the band's name began with an "S", they were in the part of the building that had been spared – but there was still smoke and water damage to deal with. It's a good thing they made themselves "Super", or they might not have made it.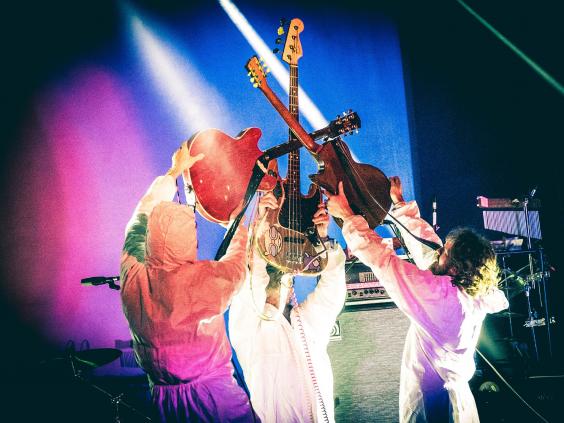 Last year saw the reissue of the band's fourth album, Mwng, 15 years after it first came out, and Rhys acknowledges that for a band that has been around for 20 years, "anything is a potential anniversary". 
It's why SFA decided to tour Radiator at the same time: "Unless it was some conceptual-art stunt where we relived our entire 20-year career for the next 20 years, with an anniversary every day, playing the same venues," he muses. "But I think that'd be taking it too far."
"This'll be the last tour for a good while so we're going to enjoy it all the more. There are some places that we haven't played… Dublin for example, for a while – that's an amazing place to play. We've been catching up on all the places we haven't been in a while."
SFA fans will be waiting a while for a new album too, it seems. "It's been interesting touring the back catalogue," Rhys says. "A pretty amazing experience. And it's much less tense than touring a contemporary record where people are more judgemental. People know the songs, that's what shocked us the most on the last tour. People singing along to obscure album tracks."
Welsh ones included? "People have a go at singing along if they're drunk enough. Dublin people sing along to every song whether they know it or not, it's amazing. 
"That was the biggest change from playing six years ago. In the past, people would know singles, but it seems people differentiate between what's been on the radio and what hasn't."
Since the EU Referendum, there has been considerable hand-wringing over why around 52.5 per cent of the Welsh electorate voted Leave. While Rhys' take on the EU is nuanced, when it came to a "yes" or "no" referendum he was for Remain "with caveats" – he composed a song called "I Love EU" and released it in April ahead of the vote.
"It's an institution that needs to be changed radically, but in the opposite way to what seems to be the mainstream view of it, I think," he says.
He feels that the result in Wales shouldn't have been quite the surprise that everyone made it out to be. 
"I think a Leave vote in Wales would have been unimaginable five years ago. But on top of the extreme misinformation from the media, which had a big responsibility, and the misinformation from the Leave campaign… if you've got nothing then you've got nothing to lose. So on paper, even if you have these areas that are showered with grants, it doesn't necessarily bring back thousands of well-paid jobs."
"It's extremely hard to be motivated in a vote that was instigated by an idiot prime minister. It's very hard to be passionate about that. I think it's an existential crisis for Wales, especially for Welsh-speaking communities… to have a multi-lingual EU superstate seem more natural. It's a patchwork quilt of different cultures and languages, and it's very attractive compared to more of a old-fashioned, one language colonial state."
Welsh is Rhys' first language (he pauses often during the interview, with a slight, concentrated frown, to translate things in his head to English) – and he feels as though it is one that's in crisis.
"What's been done to Welsh is a scandal, and it's at its lowest-ever point every year. But there are measures that can be taken to safeguard it. Schools teaching it are on the increase. In the bulk of the 20th century, people were encouraged not to use the language, it was seen as this backward thing. Now people are largely proud of it, and now it just needs to be backed up by regulation, to give it concrete support. Especially for the communities where it's spoken traditionally. 
"It's precious, and it has the disadvantage of being invisible. If there's an ancient, historical building that represents a whole culture – if that's wiped out then people are in uproar. But something as fragile as a living language, it's harder to manifest itself visually in people's imagination."
The Super Furry Animals reissue of 'Fuzzy Logic' is out now. The band perform two sold-out shows at London's Roundhouse on 8 and 9 December, and a homecoming gig at Cardiff's Motorpoint Arena on 17 December
Reuse content