Festival-goers at Glastonbury will avoid a mud bath at this year's festival, although spells of wet weather early next week mean they'd do well to remember to bring their wellies.
The festival spans five days, from Wednesday 24 June to Sunday 28, and it's likely to stay dry for most of it.
According to Weather Network forecasts, it's going to be warm for most of the festival, with temperatures reaching a balmy 21 degrees on the Thursday.
Things may get a little damper on the Friday, however. There's a 40 per cent chance of rain, and the temperature looks likely to peak at 17 degrees, so make sure you don't leave your raincoat in the tent.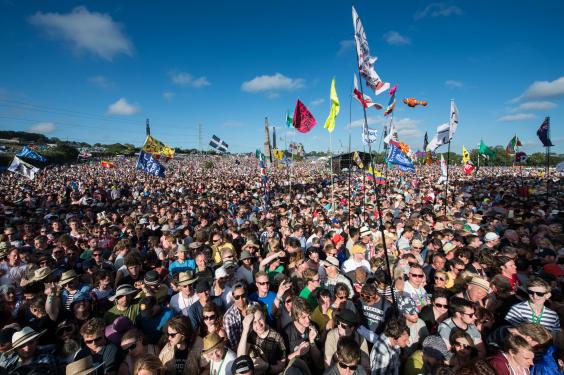 All in all, the weather's going to be fine, but spots of rain here and there could put a dampener on things.
Although it's a treasured tradition, there's probably not going to be submerged tents and people paddling around in canoes at this year's festival.
However, a rainy day on the Monday before the festival could leave things a little wet.
Glastonbury line-up 2015
Glastonbury line-up 2015
1/23 Kanye West - headliner

The headliner on Saturday night will perform on the Pyramid Stage, following the footsteps of Jay-Z, who performed in 2008.

Getty

2/23 Florence and the Machine

Florence is performing this year, but not as a headliner.

Reuters

3/23 The Who - headliners

Roger Daltry (left) and Pete Townshend of the Who will bring Glastonbury to a close on Sunday night

PA

4/23 Pharrell William

The 'Happy' hitmaker will return to the stage at Worthy Farm.

Getty Images

5/23 Alt-J

...so will Atl-J.

Alt-J/Facebook

6/23 Mary J Blige

Mary J Blige will be making her debut appearance at the highly-anticipated festival.

Getty Images

7/23 Paloma Faith

Paloma is set to perform on Wednesday 24 at 7:00pm. Stage to be confirmed.

Getty Images

8/23 Fatboy Slim

The DJ will unveil a new feel good 'disco-circus' compilation at Worthy Farm

Getty Images

9/23 Alabama Shakes

Brittany Howard of Alabama Shakes

Phil Bourne/Redferns via Getty Images

10/23 The Waterboys

Singer Mike Scott and violinist Steve Wickham (left)

Getty Images

11/23 The Fall

Band's founder Mark E. Smith

12/23 CleanBandit

The band will return and promise to perform their hit 'Rather Be'.

© Justin Sutcliffe 2013

13/23 Azealia Banks

The American rapper returns to the UK for Glastonbury 2015.

14/23 George Ezra

After perfoming at Coachella, Ezra prepares for the UK's biggest festival.

15/23 Deadmau5

The Canadian DJ, known for his mouse mask, has been confirmed too.

Getty Images

16/23 La Roux

La Roux singer Elly Jackson.

Getty Images

17/23 Ella Eyre

Big-haired Ella Eyre returns to Glasto.

PA

18/23 Hozier

Hozier will please fans with his single 'Take Me To Church'.

Splash News/Corbis

19/23 Jessie Ware

Jessie Ware has legions of fans all over the world and will grace the UK at Glastonbury next.

Getty Images

20/23 The Maccabees

Felix White, Orlando Weeks and Hugo White of The Maccabees.

Borkowski

21/23 Kate Tempest

Kate Tempest, the Mercury Prize-nominated artist and poet is a draw to the festival.

Getty Images

22/23 Jamie xx

DJ Jamie xx returns to Glastonbury's stage this year.

23/23 Young Fathers

Mercury Prize winners Young Fathers

Simon Lewis
There's going to be fairly heavy rain on Monday at Glastonbury, and while it shouldn't affect anyone but a few wet roadies, the festival site could still be damp by the time revellers start arriving on Tuesday night and Wednesday morning.
Around 175,000 people will attend this year's festival, and with that many people trudging through a campsite carrying heavy tents and bottles of booze, things could get a little muddy.
But then again, it wouldn't be Glastonbury without a bit of mud, so make sure to bring your wellies and embrace it.
Reuse content