If Friday was the day that Glastonbury 2014 sparked and fizzed to a solid opening, then Saturday was the day that Worthy Farm struggled to dry out from the subsequent deluge, offered a daytime line-up that tried hard but failed to excite, before finally handing proceedings over to rock in the evening.
It started well at the Pyramid stage where Nick Mulvey opened with a sweet set, the ideal remedy for the bleary-eyed campers, who had trudged through the mud to see him. And mud there was; in vast quantities. Thankfully not enough to dampen the trademark positive Glastonbury spirit, but enough for many to ask the question, why has the English language only got one word to describe the huge varieties of the slippery brown stuff?
The afternoon saw then best of the action on the Other Stage where Kelis, Warpaint and Kodaline all impressed during windows of drizzle and sunshine. But some of the best "Glastonbury moments" where to be found further afield, including at the John Peel Tent where hectic Brighton duo Royal Blood staked an early claim on 'festival highlight' status with a frantically aggressive rock-metal set.
Elsewhere though the complaint that Saturday line-up was disappointing was widely heard. Perhaps explaining why the site seemed to convulse with rumours upon rumours about secret gigs. And just like last year, it spread like anti-bacterial hand wash at a Glastonbury long drop that Prince would appear, though at the time of writing he had yet to be even spotted on site.
And as festivalgoers prepared for a night of rock from Robert Plant, Jack White and of course Metallica, it was down to Lana Del Ray to fill the late afternoon slot on the Pyramid Stage. She drew a big crowd, but it started growing smaller well before thunder roared and rain dumped down.
Sadly the singer, who smoked a cigarette on stage, was a big disappointment, even to some or her loyal fans. Her usual stand-out track "Blue Jeans" failed to muster a reaction with hard-to-define vocals and lacklustre delivery, while new track "Ultraviolence" went largely unnoticed by a distracted crowd.
Female acts to see at Glastonbury
Female acts to see at Glastonbury
1/11 Dolly Parton

Despite being in the music business for over 30 years, Dolly has never performed at a UK festival before

Getty Images

2/11 The Haim

The Haim sisters popped up everywhere at last year's event, performing secret gigs and providing backing vocals for Primal Scream. Watch out for Este's famous 'bass face'. (See them at The Other Stage at 16.25 on Friday)

PA

3/11 Lily Allen

Lily's love for Glastonbury is well-documented so it's no surprise that her comeback tour includes a stop at Worthy Farm. (See her at The Pyramid Stage at 18.30 on Friday)

Getty

4/11 Chvrches

Lauren Mayberry's faltering between-number chat leaves a lot to be desired. The trio is described by the festival organisers as "Depeche Mode in the early '80s. (The John Peel Stage on Friday at 19.45)

Getty Images

5/11 Goldfrapp

The electro pop duo have evolved considerably in recent years. (See them at West Holts Stage, Saturday at 20.30)

Getty Images

6/11 Blondie

The strong voice of Debbie Harry will be kicking things off relatively early on Friday, with their first gig at Worthy Farm since 1991. (See them at The Other Stage at 12.20 on Friday)

Duncan Bryceland/Rex Features

7/11 Anna Calvi

Anna Calvi has scored Brit Award nominations and made it on to the Mercury Prize shortlist. (See her at The Park Stage at 20.00 on Saturday)

Getty Images

8/11 London Grammar

From left to right: Daniel Rothman, Hannah Reid (lead singer) and Dominic Major of London Grammar. They're perfect alternative if you don't fancy seeing Pyramid Stage headliners Kasabian. (See them at John Peel Stage, 22.10 on Sunday)

PA

9/11 Lykke Li

Swedish singer Lykke Li is one of the top international indie-pop stars of the moment. (See her at The John Peel Stage, Friday at 21.15)

Getty Images

10/11 Beth Orton

Beth Orton made a return last year after a six year hiatus. Her Saturday evening set is the perfect way to chill out during the festival. (See her at Avalon Stage at 20.15 on Saturday)

Rex Features

11/11 Ellie Goulding

Her performance at Glastonbury will follow this year's O2, Wembley and Coachella performances. (See her at The Other Stage, 20.30 on Sunday)

Getty Images
Thankfully Led Zeppelin's Robert Plant, who was up next, knew how to work the crowd into a fit state for the hour. Starting after the deluge, and before Jack White came on stage, he got huge cheers for an extended "Whole Lot of Love", thrusting backwards and forward with microphone stand in hand.
The crowd wasn't the biggest of the day, but Plant worked them like the seasoned professional he is. An encore of "Rock and Roll" delighted the gathering fans at the Pyramid Stage who found a big act worth putting their hands in the air for.
Meanwhile on the Other Stage it was the duty of Imagine Dragons to up the pace, which they did with a mud battle in front of their stage, leaving them covered in ooze, presumably in sympathy with their fans.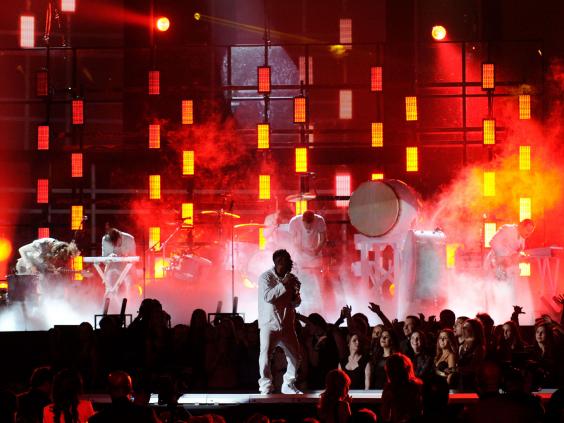 The following set, compared to the slow start to the day, was a delight with a huge drum component, sticks flying and a fearsome guitars. In was "Radioactive" that really a sort of trance-like communal act of swaying worship. The older rocker and the dragons both knew what needed to be done, and just as Saturday was looking to be a lacklustre affair, they pulled it out of the bag.
Soon after Jacked White opened his set on the Pyramid Stage with two White Stripes numbers to keep the crowd warm, before meandering into a country-music style interlude and then a self-indulgent rock out. It was as if he was trying to be all things to all 200,000 Glastonbury festivalgoers. He didn't do badly at all, but it seemed the bigger turnout was at the other side of the site for the Manic Street Preachers, playing in the 20th year since they first performed at Worthy Farm.
The crowd was muddier, the field more mushy and the sing-along volume far higher, as they toured right through their back catalogue, sprinkling in tracks from new European-influenced album Futurology.
It was all expertly done – they've had plenty of practice – leaving thousands whistling "A Design for Life", which was dedicated to bandmate Richey Edwards, who disappeared without a trace in 1996. It was a touching tribute and left the crowd whistling the tune into the night, with the Pixies, Jake Bugg and Metallica still to play.
Reuse content