"One, two, three, four!" The teacher calls out as she counts us through our warm up. Standing in a wooden-floored room in Pineapple Studios, facing a wall of mirrors and seeing my awkward reflection staring back at me, I step in time with the rest of the class: first on to our toes, then pushing down our heels, making tapping noises with each step left, right, left, right, toe, heel, toe, heel. It's noisier than you'd expect.
People may think tap dance has had its Hollywood heyday but it has been steadily shuffling away on the periphery of popular culture for decades with recognisable names such as Gregory Hines and Tony-award winner Savion Glover punctuating the world of screen and stage. And the art form was pushing back into the public eye before La La Land pulled it front and centre; Channing Tatum tapdanced on tables in the Coen Brothers' film Hail Caesar! last year; the Tony award-winning musical An American in Paris and hoofing classic 42nd Street have opened in London's West End; and MacArthur 'Genius Grant' recipient Michelle Dorrance is bringing her modern take on tap dance to the UK this summer.
But the explosion of La La Land has resulted in teachers and dance schools from London to New York seeing an increase in demand for classes, with people often citing the film as their inspiration.
Today's class is based on the film's choreography, specifically the scene where Emma Stone and Ryan Gosling pull on a pair of spats-style tap shoes and dance around a hilltop in Los Angeles, falling for each other at the same time. While this number emulates the same sense of fun and playfulness audiences would expect from a Fred Astaire and Ginger Rogers duet, it doesn't actually involve many traditional tap steps. Which is perfect, as this is a beginner's class.
We are learning simple moves, but they can be frustratingly hard to learn for the first time. Tap isn't just about using your feet differently, it's about thinking in a different way, too: using a new kind of co-ordination that involves hitting the floor in time with a beat.
"If you've never danced before and you start tap then you're learning a lot at once, such as co-ordination, balance, and posture," Adele Joel, the teacher, says, "but anyone can come and learn because you can soon work it out." And she's not wrong – we soon start stepping in time with each other and the moves begin to make more sense, it just takes a little perseverance.
But before we start thinking about taking on Mia and Sebastian's moves, Ms Joel, a professional tap dancer, wants to make sure we get a good grounding in the dance. She takes us through the basic steps: brushing our toe taps forwards and backwards along the floor to create shuffles, digging our heels into the floor and catching our toes as we pull up one foot and place it down again in a paddle step, and learning how to create separate sounds with the heels and toes of our feet.
This is where I have to confess that I already take tap classes, but it means I can vouch for it being incredibly fun, an effective form of exercise (there's a lot of jumping involved) and something that can be taken up at any age, whether you're nine or 90, no matter your shape or size. Also, the sense of achievement you get after finally nailing a new step in class is pretty rewarding.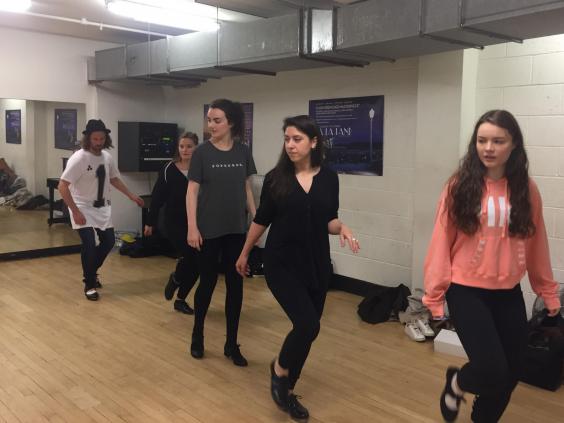 But right now I'm not nailing the arms in this routine, or remembering the direction my head or body is meant to be facing. Mandy Moore, La La Land's Emmy-nominated choreographer best known for creating the routines on America's So You Think You Can Dance, has said before that this piece is not supposed to look perfect or polished. Instead, it should show the audience the human side of this Hollywood duo. I'm certainly showing the human side of my co-ordination, at least.
The film's creators have clearly kept the likes of Astaire, Rogers and Gene Kelly as a close reference for its style, but there is another popular form of tap dance to be found in dance studios, too. Ms Joel also teaches rhythm tap, an American art form, which she describes as "being an instrument rather than a dancer, being part of the music and another melody, another rhythm, another asset to the song" you're dancing to. It's more about the sounds and rhythms you make with your feet than dancing in a recognisable Broadway style.
She likes to pick a different tap dancer to focus on each week, teaching their steps in class and giving people turning up a little more context to what they're learning. "I love to teach about Chuck Green and Eddie Brown, and I use a lot of Jason Samuels Smith's steps, who is more of our generation," she says. Today she tells us about Moore's method for teaching Gosling and Stone to dance, and how they worked together to create the piece we're learning.
Ms Joel is one of many offering classes in rhythm tap, alongside Avalon Rathgeb and Jamie Spall at Pineapple Studios, running from beginners to advanced. The latter co-founded the UK's first tap dancing festival in Brighton two years ago, and she and Ms Joel are part of Rathgeb's tap dancing company, Old Kent Road, which is touring the UK with a new show this summer.
The performance ensemble Sole Rebel Tap runs classes in Oxford and Liverpool, while the London Tap Jam offers the chance to experience a lively night of dancing without needing the relevant  shoes – simply watch the hoofers who get up on stage do all the work as they improvise with a live jazz band.
Though we have been in a beginner's class, our time in the studio has been lively. And it gets even livelier when Ms Joel reveals the song we've been practising to is only playing at 60 per cent to help us get the hang of the routine. Bringing it up to speed leaves me more sweaty and out of breath than I'd like to admit, but I walk out with a big grin on my face all the same. It's about being human, after all. 
On-screen dancing that got the public up on their feet
Billy Elliot: The 'Billy Elliot effect' has been attributed to the Royal Ballet taking in more boys than girls to its junior and senior schools for the first time two years after its release, while the trend for seeing more boys in ballet has continued and an all-boys ballet school opened in London in 2014.
Strictly Come Dancing: The public took to the first series of Strictly so well that the number of people taking dance classes reportedly rose from 175,000 to 260,000 in its first year. Over a decade later it is still going strong, with the President of the British Dance Council attributing Strictly's popularity to a "huge" increase in the number of under-16s who have grown up with the show and are now taking up ballroom dance.  
Beyoncé's Lemonade: It's not just traditional dance styles that meet increased demand when a film or TV show becomes popular. The release of Beyoncé's visual album Lemonade sparked a new trend in classes in New York, and moves from Queen Bey, Rihanna and Lady Gaga are the inspiration for diva-inspired dance classes popping up in London. 
La La Land is available now on digital download and is released on blu-ray, limited edition steelbook, 4K ultra HD blu-ray and DVD today
Reuse content