Rock group AC/DC had "problems" with drummer Phil Rudd before he was charged with attempting to procure murder earlier this month, and have not spoken to him since.
Rudd's arrest on 6 November "took everyone by surprise", according to his bandmate Angus Young, but there had been conflict while recording their latest album.
"It was tough to get him [into the studio] in the first place," bassist Cliff Williams told USA Today.
"It put us in a difficult situation," added Young. "It put is in a spot where we couldn't move forward. Does the guy show up? Is he reliable to do his job in good shape? We've always been a solid reliable unit. At this stage, it's a pretty tough call for us."
While Rudd did finish recording upcoming album Rock or Bust with the band, he has missed a photo shoot and recent video shoots.
Best guitar riffs of all-time
Best guitar riffs of all-time
1/10 1. Led Zeppelin with Whole Lotta Love

Getty

2/10 2. Guns 'N' Roses with Sweet Child O'Mine

Getty

3/10 3. AC/DC with Back in Black

Getty

4/10 4. Deep Purple with Smoke On The Water

Getty

5/10 5. Derek and The Dominoes with Layla

Getty

6/10 6. The Smiths with How Soon Is Now?

Rex

7/10 7. Status Quo with Down Down

Getty

8/10 8. Dire Straits with Money For Nothing

Rex

9/10 9. The Kinks with You Really Got Me

Getty

10/10 10. Pink Floyd with Money

Getty
Rudd was also charged with possession of marijuana and methamphetamine. His murder-for-hire charge was dropped within 24 hours but he could still face a maximum prison term of seven years for another charge of threatening to kill. Rudd will appear in court in New Zealand on 27 November.
"When you get in that land [alleged drug usage], it's very hard," Young continued. "I don't know the exact situation. I can only say, from our perspective, that guy needs to sort himself out."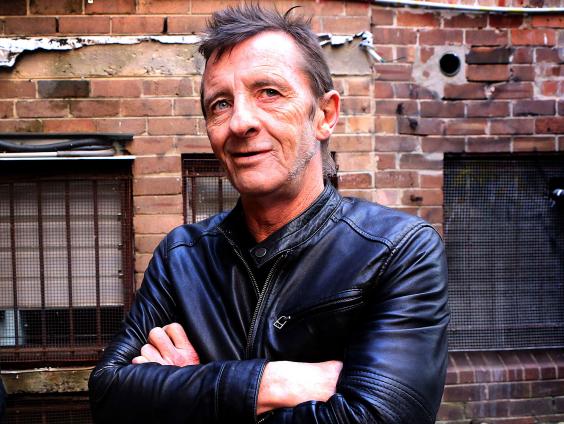 Rudd was kicked out of AC/DC in 1983, before he re-joined in 1994. Now, his future looks doubtful.
"At this point it's kind of a question mark," said Young. "But if we're touring, there will be a drummer in place, put it that way."
Young's brother Malcolm was revealed to be suffering from dementia earlier this year, forcing him to retire from the band.
Reuse content