Adele 25 review: New album arrives to save the music industry
'It's certainly got the pedigree to succeed if any one album could'
3
Click to follow
The Independent Culture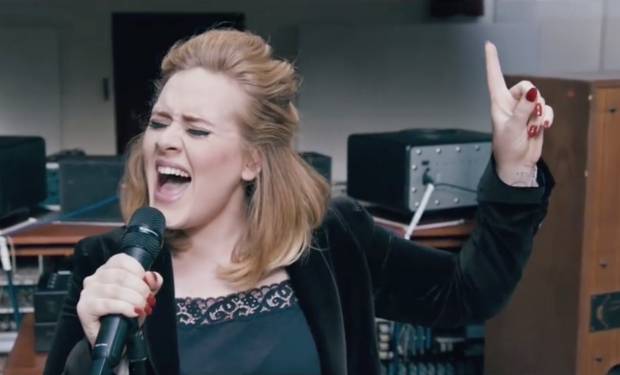 So finally, it's here. For once, an album release genuinely merits the overused epithet "eagerly awaited" - as not just fans, but music business operatives too, wait on tenterhooks to see if Adele's 25 can generate enough business to save an entire industry from slow strangulation by download. 
It's certainly got the pedigree to succeed, if any one album could. In previous eras, music industry insiders would be familiar with the syndrome of the five-album purchaser who would dictate the year's big successes - the person who was not a music fan as such, but bought only five albums each year. Those albums would slip past taste-makers and hipsters with an apparently effortless momentum, driven by genuine populist taste: in the Eighties, their number included the likes of Phil Collins, Sade, George Michael, Alison Moyett and Paul Young.
Now, of course, things are much more atomised and uncertain, and it may be that those casual consumers have already been swept up by the download revolution; but the industry has a shrewd notion that they're still out there, and if they are, then Adele is almost the perfect exemplar of what they want from their rare foray into pop: soulful, down-to-earth, not overly concerned with style, and blessed with the rare gift to touch hearts simply through the timbre and inflection of her voice. 
Most memorable Adele quotes
Most memorable Adele quotes
1/20

'I'm ballsy. I have guts. I'm not afraid of anyone. The only person I'm afraid of is myself.'

2/20

'I am never writing a breakup record again. I'm done with being a bitter witch.'

3/20

'I am quite loud and bolshy. I'm a big personality. I walk into a room, big and tall and loud.'

2013 Getty Images

4/20

'My management post my tweets for me because when Twitter came out I was drunk tweeting and nearly put my foot in it quite a few times.'

5/20

'You can't complain about your dressing room or you'll look like Celine Dion!'

6/20

'I make music to be a musician, not to be on the cover of Playboy.'

7/20

'I don't date celebrities? I ain't f**king Taylor Swift, do you know what I mean?'

8/20

'I like eating fine food and drinking nice wine. Even if I had a really good figure, I don't think I'd get my t**ts and a** out for no-one.'

9/20

'I represent the majority of women and I'm very proud of that.'

2013 Getty Images

10/20

'If a man whistles at you, do not respond. You are a lady, not a dog.'

2012 Getty Images

11/20

'I love seeing Lady Gaga's boobs and bum. I love seeing Katy Perry's boobs and bum. Love it. But that's not what my music is about. I don't make music for eyes, I make music for ears.'

12/20

'I love a card. You know, cards? At birthdays? I collect them.'

13/20

'I get so nervous on stage I can't help but talk. I try telling my brain: stop sending words to the mouth. But I get nervous and turn into my grandma.'

14/20

'Even when I was signing a contract, most of the industry knew if anyone dared say 'Lose weight!' to me, they wouldn't be working with me.'

2013 Getty Images

15/20

'I'm like Johnny Cash. I only wear black.'

16/20

'I have insecurities, of course, but I don't hang out with anyone who points them out to me.'

17/20

'I love hearing my audience breathe.'

18/20

'I was so in love with Mike Skinner I wrote him a letter and when I told my friend about it she cussed me so I went and pretended to do the washing up and cried.'

19/20

'I like looking nice, but I always put comfort over fashion. I don't find thin girls attractive; be happy and healthy. I've never had a problem with the way I look. I'd rather have lunch with my friends than go to a gym.'

20/20

'I don't care about clothes. I'd rather spend my money on cigarettes and booze.'
The anticipation has been carefully stoked through the past few months, first by leaked rumours and suppositions, including the revelations of snubbed collaborators that led Phil Collins to describe her as "slippery", followed by the release of little sting videos like the one in which she sings "When We Were Young", then more concretely by the release of "Hello", with its monochrome promo video featuring Adele shouting at a pond about an argument that seemed to happen years before, and complaining that "How come when I call you, you never seem to be home?".
To which query there are two obvious answers, the first being that the phone box is overgrown with creepers and clearly out of order. The second is that her call involves the invitation for a former lover to meet up and "go over everything", which in an unscientific survey of the things most men would least like to do was only narrowly beaten by being stuck in a broken lift with the presenters of Loose Women. 
"Hello" is the opening track of 25, and it ticks all the boxes required by the five-album punter, from the sombre piano chords portending emotional torment, to the carefully-modulated build to a satisfying emotional climax. It's the first of three tracks produced by Greg Kurstin, though both "Water Under The Bridge" and "Million Years Ago" are far subtler in style, the arrangements pared back to just percussion and lone guitar figures, to allow Adele's banked background vocals to carry the songs.
As both titles suggest, the theme of regretful reminiscence dominates the album in the autobiographical manner demanded these days of every R&B don and diva, from Bieber to Rihanna - as if it bestows some kind of authenticity on the material. The same applies to "When We Were Young", co-written with Tobias Jesso Jr., in which the remembered events are compared, with a queasy circularity, to media narratives: "It was just like a movie, it was just like a song". No, it really was a song, I think you'll find. 
There are isolated moments of musical intrigue scattered here and there through the album - the Danger Mouse-produced "River Lea", for instance, has a cavernous moodiness that falls away near the end to reveal Adele's intricately-layered acappella vocals, and the track helmed by Swedish pop svengalis Max Martin & Shellback, "Send My Love (To Your New Lover)",  features even more ingeniously-arranged banks of harmonies layered to sound like a playground skipping-song.
But as 25 continues, it's gradually swamped by the kind of dreary piano ballads that are Adele's fall-back position, produced by the likes of Ryan Tedder and Bruno Mars' Smeezingtons operation. It leaves things sounding a little too much like they had been designed by committee - which, on reflection, is probably exactly what those industry types were so eagerly awaiting. 
Comments