New metal festival Alt-Fest has been cancelled due to a lack of funds, "deeply sorry" organisers have confirmed.
Despite some 7,500 tickets being sold, at least another 3,000 more needed to be shifted in order for the event to break even.
Marilyn Manson and Gary Numan were booked to headline the Kettering weekender, which was set to open its gates on 15 August.
The Cult, Arch Enemy, Fearless Vampire Killers, Cradle of Filth and Fields of the Nephilim were among other acts lined-up to perform.
Alt-Fest raised £61,000 via crowdsourcing website Kickstarter, but founders Dom and Missy explained in a long online statement that they needed £1.7 million for the event to go ahead.
"We were expecting to sell more tickets based on the line-up," read the message, which also blamed "poor advice in the early stages" for the failure.
Angry fans and bands have labelled Alt-Fest a "scam" and criticised poor communication, but the organisers have insisted that the decision to cancel will place the company in liquidation and leave them both bankrupt.
"We realise this has severely damaged our personal and professional reputations," the statement continued. "We can only sincerely apologise for any additional stress and upset this has caused, we were honestly looking to act in your best interests.
"It was never a scam or a con. We tried to do something new and different for you and the alternative scene, which was not easy."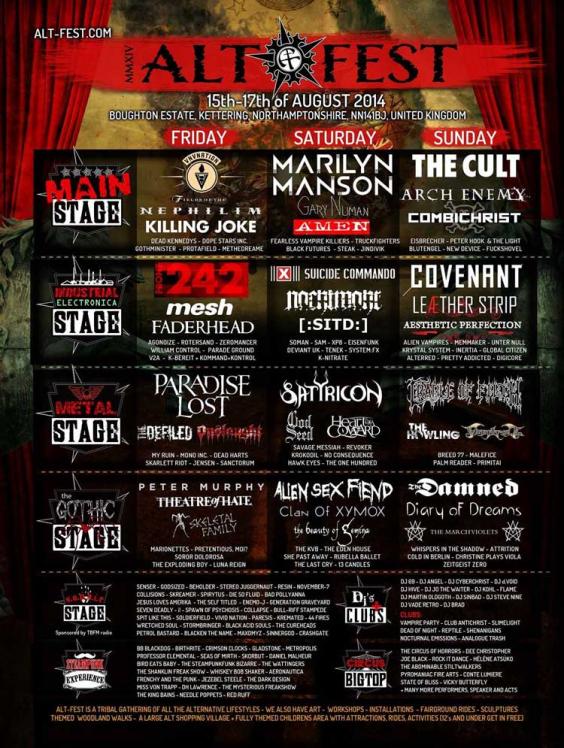 Those who bought tickets for Alt-Fest can secure refunds through a number of ways listed on the event's official website.
Reuse content