A 'One Love' concert will be held in Manchester this week, a benefit event featuring Ariana Grande, Katy Perry, Justin Bieber, Take That, Niall Horan, Coldplay, Pharrell Williams and Miley Cyrus and raising money for the We Love Manchester Emergency Fund.
The concert has been quite the challenge for promoter Festival Republic's Mark Benn - not only are shows for 50,000 people rarely organised on such short notice, but security is obviously a huge priority given the concert stands in defiance of the terrorist attack that killed 22 in Manchester last week.
"It just came out of the blue for me," Benn told Variety. "I didn't anticipate Ariana wanting to step forward and play a concert so soon after the tragedy that happened. For such a young woman to have the bravery to stand up and do that, I think every act should take notice. By coming back, not just to get on stage, but to get back on stage in the city where it's happened. It's inspiring."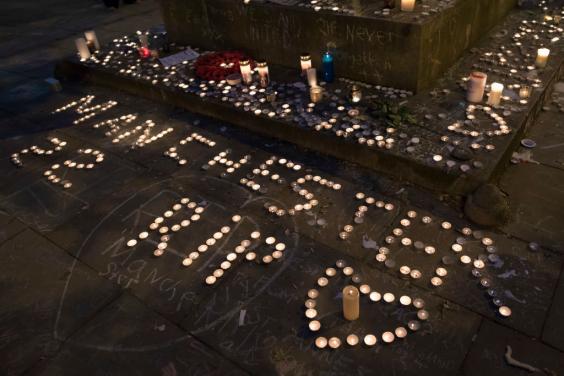 All artists are playing the concert for free, paying for travel expenses themselves and Live Nation are chipping in on production costs with Ticketmaster not taking booking or postage fees on tickets.
Benn thought it was all a "completely bonkers idea" at first, but police stepped up to provide the security necessary ("more than double" the normal amount).
"Almost the first conversation that [SJM's] Simon Moran and I had in Manchester was with chief constable Ian Hopkins of Greater Manchester Police, to get an assessment of whether this is a completely bonkers idea, in view of the circumstances," he added. 
Muslim man comforts elderly Jewish woman in symbol of Manchester unity
"And even while he's utterly inundated with arresting terrorists and preventing further attacks, he was able to give us the time and credence so we could explain, this is exactly what we need. … And he's offered incredible police support. 
"The Greater Manchester police will be standing shoulder-to-shoulder with security personnel to make sure we have a very safe concert. His staff are dealing with the victims, the families of the bereaved, those that are injured and still in hospital, his family bereavement team are dealing with them every day, and he's not going to let this be anything other than absolutely safe. He's with us."
45,000 tickets are expected to be sold for the event at Old Trafford, with special guests teased.
Reuse content