Their tender folk-rock harmonies provided some of the most memorable music of the Swinging Sixties. But the discord which has haunted Simon and Garfunkel ever since their acrimonious break up in 1970 shows no sign of abating.
Art Garfunkel has described his former collaborator Paul Simon as a "monster" with a Napoleon complex, calling him an "idiot" and a "jerk" for abandoning their highly successful musical partnership at the height of their fame.
Now 73 and having recovered from "paresis" of his vocal cords which left him unable to sing, Garfunkel is set to embark on a tour of seven world cities. He will return to the UK in the autumn to play at the Royal Albert Hall in London.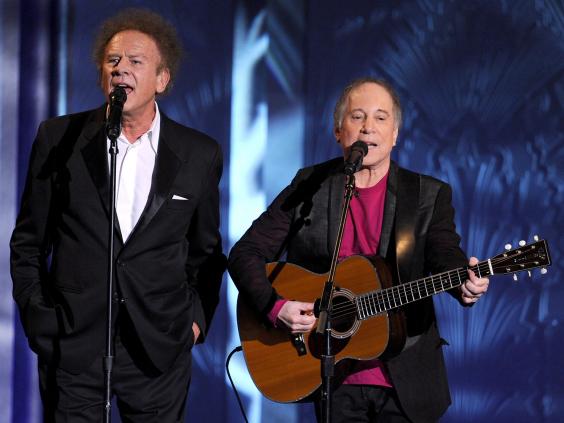 But in an interview ahead of his comeback, the singer has hit out at Simon's "very strange" decision to walk away from the partnership shortly after the release of Bridge Over Troubled Water, their most successful album.
"I want to open up about this. I don't want to say any anti-Paul Simon things, but it seems very perverse to not enjoy the glory and walk away from it instead," he told the Sunday Telegraph. "Crazy. What I would have done is take a rest from Paul, because he was getting on my nerves. The jokes had run dry. But a rest of a year was all I needed."
The duo have reunited numerous times since their initial split, most notably in 1981 when they played to around half a million people in New York's Central Park. Garfunkel said another tour would be "quite do-able…as far as this half is concerned".
He added that Simon had not given him proper credit for providing the lead vocals on some of their most famous songs, such as "Bridge Over Troubled Water". "How many songs did I sing upfront and have a real tour de force of vocal? Does he resent that I had that one? I find that ungenerous," he said.
Pop music: Good years and bad years
Pop music: Good years and bad years
1/6 Good year: 1963

The breakthrough year for pop. The Beatles and The Beach Boys (pictured) released their debut albums three days and 5,000 miles apart, while Bob Dylan kick-started the folk boom with the single "Blowin' In The Wind" and the album The Freewheelin' Bob Dylan.

Hulton Archive/Getty Images

2/6 Bad year: 1960

It might not have been as bad were it not for what happened in 1958, when Elvis Presley was drafted into the US Army. He was replaced by prefabricated teen icons like Fabian, Pat Boone (pictured) and Frankie Avalon, and pop again became the province of Middle of the Road novelty pap.

Hulton Archive/Getty Images

3/6 Good year: 1975

The high watermark of pop's diversity: stadium rock (Born To Run); stadium prog (Wish You Were Here); Krautrock (Neu!'s 75 and Kraftwerk's Radio-Activity, pictured); confessional songwriting (Blood On The Tracks and Tonight's The Night); proto-punk poetry (Patti Smith's Horses); art-rock sophistication (Steely Dan's Katy Lied and Joni Mitchell's The Hissing Of Summer Lawns).

AFP/Getty Images

4/6 Bad year: 1985

Some measure of how bad the year was can be gleaned from knowing that of the year's top 10 best-selling albums four were Now That's What I Call Music and Hits compilations. Anthems abounded: "We Are The World", "Shout" and "I Want To Know What Love Is" were the biggest singles, while album were dominated by Dire Straits' Brothers In Arms and Phil Collins' (pictured) No Jacket Required.

AFP/Getty Images

5/6 Good year: 1997

The last great heave of BritPop saw the mandatory No 1 albums for Blur and Oasis. But the genre was bursting at the seams, struggling to accommodate the huge success of Radiohead's (pictured) neo-prog milestone OK Computer and the soundscaping innovations of The Prodigy and The Chemical Brothers.

Hulton Archive/Getty Images

6/6 Bad year: 2011

2011 really stands out for the cumulative impact of Cowellism, as the album charts were littered with the output of his telly talent shows, such deathless innovators as One Direction, Susan Boyle, JLS, Alfie Boe, Olly Murs (pictured), Joe McElderry, Matt Cardle, Rebecca Ferguson and Will Young.

Getty Images
Asked whether Simon had a Napoleon complex, the psychological condition said to afflict people of short stature, the singer replied: "I would say so, yes." He added that when they met at school in Queens, he felt sorry for him because he was so small and had offered him friendship. "That compensation gesture has created a monster," he added.
Reuse content