The lyrics for the new Band Aid 30 single have been revealed as stars including Bono, Adele and One Direction record the song.
Bob Geldof chose the Ebola crisis as the focus of the charity release, which comes a decade after the last Band Aid effort.
The disease has killed more than 5,000 people in Sierra Leone, Guinea and Liberia and the spread continues despite international efforts to contain the virus.
"Do They Know It's Christmas", first released in 1984, has been modified to include references to how Ebola can be transmitted through contact with infected loved ones.
The lyric "where a kiss of love can kill you and there's death in every tear" replaces the former line "where the only water flowing is the bitter sting of tears".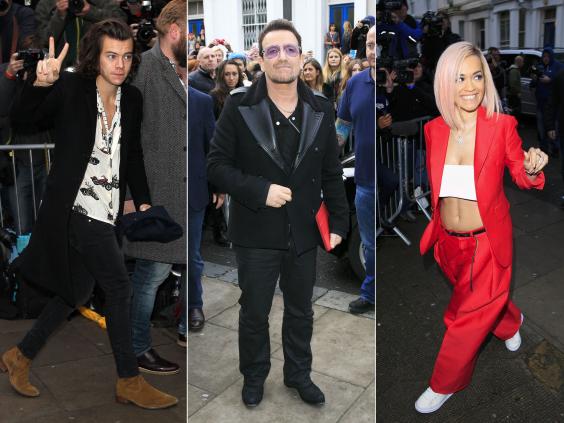 The "there won't be snow in Africa" line, often criticised for its factual inaccuracy as well as for making "Africa the country" generalisations, has been changed to "no peace and joy this Christmas in West Africa - the only hope they'll have is being alive".
Another contentious line, which Bono himself previously said he "really, really loathed" has been scrubbed.
"Well tonight thank God it's them instead of you" now reads "well tonight we're reaching out and touching you".
Stars arrived at studios in Notting Hill early this morning to record the single, which is being released on Monday.
In pictures: Band Aid 30 artists arrive to record
In pictures: Band Aid 30 artists arrive to record
1/16 Ed Sheeran

Ed Sheeran

Rex Features

2/16 Chris Martin

Chris Martin

PA

3/16 Midge Ure and Bob Geldof

Band Aid organisers Midge Ure and Bob Geldof

PA

4/16 One Direction's Harry Styles

Harry Styles

Rex Feature

5/16 One Direction's Louis Tomlinson

Louis Tomlinson

6/16 One Direction's Liam Payne

Liam Payne

PA

7/16 Bono

Bono

8/16 Rita Ora

Rita Ora

9/16 Ellie Goulding

Ellie Goulding

Getty Images

10/16 Paloma Faith

Paloma Faith

PA

11/16 Guy Garvey

Elbow's Guy Garvey

PA

12/16 Bastille's Dan Smith

Bastille's Dan Smith

Getty Images

13/16 Olly Murs

Olly Murs

PA

14/16 Jessie Ware

Jessie Ware

PA

15/16 Seal

Seal

Getty Images

16/16 Emeli Sande

Emeli Sande

Getty Images
It will be performed live for the first time on Sunday night's The X Factor and will cost 99p to download or £4 to buy on CD.
Geldof said: "It really doesn't matter if you don't like this song. It really doesn't matter if you don't like the artists, it really doesn't matter if it turns out to be a lousy recording - what you have to do is buy this thing."
Band Aid 30 lyrics
It's Christmas time – and there's no need to be afraid
At Christmas time – we let in light – and banish shade
And in our world of plenty – we can spread a smile of joy
Throw your arms around the world
At Christmas time
But say a prayer – pray for the other ones
At Christmas time – it's hard but while you're having fun
There's a world outside your window – and it's a world of dread and fear
Where a kiss of love can kill you – and there's death in every tear
And the Christmas bells that ring there – are the clanging chimes of doom
Well tonight we're reaching out and touching you
No peace and joy this Christmas in West Africa
The only hope they'll have is being alive
Where to comfort is to fear
Where to touch is to be scared
How can they know it's Christmas time at all
Here's to you
Raise a glass to everyone
And here's to them
And all their years to come
Let them know it's Christmas after all
Feed the world - Let them know it's Christmastime again
Feel the world - Let them know it's Christmastime again
Heal the world - Let them know it's Christmastime again
Reuse content